Analisis Pengelolaan Dana Zakat, Infaq, dan Shodaqoh pada BAZNAS Kota Prabumulih
Fitria Fitri

STEI Al Furqon Prabumulih

Gino Mardianto

STEI Al Furqon Prabumulih
Keywords:
Distributing; Effective; Survey.
Abstract
In 2017 the South Sumatra BAZNAS stated that there were five largest zakat fund collection areas in South Sumatra, one of which was Prabumulih city of Rp 3.2 billion. And Potential in 2016 BAZNAS Prabumulih City won a muri record from the Indonesian Record Museum for the construction of 337 new housing units for the poor and needy through zakat and infaq funds without Prabumulih City APBD funds. So this study aims to determine the effectiveness of the management of zakat, infaq and alms funds at BAZNAS Prabumulih City. This study uses a descriptive qualitative method with the resultsthat the collection of ZIS BAZNAS Prabumuli City funds is very effective with the issuance of regulations made by the government for ASN to pay zakat, infaq and alms andThe process of distributing zakat, infaq and shodaqoh funds is carried out by conducting a survey to ensure the eligibility of mustahiq candidates such as housing conditions, home ownership status, age, occupation. If the eligibility criteria have been met, then it will be continued with the program that has been made by BAZNAS such as home renovation.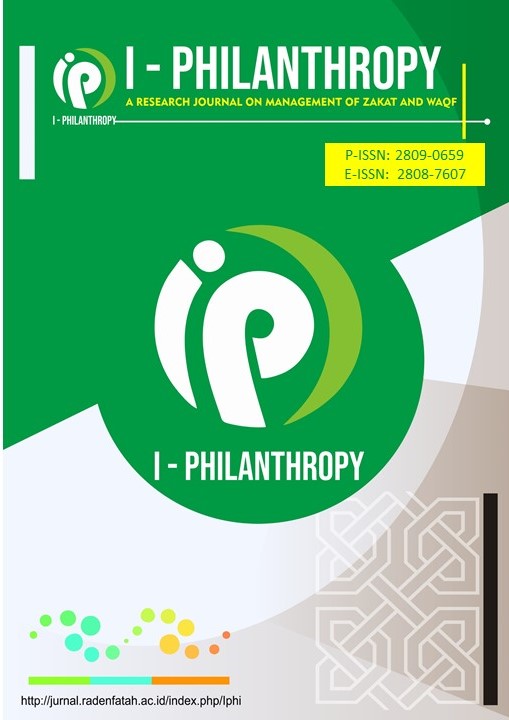 This work is licensed under a Creative Commons Attribution 4.0 International License.
Copyright Notice here