Strategi Badan Amil Zakat Nasional (Baznas) Provinsi Kepulauan Bangka Belitung Dalam Meningkatkan Kesadaran Berzakat Maal Di Masyarakat
Keywords:
Baznas Baznas Provinsi Kepulauan Bangka Belitung; Strategy; Zakat Awareness.
Abstract
Abstract: This study discusses the "Baznas Strategy of the Bangka Belitung Islands Province in Raising Awareness of Maal Zakat in the Community". The focus of this research is the Baznas Strategy for the Province of the Bangka Belitung Islands in increasing awareness of Maal zakat as well as the supporting and inhibiting factors in carrying out this strategy. The methodology used in this study is descriptive qualitative in which the data collected are in the form of words, pictures not numbers, consisting of direct interviews with the leadership structure to Baznas staff/members, documentation of the author's activities, and related library studies. With the author's title. The results showed that in increasing awareness of zakat maal in the community the National Amil Zakat Agency (BAZNAS) of the Bangka Belitung Islands Province used several strategies, including: 1). Socialization, 2). Empowerment of Zakat Collection Units (UPZ), 3). Cooperating with Regional Heads, 4). Cooperating with Mass Media, 5). Utilization of Social Media, 6). Conducting Zakat Fundraising activities, and 7). Maintain public trust.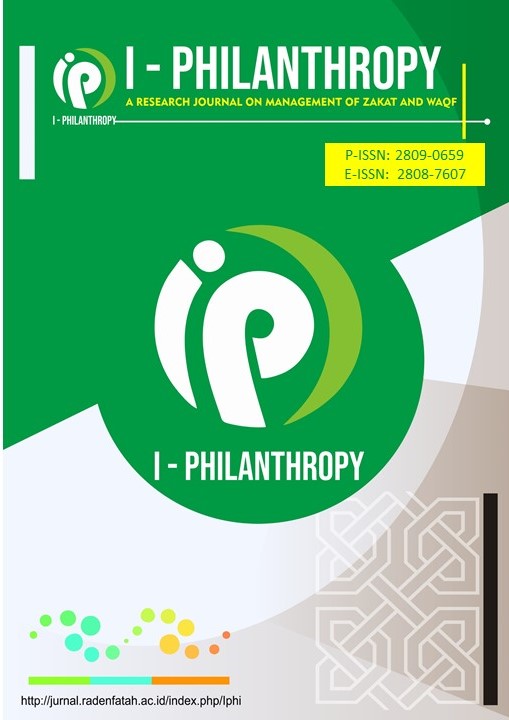 This work is licensed under a Creative Commons Attribution 4.0 International License.
Copyright Notice here