EDUCATIONAL TOURISM IN ISLAMIC EDUCATION TO IMPROVE STUDENTS' CHARACTER
Westi Wiliyana Sari

Universitas Muhammadiyah Sidoarjo

Istikomah Istikomah

Universitas Muhammadiyah Sidoarjo

Tonny Ilham Prayogo

Universitas Darussalam Gontor
Keywords:
University-based Pesantren, Education, UNIDA Gontor, Educational Tourism
Abstract
Educational tourism is essential to the international tourism market, including in Indonesia. The educational tourism destinations are generally only in the regional tourism sector, cultural and natural tourism. However, the sector into tertiary institutions based on pesantren still needs to be significantly more attractive. With the existence of educational tours, it becomes a bridge between students and the general public in knowing universities-based pesantren. This includes supporting the government in developing educational tours to higher education institutions based on pesantren. This research is focused on university-based pesantren at the University of Darussalam Gontor, which implements pondok pesantren in building students with akhlaq and character. The quantitative approach is one of the approach techniques for hypotheses and data analysis relevant to the topic of writing based on the field. Therefore, sampling using simple random sampling and data collection using a student psychology scale as a simple regression model data analysis technique. The results of this study are the distribution of the percentage of educational tourism to university-based pesantren, which still needs to be developed. It is improving the information on university-based pesantren with activities that support students towards students with akhlaq and character following the education base of pondok pesantren and access to adequate information for easy access to information from the University of Darussalam Gontor with University-based pondok pesantren.
References
Ahmad Hidayatullah Zarkasyi. 2021. "Mengapa UNIDA Gontor Harus Jadi Pesantren." in Pekan Perkenalan Khutbatul-l-'Arsy. Ponorogo: UNIDA Gontor Press.

Anwar Sanusi. 2011. Metodologi Penelitian Bisnis. Jakarta Selatan: Salemba Empat.

Arif, Mahmud. 2015. "ISLAM, KEARIFAN LOKAL, DAN KONTEKSTUALISASI PENDIDIKAN: Kelenturan, Signifikansi, dan Implikasi Edukatifnya." Al-Tahrir: Jurnal Pemikiran Islam 15(1):67. doi: 10.21154/al-tahrir.v15i1.173.

Bogdan, Robert, dan Sari Knopp Biklen. 2007. "Foundations of Qualitative Research for Education." Qualitative Research for Education 4:1–51.

Dadan Muttaqien. 1999. "Sistem Pendidikan Pondok Pesantren (Sebuah Alternatif Mengatasi Kegagalan Sistem Pendidikan Barat)." el-Tarbawi V(IV).

Devi Pramitha. 2021. "KH. ACHMAD ZAMACHSYARI, LEADERSHIP, AND MODERNIZATION OF PESANTREN: Character Study in Al-Rifa'ie Modern Islamic Boarding School of Malang." Jurnal Ulul Albab 22(1):115. doi: 10.18860/ua.v22i1.11678.

Djubaedi D. 1999. Pesantren Masa Depan: Wacana Pemberdayaan dan Transformasi Pesantren. Bandung: Pustaka Hidayah.

Fahruddin, Fahruddin. 2020. "The Existence of Pesantren in The Dutch East Indies Government Pressure." Cendekia: Jurnal Kependidikan Dan Kemasyarakatan 18(2):351–65. doi: 10.21154/cendekia.v18i2.1854.

Ghony, Muhammad Djunaidi. 2012. Metode Penelitian Kualitatif. Yogyakarta: Ar-Ruzz Media.

Hamid Fahmy Zarkasyi, M. Kholid Muslih, Khoirul Umam, Yuangga Kurnia Yahya. 2021. Pekan Perkenalan Khutbatul-L-'Arsy Universitas Darussalam Gontor. II. ponorogo: UNIDA Gontor Press.

Imam Zarkasyi. 1965. "Panca Jiwa Pondok Pesantren." in Kongres Umat Islam. Yogyakarta.

El Iq Bali, Muhammad Mushfi. 2017. "Perguruan Tinggi Islam Berbasis Pondok Pesantren." AL-TANZIM : JURNAL MANAJEMEN PENDIDIKAN ISLAM 1(2):1–14. doi: 10.33650/al-tanzim.v1i2.109.

Kiki Sakinah. 2018. "Pesantren Mahasiswa di Perguruan Tinggi di Apresiasi." REPUBLIKA.CO.ID.

Malik Fadjar. 2004. Sintesa antara Perguruan Tinggi dengan Pesantren. Malang: UIN Malang Press.

Muhammad Husein Sanusi, dkk. 2016. Trimurti: Menelusuri Jejak, Sintesa dan Genealogi Berdirinya Pondok Modern Darussalam Gontor. Bantul: CV. Etifaq Production.

Nurcholish Madjid. 1997. Bilik-Bilik Pesantren. Jakarta: Paramadina.

Qadariyah, Lailatul. 2019. "Potensi Pesantren Sebagai Destinasi Wisata Halal Baru di Indonesia." YOS SOEDARSO ECONOMICS JOURNAL 1(3):1–7.

Sajoko Prasodjo. 1982. Profil Pesantrren, Laporan Hasil Penelitian Pesantren Al-Falak dan Delapan Pesantren lain di Bogor. Jakarta: LP3ES.

Staff Sekretaris UNIDA Gontor. 2019. "Perguruan Tinggi Pesantren." Profil of UNIDA Gontor.

Sukmadinata, Nana Syaodih. 2012. Metode Penelitian Pendidikan. Bandung: PT Remaja Rosdakarya Offset.

Syarnubi, Syarnubi, Firman Mansir, Mulyadi Eko Purnomo, Kasinyo Harto, dan Akmal Hawi. 2021. "Implementing Character Education in Madrasah." Jurnal Pendidikan Islam 7(1):77–94.

Tim Pengembangan Pariwisata. 1990. "Ensiklopedia Nasional Indonesia, Jilid 2." Universitas Indonesia 342.

Tim Penulis. 1996. Biografi Kiai Imam Zarkasyi. Ponorogo: Darussalam Press.

Tim Penyusun Undang-Undang. 2012. UU Repubilk Indonesia No. 12 Tahun 2012 Tentang Pendidikan Tinggi. Jakarta: Dokumen Rahasia Negara.

Tim Pusat Bahasa. 2019. "Pusat Bahasa UNIDA Gontor." Language Center University of Darussalam Gontor.

Yasmadi. 2002. Modernisasi Pesantren: Kritik Nurcholish Madjid Terhadap Pendidikan Islam Tradisional. Jakarta: Ciputra Press.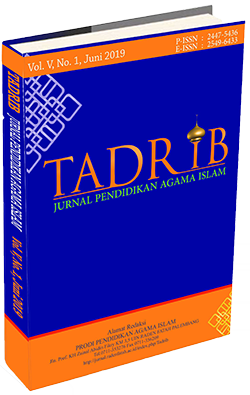 How to Cite
Sari, W., Istikomah, I., & Prayogo, T. (2022). EDUCATIONAL TOURISM IN ISLAMIC EDUCATION TO IMPROVE STUDENTS' CHARACTER. Tadrib, 8(2), 168-183. https://doi.org/https://doi.org/10.19109/tadrib.v8i2.10153