IMPLEMENTATION OF THE CONCEPT OF EDUCATION OF BOARDING SCHOOLS IN INTEGRATED ISLAMIC SCHOOL
Meeya Maulina Ismala

Universitas Islam Negeri Raden Fatah Palembang

MGS. Nazaruddin

Universitas Islam Negeri Raden Fatah Palembang

Mardiah Astuti

Universitas Islam Negeri Raden Fatah Palembang

Alimron Alimron

Universitas Islam Negeri Raden Fatah Palembang
Keywords:
Islamic boarding school education concept, Integrated Islamic school
Abstract
This study discusses the implementation of the concept of pesantren education in the SIT Al-Furqon dormitory in Palembang. The problems studied are the form of the pesantren education concept that is applied, the process of implementing the applied Islamic boarding school concept, and the supporting and inhibiting factors. The research method uses qualitative methods. The research informants were the leaders and teachers at the SIT Al-Furqon Palembang dormitory totaling six people. Data were collected using observations, interviews and documentation. Data analysis used qualitative analysis. The results showed that the educational concept in the SIT Al-Furqon Palembang boarding house included the curriculum, educational process and facilities, and its mission and vision. The pesantren curriculum can be seen from the dormitory activities and subjects. The educational process can be seen in teaching and learning activities, methods, and dormitory atmosphere. The implementation of pesantren education carried out in the Al-Furqon dormitory can be seen from each dormitory activity through activities of direction, guidance, communication, coordination, and motivation to maintain the characteristics of the hostel as an integrated Islamic school based on boarding school. Factors that support implementing the concept of Islamic boarding school education include the curriculum, the role of the founder, human resource support, and adequate infrastructure. The inhibiting factor is that some students need to be more disciplined, facilities are not maintained and lack funds for funding.
References
Aly, Abdullah. 2017. "Studi Deskriptif Tentang Nilai-Nilai Multikultural Dalam Pendidikan Di Pondok Pesantren Modern Islam Assalaam." Jurnal Ilmiah Pesantren 1.

Anon. n.d. Hasil Observasi di SIT Al-Furqon, 10 Oktober 2021.

Anon. n.d. Hasil Observasi yang Peneliti Lakukan pada 29 September 2021 di Asrama SIT Al-Furqon Palembang.

Anon. n.d. "Observasi Dilakukan Di Asrama SIT Al-Furqon Palembang Pada Tanggal 30 Januari 2021."

Arifin, Gus. 2016. Keutamaan Zakat, Infak, Sedekah. Jakarta: Elex Media Komputindo.

Arikunto, Suharsimi. 2006. Prosedur Penelitian Suatu Pendekatan Praktis (Edisi Revisi VI). Jakarta: Rineka Cipta.

Herawati, Nety. 2020. "Karakteristik Sekolah Berbasis Pondok Pesantren." UIN Raden Fatah Palembang.

Idrus, Muhammad. 2009. Metode Penelitian Ilmu Sosial. Yogyakarta: Erlangga.

Muhammad, Alfi. 2020. Wawancara Kepada Kepala Asrama SIT Al-Furqon. Palembang.

Muri Yusuf. 2014. Penelitian Kuantitatif, Kualitatif & Penelitan Gabungan. Jakarta: Prenadamedia Group.

Nazaruddin. 2020. "Pendidikan Islam Masa Umayyah Dan Indonesia." Jurnal Studi Islam Pascasarjana UIN Sunan Kalijaga 16.

Penyusun, Tim. 2015. Undang-Undang Dasar 1945 Alinea Ke-IV. Indonesia: Direktorat Kementerian Pendidikan dan Kebudayaan RI.

Sugiyono. 2015. Metode Penelitian Pendidikan Pendekatan Kuantitatif, Kualitatif, dan R&D. Bandung: Alfabeta.

Syarnubi, Dkk. 2019. "Proses Pembelajaran Di Program Studi Pendidikan Agama Islamfitk Uin Raden Fatah Palembang." Jurnal PAI Raden Fatah 3(1):52–74.

Syarnubi, Syarnubi, Firman Mansir, Mulyadi Eko Purnomo, Kasinyo Harto, dan Akmal Hawi. 2021. "Implementing Character Education in Madrasah." Jurnal Pendidikan Islam 7(1):77–94.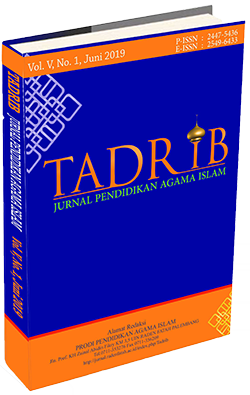 How to Cite
Ismala, M., Nazaruddin, M., Astuti, M., & Alimron, A. (2022). IMPLEMENTATION OF THE CONCEPT OF EDUCATION OF BOARDING SCHOOLS IN INTEGRATED ISLAMIC SCHOOL. Tadrib, 8(2), 209-223. https://doi.org/https://doi.org/10.19109/tadrib.v8i2.11316