ABDULLAH NASHIH ULWAN'S PERSPECTIVE OF CHILD EDUCATION CONCEPTS AND ITS RELEVANCE TO RELIGIOUS CHARACTER FORMATION IN THE FAMILY ENVIRONMENT
Muhammad Isnaini

Universitas Islam Negeri Raden Fatah Palembang

Putri Rika Amelia

Universitas Islam Negeri Raden Fatah Palembang

Novia Ballianie

Universitas Islam Negeri Raden Fatah Palembang
Keywords:
Religious character, children's education, family environment
Abstract
Religious character is one of the 18 aspects of character values according to the Indonesian Ministry of Education and Culture, which ranks first. Its position in the first order illustrates that this character is an essential character that children must possess in line with the concept of child education in Islam in Abdullah Nashih Ulwan's view. Abdullah Nashih Ulwan is a Muslim figure who plays an active role in da'wah and Islamic education. He argues that proper character education directs humans to have good personalities who hold fast to the values of faith in Allah SWT and realize that Allah SWT is always watching over them. Religious character is the character, character, or personality of a person who is closely related to God and is based on the teachings of the religion he adheres to. This study aims to analyze the concept of children's education in Islam from the perspective of Abdullah Nashih Ulwan. Then the concept he explained was relevant to forming religious characters in the family environment. This study uses library or library research with a content analysis approach or content analysis, then collects data and draws conclusions from the research results. This study concludes that the concept of children's education in Islam in Abdullah Nashih Ulwan's view is closely related to the formation of religious characters in the family environment. Awareness of parents in carrying out the responsibilities of faith, morals, reason, physical, psychological, social, and sex education with exemplary methods, advice, habituation, attention, and punishment is very influential in forming religious character in the family environment.
References
Abdullah Nashih Ulwan. 2011. Ada Apa Dengan Seks. Jakarta: Gema Insani.

Abdullah Nashih Ulwan. 2020. Tarbiyatul Aulad Fil Islam, Pendidikan Anak Dalam Islam, Ter. Arif Rahman Hakim. Cet 12. Solo: Insan Kmil.

Abdullah Nashih Ulwan. 2021. Petunjuk Praktis Mencapai Derajat Tqawa (Tarbiyah Ruhiyah). Jakarta: Robbani Press.

Bambang Saymsul Arifin. 2015. Psikologi Agama. Bandung: CV Pustaka Setia.

Dede Darisman. 2017. "Konsep Pendidikan Anak Menurut Abdullah Nashih Ulwan." Jurnal Penelitian Pendidikan Islam 5(1).

Departemen Agama RI. 2019. Al-Quran Dan Terjemahan. Bandung: CV Penerbit Departemen.

Fina Hidayati. 2016. "Konsep Altruisme Dalam Persfektif Ajaran Agama Islam (Itsar)." Jurnal Psikoislamika 13(1).

Fuad Nashori. 2011. "Meningkatkan Kualitas Hidup Dengan Pemafaan." Jurnal Penelitian Pendidikan Islam 13(75).

Hasan Syamsi. 2014. Modern Islamic Parenting. Solo: Aisar Publishing.

Johan Istiadie dan Fauti Subhan. 2013. "Pendidikan Moral Perspektif Abdulah Nashih Ulwan." Jurnal Pendidikan Agama Islam 1(1).

Khairil Ikhsan Siregar. 2018. "Konsep Persaudaraan Sebagai Profetik Sunnah Dalam Persfektif Mahasiswa Fakultas Ilmu Sosial UNJ." Jurnal Studi Al-
Quran 14(2).

Mardeli, and dkk. 2017. "Proses Pembelajaran Di Program Studi Pendidikan Agama Islam FITK UIN Raden Fatah Palembang." Jurnal Tadrib 3(no.1):57.

Miftahul Yana. 2018. Hidup Sehat Dalam Persfektif Pendidikan Agama Islam Di Masyarakat Kelurahan Karang Anyar. Curup: IAIN Curup.

Mohammad Adnan. 2021. "Konsep Pendidikan Karakter Prespektif Abdullah Nashih Ulwan." Jurnal Studi Kemahasiswaan 1(1).

Muhammad Hafiun. 2017. "Zuhud Dalam Ajaran Tasawuf." Jurnal Bimbingan Konseling Dan Dakwah Islam 14(1).

Muhammad Ibnu Abdul Hafidz. 2015. Cara Nabi Mendidik Anak. Jakarta: Al-I'tishom Cahaya Umat.

Muhammad Isnaini. 2013. "Internalisasi Nilai-Nilai Pendidikan Karakter Di Madrasah." Jurnal Al-Ta'lim 1(6).

Nabawi Sakdiah. 2020. "Pendidikan Karakter Melalui Pembinaan Kasih Sayang Dalam Pandangan Islam." Jurnal Kependidikan 1(1).

Ngalim, Purwanto. 2014. Ilmu Pendidikan Teoritis Dan Praktis. Bandung: Remaja Rosdakarya.

Niken Ristianah danToha Ma'sum. 2021. "Tanggung Jawab Pendidikan Perspektif Abdullah Nashih Ulwan." Jurnal Pendidikan Islam 3(2).

Pupu Saiful Rahmat. 2018. Psikologi Pendidikan. Jakarta: PT Bumi Aksara.

Sahidi Mustafa. 2018. "Konsep Jiwa Dalam Al-Quran." Jurnal Pendidikan Islam 2(1).

Samsudin dan Muhammad Asrofi. 2021. "Hukuman Dalam Pendidikan Islam : Studi Atas Dampak Psikologis Anak Usia Dasar Dan Citra Guru." Jurnal Pendidikan Islam 14(2).

Sudionno, Anas. 2015. Pengantar Statistik Pendidikan. Jakarta: Rajawali Pers.

Sugiyono. 2016. Metode Penelitian Pendidikan. Bandung: Alfabeta.

Syadidul Kahar. 2018. "Pendidikan Jasmani Dan Pengaruhnya Terhadap Pendidikan Islam (Tinjauan Dalam Persperktif Filsafat Pendidikan Islam)." Jurnal Pendidikan Jasmani Dan Ruhani 9(2).

Syarnubi, Syarnubi. 2019. "Guru yang Bermoral dalam Konteks Sosial, Budaya, Ekonomi, Hukum dan Agama (Kajian Terhadap UU No 14 Tahun 2005 Tentang Guru Dan Dosen)." Jurnal PAI Raden Fatah 1(1). doi: 10.19109/PAIRF.V1I1.3003.

Tim Penyusuun Fakultas Tarbiyah IAIN Raden Fatah. 2014. Pedoman Penelitian Skripsi Dan Karya Ilmiah.

Yayah Fauziah. 2019. Peran Ibu Terhadap Pendidikan Anak Dalam Islam Menurut Abdullah Nashih Ulwan. Lampung: Universitas Agama Islam Negeri Raden Intan Lampung.

Zubaedi. 2017. Strategi Taktis Pendidikan Karakter Untuk PAUD Dan Sekolah. Depok: PT Rajagrafindo Persada.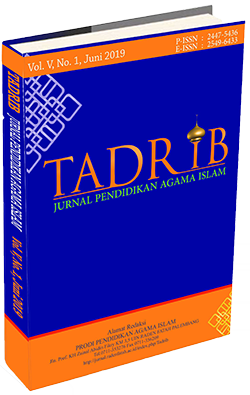 How to Cite
Isnaini, M., Amelia, P., & Ballianie, N. (2022). ABDULLAH NASHIH ULWAN'S PERSPECTIVE OF CHILD EDUCATION CONCEPTS AND ITS RELEVANCE TO RELIGIOUS CHARACTER FORMATION IN THE FAMILY ENVIRONMENT. Tadrib, 8(2), 224-244. https://doi.org/https://doi.org/10.19109/tadrib.v8i2.12766