PROSES PEMBELAJARAN DI PROGRAM STUDI PENDIDIKAN AGAMA ISLAM FITK UIN RADEN FATAH PALEMBANG
Muh Misdar

Universitas Islam Negeri Raden Fatah Palembang

Abdullah Idi

Universitas Islam Negeri Raden Fatah Palembang

M Isnaini

Universitas Islam Negeri Raden Fatah Palembang

Mardeli Mardeli

Universitas Islam Negeri Raden Fatah Palembang

Zulhijra Zulhijra

Universitas Islam Negeri Raden Fatah Palembang

Syarnubi Syarnubi

Universitas Islam Negeri Raden Fatah Palembang
Keywords:
Learning, Islamic Education.
Abstract
Education is considered as one of the potential development sectors in the effort to prepare qualified human resources. Because education is the actual meaning of education starting from the actual conditions of the learning individual and the learning environment. Learning is a process that will never stop as long as humans live on earth. No man will ever succeed without going through the process of learning, because in learning this man finds the knowledge and experience that smell. Each learning situation will be faced completely by people who learn as a whole individual as well. That is why in different situations every day, the lessons or problems encountered will also differ depending on the existing and available ways and learning.Type of research used in this research is descriptive research type. Approach in this research using approach qualitative and quantitative. The population of this study are all students of Islamic Studies Program of class of 2014 which amounted to 360 students both men and women.Sampling for students Prodi PAI conducted by randomly selecting students who are still active students of Semester V, and the technique of sampling using simple random sampling on this condition set some students representing each of their respective rombel respectively. From the above population were sampled by 72 students.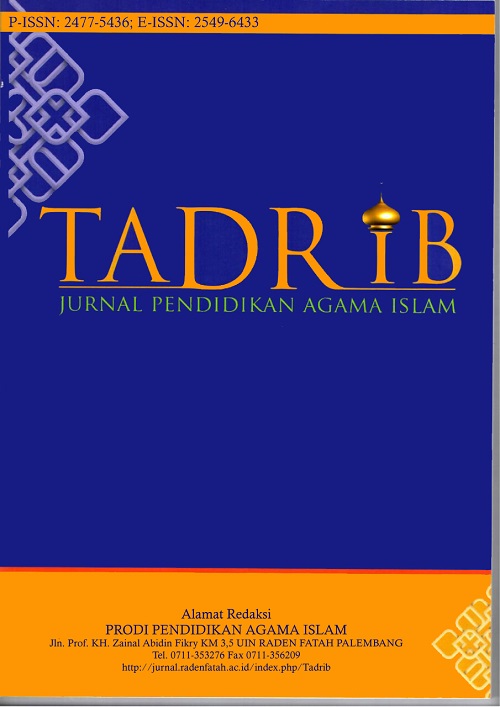 This work is licensed under a Creative Commons Attribution-ShareAlike 4.0 International License.