INTEGRASI NILAI-NILAI MULTIKULTURAL DALAM SISTEM PENDIDIKAN DI PONDOK PESANTREN NURUL UMMAH KOTAGEDE
Aminul Qodat

Universitas Islam Negeri Sunan Kalijaga Yogyakarta
Keywords:
Multicultural Values, Education System
Abstract
This research is motivated by misunderstanding in the attitude of pluralism that still leaves many problems. So students often gain Knowledge about religion which is based on exclusivism, Consequently the seeds of conflict continue to be embedded in religious experience and cognition of religion which is believed by students, in turn often become trigger of violence over The name of religion. Pesantren which is included in the national education system is an Islamic educational institution, which has a task to transform and integrate the values humanist, democratic, peaceful and tolerant in the life of santri in pesantren. The phenomenon makes the researcher to study how the integration of multicultural values ​​in the education system of Pesantren Nurul Ummah Kotagede Yogyakarta. The results of the research concluded that: Integration of Multicultural Values ​​in Education System Pondok Pesantren Nurul Ummah Kotaged. Through the aspects, Curriculum Planning Education Madrasah Diniyah, Learning activities, examples of Educators, and Evaluation Education. Although there is no material and field Special studies related to Multicultural in pesantren, but Multicultural Values ​​have been integrated in various forms of daily activities both in the context of the pesantren environment and outside the pesantren, in the form of an unwritten curriculum or hidden curriculum. With found the existence of Humanist Democracy Value in the Pesantren Program, the Value of Justice in the Regulation, Equality Value in the Placement of students, and the Value of Togetherness, Tolerance and Value of Peace in the culture of Santri. So Multicultural Value is considered a form of respect for diversity and recognition pedagogical equilibrium a person who has the same right to obtain educational services, regardless of ethnicity, social status, language and type of education level.
References
Banks, J. A. (2009). Multikultural Education: Dimentions and Paradigms. In The Routledge International Companion To Multicultur Education. New York: Routledge.

Departemen Agama RI. (2013). Pondok Pesantren Dan Madrasah Diniyah Pertumbuhan Dan Perkembangannya. Jakarta: Direktoral Jendral Kelembagaan Agama Islam.

Dokumentasi, Profil Pesantren Nurul Ummah, Yogyakarta: Kesekretariatan Pondok Pesantren Nurul Ummah dikutip pada 8 Maret, 2018.

Hasil observasi di Asrama MAN 3 Palembang pada Tanggal 5 Desember 2018 Pukul 16.00 WIB.

Wawancara dengan Ustad Khoirul Umam di kantor Diniyah Pondok Pesantren Nurul Ummah Putra, pada tanggal 25 Oktober 2017, Pukul 20:10 WIB.

Madjid, N. (1997). Bilik-Bilik Pesantren Sebuah Potret Perjalanan. Jakarta: Paramadina.

Mahfud, C. (2006). Pendidikan Multikultural. Yogyakarta: Pustaka Pelajar.

Maksum, A. (2011). Pluralisme Dan Multikulturalisme; Paradigma Baru Pendidikan Islam Di Indonesia. Malang: Aditya Media Publising.

Rohman, M. (2016). Implementas Nilai-Nilai Multikultural di Man Yogyakarta Iii Dan Sma Stella Duce 2 Yogyakarta.

Sholeh, B., & DZ, A. M. (2007). Perdamaian dari Local ke Global: Tantangan Pesantren. In Budaya Damai Dalam Komunitas Pesantren. Jakarta: Pustaka LP3ES Indonesia.

SM, I. (2002). Pengembangan Pesantren Tradisional: Sebuah Hipotesa Mengantisipasi Perubahan Sosial dalam Dinamika Pesantren dan Madrasah. Yogyakarta: pustaka Belajar.

Suryana, Y., & Rusdiana. (2015). Pendidikan Multikultural, Suatu Upaya Penguatan Jati Diri Bangsa, Konsep, Prinsip, dan Implementasi. Bandung: Pustaka Setia.

Susanto, E. (2006). Pendidikan Multikultural Berbasis Multikultural. KARSA: Jurnal Sosial dan Budaya Keislaman, IX(1).
Tadjab. (1994). Perbandingan Pendidikan. Surabaya: Karya Abditama.

Tim Revisi. (2012). Profil Pesantren Nurul Ummah. Yogyakarta: Pondok Pesantren Nurul Ummah.
Undang-Undang RI. (2003). Sistem Pendidikan Nasional.

Wawancara, dengan ustadz Fathul Muslim, Sekretaris Pondok Pesantren Nurul Ummah Kotagede Yogyakarta, pada tangggal 22, Februari, 2018.

Wawancara dengan Ustad, Erik Mustafa selaku keamanan Pondok Pesantren Nurul Ummah Kotagede Yogyakarta. Tanggal 10 Februari, 2018.

Wawancara dengan Ustad Fathul Muslim, Sekretaris Pondok Pesantren Nurul Ummah kotagede Yogyakarta, pada tanggal 10 Februari, 2018.

Wawancara kepada Ustadz, Muhammad Raudak selaku kepala Madrasah Diniyah pada tanggal, 10 Februari 2018.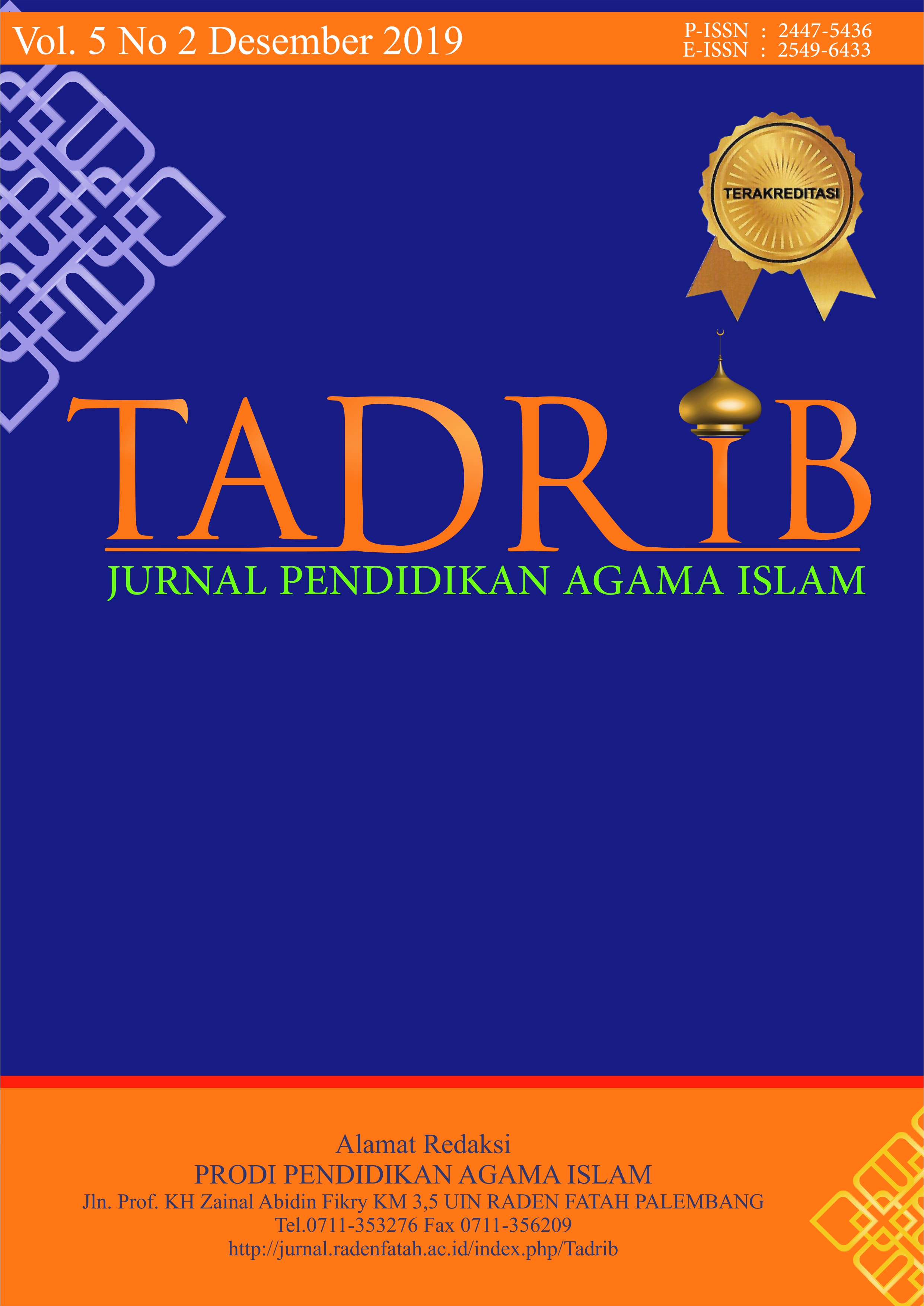 How to Cite
Qodat, A. ( ). INTEGRASI NILAI-NILAI MULTIKULTURAL DALAM SISTEM PENDIDIKAN DI PONDOK PESANTREN NURUL UMMAH KOTAGEDE. Tadrib, 5(2), 170-186. https://doi.org/https://doi.org/10.19109/tadrib.v5i2.3491