IMPLEMENTASI PEMBELAJARAN BERBASIS RISET UNTUK MENINGKATKAN KETERAMPILAN MENELITI MAHASISWA
Lisa Aditya Dwiwansyah Musa

Institut Agama Islam Negeri (IAIN) Palopo

Hardianto Hardianto

Institut Agama Islam Negeri (IAIN) Palopo
Keywords:
Implementation, Research-based Learning, Students Research Skills
Abstract
One of the lessons that can provide direct research experience to students is Research-based Learning. It is a model that focuses on students' participation and lecturers only as facilitators in which students are given the opportunity to conduct a research project. This study aims to improve students' research skills through research-based learning and to know students' responses dealing with this model. The research design of this study was a classroom action research consisting of two cycles. The research instruments in collecting data were observation sheets and questionnaires. The collected data were analyzed quantitatively and qualitatively. The research findings indicated that there were 6 (six) students who showed a significant increase in term of formulating the research problems. Then, it was also found that there were 12 (twelve) students who could observe in order to find information and appropriate research methods dealing with their research focuses. Furthermore, there were 13 (thirteen) students who organize their own research designs could able to make a research design, and then 3 (three) out of them could sort and describe research data that had been collected. Next, one of them showed a significant improvement in analyzing research data to answer the research questions and then interpreted it; meanwhile only 1 (one) student could make a good conclusion of their research. Least but not last, only 2 (two) students were indicated to have skills in disseminating their research findings both in scientific forums or scientific publications in the form of journals or proceedings. To sum up, it can be concluded that there was a significant increase in the number of students who mastered the research skills from cycle I to cycle II. Finally, students positively responded to the implementation of this research-based learning as an effective model.
References
Ahmad Nizar, R. (2016). Pembelajaran Berbasis Riset di Perguruan Tinggi. Batusangkar International Conference 15-16 Oktober 2016.

Kunandar. (2008). Langkah Mudah Penelitian Tindakan Kelas sebagai Pengembangan Profesi Guru. Jakarta: Rajawali Pers.

Prahmana. (2015). Penelitian Pendidikan Matematika Pembelajaran Berbasis Riset. Tangerang: Matematika.

Slameto,Dkk. (2016). Pengembangan Model Pembelajaran Berbasis Riset untuk Meningkatkan Keterampilan Berpikir Aras Tinggi. Prosiding Konser Karya Ilmiah Nasional.

Suharsimi dkk, A. (2008). Penelitian Tindakan Kelas. Jakarta: Bumi Aksara.

Sutirman. (2013). Media dan Model-model Pembelajaran Inovatif. Yogyakarta: Graha Ilmu.

Trianto. (2010). Pengantar Penelitian Pendidikan bagi Pengembangan Profesi Pendidikan & Tenaga Kependidikan. Kencana Prenada Media Group.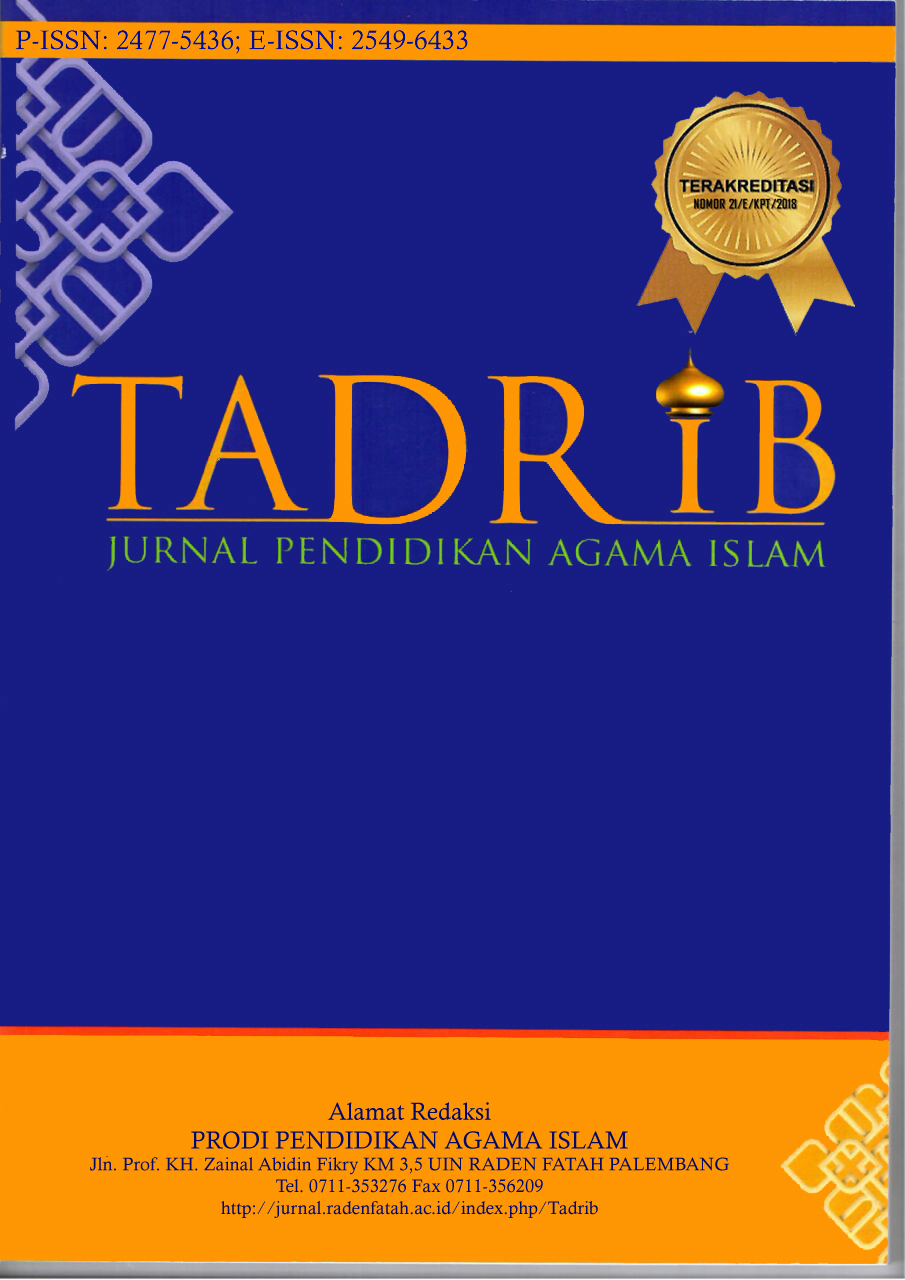 How to Cite
Dwiwansyah Musa, L. A., & Hardianto, H. (2020). IMPLEMENTASI PEMBELAJARAN BERBASIS RISET UNTUK MENINGKATKAN KETERAMPILAN MENELITI MAHASISWA. Tadrib, 6(1), 1-12. https://doi.org/https://doi.org/10.19109/tadrib.v6i1.3786