IMPLICATIONS OF TEACHER CERTIFICATION ON PROFESSIONALISM AND WELFARE OF 21TH CENTURY PAI TEACHERS
Firman Mansir

Universitas Muhammadiyah Yogyakarta
Keywords:
Certification, Professionalism, Welfare and Teacher
Abstract
This research studies about the policy of Islamic teacher education (PAI) about the extent of teacher certification towards the professional attitude they have towards the development of students, especially in the context of the digital age. Teacher certification especially PAI teacher can give professionalism attitude towards students in various learning activities. Meanwhile, the welfare of PAI teachers in Indonesia has increased with the emergence of the certification policy. Furthermore, it has implications for PAI teachers to be able to improve their professionalism in conducting learning obligations. Thus, the process that occurring in the interaction between educators and students can run well. In the end, the goal of Islamic education is to form a muttaqien person realized to the maximum. This research was a library library research that is research sourced from library materials using a qualitative approach. Therefore, it was an exploration of a number of data both primary and secondary data with concrete steps as follows: reading and examining in depth primary data such as books which are the results of research, theses or dissertations related to this topic. Therefore, Teacher education policies in the industrial revolution era 4.0 related to teacher certification especially PAI teachers need to be adjusted to the current context. Thus, teachers in Indonesia are not trapped between policy and reality on the ground faced by students. Our expectation is that there will be no more teachers in Indonesia complaining about their income, no more teachers being victimized by schools or foundations for those who have already been certified. Therefore, the teacher certification policy can make PAI teachers further increase their professionalism and welfare.
References
Arifin, H. M. (2011). Kapita Selekta Pendidikan Islam dan Umum. Jakarta: Bumi Aksara.

Chan, S. M., & Sam, T. T. (2007). Analisis SWOT, Kebijakan Pendidikan Era Otonomi Daerah. Jakarta: Raja Grafindo Persada.

Creswell, J. W. (2018). Research Design: Pendekatan Metode Kualitatif, Kuantitatif dan Campuran. Yogyakarta: Pustaka Pelajar.

Diyanti, S., S., & Octoria, D. (2016). Pengaruh Prestasi Belajar dan Presepsi Mahasiswa tentang Kesejahteraan Guru Terhadap Minat menjadi Guru Pada Mahasiswa Prodi Pendidikan Akuntansi FKIP UNS. Jurnal Tata Arta UNS, 2, No. 2.

Maumunah, B. (2009). Landasan Pendidikan. Yogyakarta: TERAS.

Mukodi. (2011). Mendialogkan Pendidikan kita, Sebuah Antologi Pendidikan. Yogyakarta: Magnum Pustaka Utama.

Nugraha, R. (2008). Pendidikan Indonesia: Harapan, Visi dan Strategi. Yogyakarta: Pustaka Pelajar.

Sanaky, H. A. (2005). Sertifikasi dan Profesionalisme Guru di Era Reformasi. Jurnal Pendidikan Islam.

Simatupang, R. (2018). Korelasi Kesejahteraan Guru Dengan Motivasi Kerja Dalam Pelaksanaan Prosespembelajran di SMA Negeri 1 Pollung Tahun Pembelajaran 2017/2018. Jurnal Christian humaniora, 2, no. 2.

Sukmadinata, N. S. (2003). Landasan Psikologi Proses Pendidikan. Bandung: Remaja Rosdakarya.

Sulhan, N. (2016). Guru yang Berhati Guru. Jakarta: Zikrul Hakim.

Surakhmad, W. (2009). Pendidikan Nasional, Strategi dan Tragedi. Jakarta: Kompas.

Tafsir, A. (2006). Ilmu Pendidikan dalam Perspektif Islam. Bandung: Rodsa Karya.

Tilaar, H, A. (2002). Membenahi Pendidikan Nasional. Jakarta: Rineka Cipta.

Yusuf, M. (2014). Metode Penelitian Kuantitatif, Kualitatif dan Penelitian Gabungan. Jakarta: Prenadamedia Group.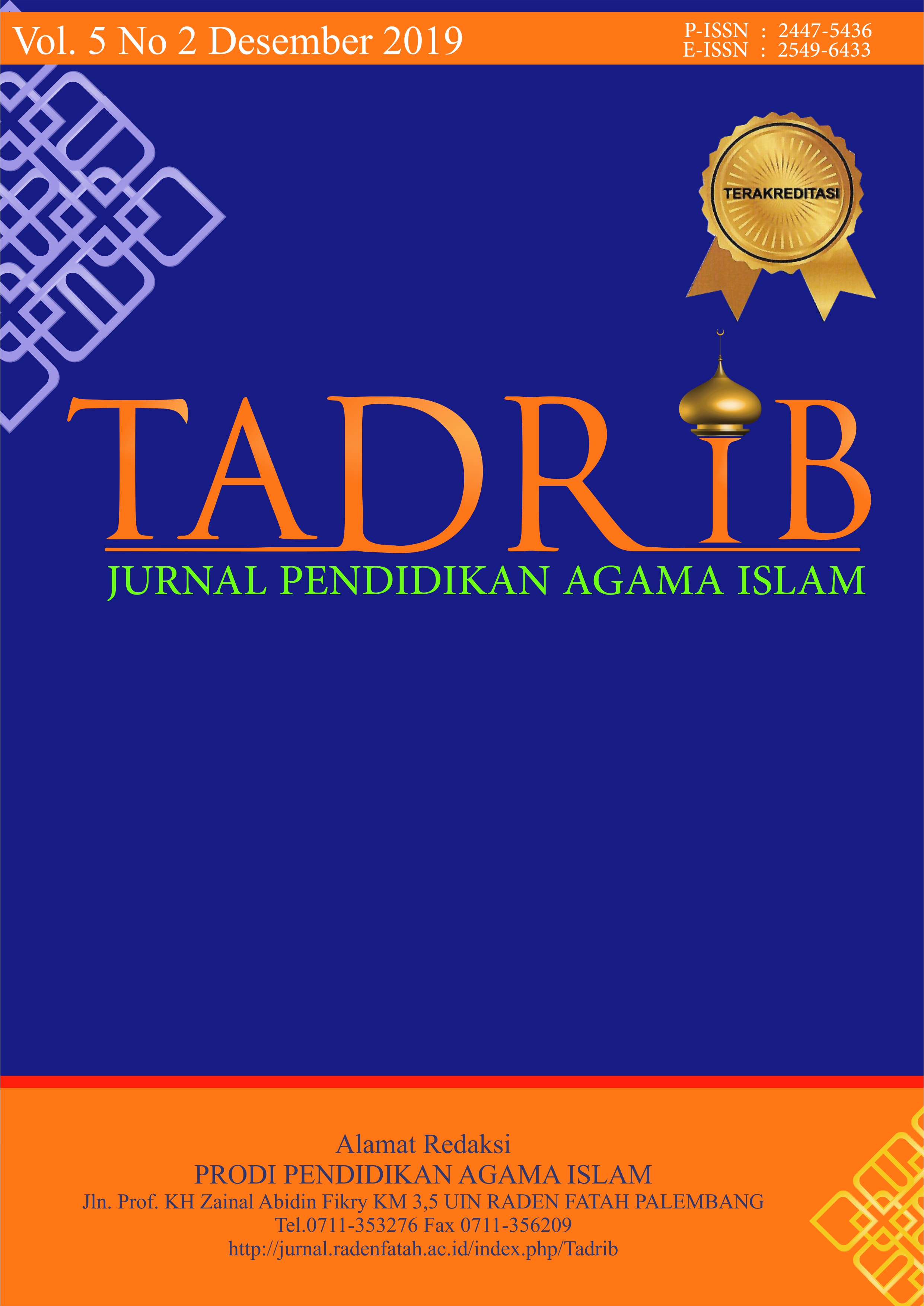 How to Cite
Mansir, F. ( ). IMPLICATIONS OF TEACHER CERTIFICATION ON PROFESSIONALISM AND WELFARE OF 21TH CENTURY PAI TEACHERS. Tadrib, 5(2), 138-152. https://doi.org/https://doi.org/10.19109/tadrib.v5i2.4085