STRATEGI GURU DALAM MENANAMKAN SIKAP TOLERANSI PADA SISWA DALAM MENANGGAPI PERBEDAAN KEYAKIAN
Ahmad Hariandi

Universitas Jambi

Fazria Fazria

Universitas Jambi

Fatma Cahyana

Universitas Jambi

Rozi Rozi

Universitas Jambi

Siti Patimah

Universitas Jambi
Keywords:
Teacher Strategy, Tolerance, Differences in Beliefs
Abstract
Tolerance is an attitude of mutual respect for diversity. In the school environment, students are faced with various differences, so that tolerance is an important attitude that must be owned by students, this is inseparable from the teacher's strategy in instilling tolerance in the classroom. a form of religious tolerance that is implementing mutual respect and respect for the beliefs held by others. This means that differences found in the surrounding environment are not used as an excuse to be hostile to others but are able to live side by side among these differences. The aim is to find out the teacher's strategy in instilling tolerance in students in responding to differences in beliefs by using a qualitative descriptive approach and this type of research is a phenomenological study. Data collection is done by observation and interview techniques to meet research needs. Then analyzed with data reduction techniques, data display and data verification. Diversity of religions that cannot contradict can create different groups. A happy attitude in supporting the diversity that is executed can help well because it has a supporting role. The strategies taken by teachers in schools that have students of different religions will succeed without visible conflicts that are motivated by diversity. The role of the teacher is very important in instilling religious borrowing attitudes both through role models and through activities held at school. The researcher hopes that this journal can add insight to the readers and the researcher suggests that the handling of students' tolerance in facing differences in belief not only come from the teacher or the school but also includes tri education centers (family, community, and school) because of tolerance This is very important for every individual to have at the earliest possible age.  
References
Ali, M. (2013). Penelitian Kependidikan Prosedur dan Strategi. Bandung: Angkasa.
Alsa, A. (2004). Pendekatan Kualitatif dan Kuantitatif serta Kombinasinya dalam Penelitian Psikologi. Yogyakarta: PUstaka Pelajar.
Khotimah. (2013). Toleransi Beragama. Jurnal Ushuluddin, 20 (2), 126.
Miles, & Huberman. (1984). Analisis Data Kualitatif. Jakarta: Universitas Indonesia.
Mokodenseho, S. (2017). Toleransi Beragama dan Pembelajaran Agama Islam: Harmoni Masyarakat Minoritas Muslim Manado. Jurnal IAI Darussalam Blokagung Banyuangi, 10 (3), 68.
Moleong, L. J. (2013). Metode Penelitian Kualitatif. BAndung: Remaja Rosdakarya.
Nisa, N. F., Mukhlis, A., & Rahman, E. T. (2018). Retorika K.H. Junaedi Al-Baghdadi dalam Pengajian Dzikir Manaqib. Jurnal Komunikasi dan Penyiaran Islam, 3 (2), 13.
Riyadi, H. (2007). Melampaui Pluralisme: Etika Al-Qur'an tentang Keragaman Agama. Jakarta: RMBooks & PSAP.
Said H. H. (2010). Pengembangan Pendidikan Budaya dan Karakter Bangsa. Jakarta: KEMENAS Badan Penelitian dan Pengembangan Pusat KUrikulum.
Subagyo, J. (2006). Metode Penelitian dalam Teori dan Praktek. Jakarta: Rineka Cipta.
Sugiyono. (2016). Metode Penelitian Kuantitatif, Kualitatif dan R&D. Bandung: Alfabeta.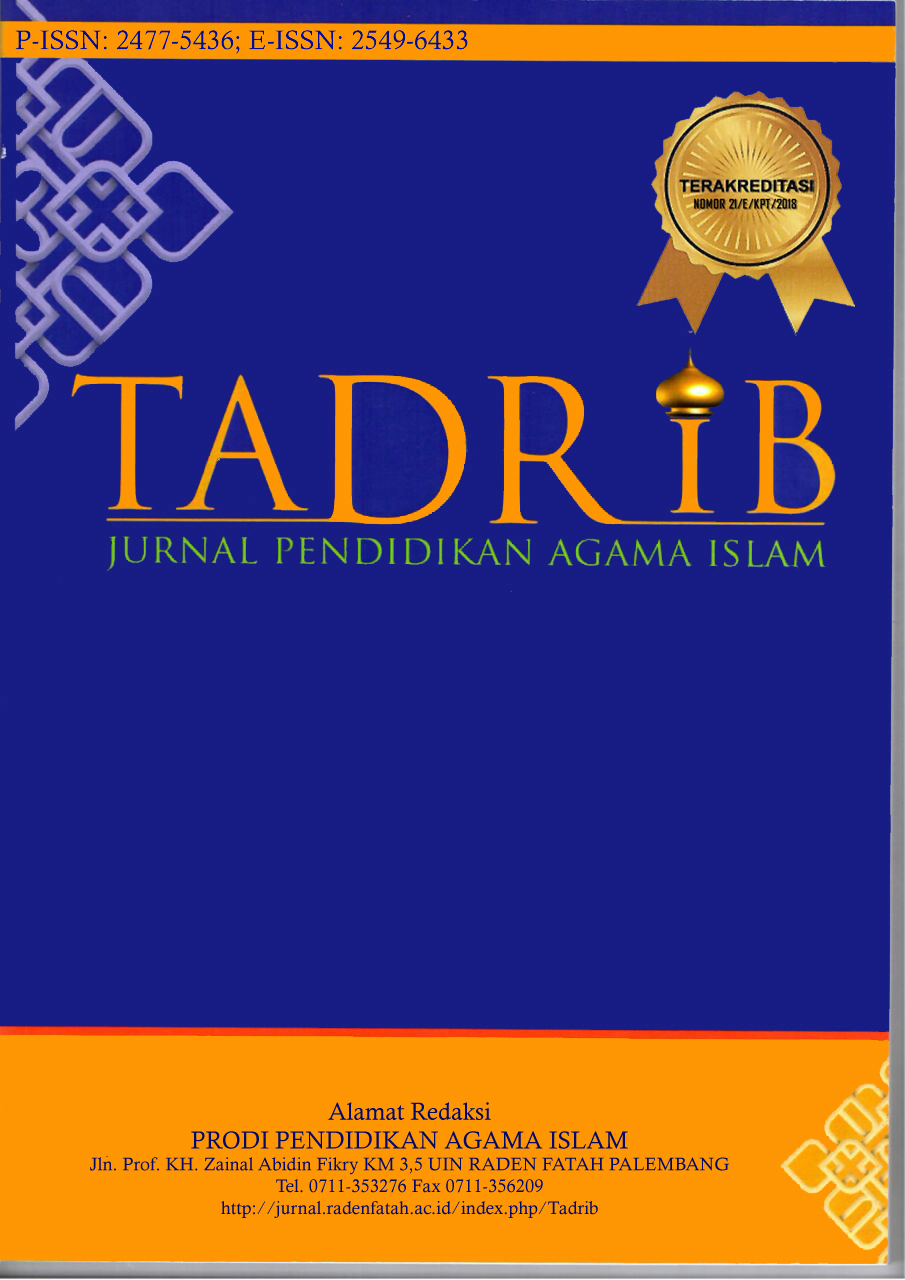 How to Cite
Hariandi, A., Fazria, F., Cahyana, F., Rozi, R., & Patimah, S. (2020). STRATEGI GURU DALAM MENANAMKAN SIKAP TOLERANSI PADA SISWA DALAM MENANGGAPI PERBEDAAN KEYAKIAN. Tadrib, 6(1), 78-88. https://doi.org/https://doi.org/10.19109/tadrib.v6i1.4733