PEMBINAAN SIKAP SPIRITUAL KEAGAMAAN MELALUI PEMBELAJARAN TAREKAT QADIRIYAH NAQSABANDIYAH
Isop Syafe'i

UIN Sunan Gunung Djati Bandung

Ai Samrotul Fauziyah

UIN Sunan Gunung Djati Bandung
Keywords:
Learning Session, Naqsabandiyah, Qadariyah, Spiritual Attitude of Religion
Abstract
This study departs from the phenomenon in the school environment that incorporates TQN lessons on local content so researchers want to know which ones support the development of spiritual attitudes through TQN learning to make students good in their religious-spiritual attitudes. This research uses a qualitative approach using descriptive methods. This research was conducted by explaining or analyzing data obtained from MTs Serba Bakti Suryalaya. Data collection techniques using in-depth interviews, observation, documents, and questionnaires. Data analysis techniques in this study by analyzing all available data from various sources through, in-depth interviews and documentation studies using field notes. Data analysis techniques in this study were carried out qualitatively to analyze data from interviews and documentation instruments. The results showed that; 1) fostering religious-spiritual attitudes through learning TQN aims to realize students who have faith, practice worship and have good morals, 2) implementation of fostering religious-spiritual attitudes through TQN learning is done by creating effective and conducive classes, internalizing values, for example habituation , habituating and forming attitudes and behaviours, 3) supporting factors are adequate facilities and infrastructure, determination and enthusiasm of all school components, environment and support of student guardians and inhibiting factors are the psychological and psychological aspects of students and student motivation and interest to participate in TQN Learning , 4) the success of cultivating religious-spiritual attitudes through TQN learning has effectively been able to encourage students to be better viewed from measurements based on the success obtained after studying TQN in the form of problem solving, high emotional resilience, inner calm, self control i, understand your fairy and find who you are. Thus, in an effort to improve religious-spiritual attitudes, other schools can also apply the learning of the qadariyah naqsabandiyah order.  
References
Affandy, Sulpi (2017). Penanaman Nilai-Nilai Kearifan Lokal dalam Meningkatkan Perilaku Keberagamaan Peserta Didik. Atthulab: Islamic Religion Teaching and Learning Journal, 2 (2), 192-207.
Hibana, Sodiq A. Kuntoro, dan Sutrisno Sutrisno (2015). Pengembangan Pendidikan Humanis Religius di Madrasah. Jurnal Pembangunan Pendidikan: Fondasi dan Aplikasi, 3 (1), 19-30.
Noupal, Muhammad (2016). Tarekat Naqsabandiyah di Indonesia Abad 19 dari Ortodoksi ke Politisasi. Intizar, 22 (2): 297-312.
Nasrullah (2017). Mempertahankan Tradisi Tasawuf: Tafsir Tekstual dan Kontekstual Tarekat Menurut Kaum Tua di Minangkabau. Jurnal Syahadah, 5 (2), 27-60.
Rivauzi, Ahmad (2018). Landasan Filosofis Pemikiran Tasawuf Abdurrauf Singkel tentang Allah, Manusia, dan Alam. Jurnal Theologia. 28 (2), 299-328.
Sudarmaji, Arif Krisna (2018). Tarekat Naqsyabandiyah Khalidiyah Dan Eksistensinya di Plosokuning Tahun 1954-1995. Jurnal Prodi Sejarah 3 (2), 200-213,
Sutarto (2018). Pengembangan Sikap Keberagamaan Peserta Didik. Islamic Counseling: Jurnal Bimbingan Konseling Islam 2 (2), 21-42.
Syafei, Isop (2016). Pengembangan Model Pembelajaran untuk Meningkatkan Kemampuan Berpikir Kritis Siswa. Psympathic: Jurnal Ilmiah Psikologi 2 (2), 133-140.
Syukur, Abdul. (2014). Transformasi Gerakan Tarekat Syafawiyah dari Teologis ke Politis. Kalam, 8 (1): 187-212.
Wedan, Mas. (2016). Pengertian Pendidikan dan Tujuan Pendidikan Secara Umum. Diakses tanggal 27 Maret 2020 dari https://silabus.org/pengertian-pendidikan/.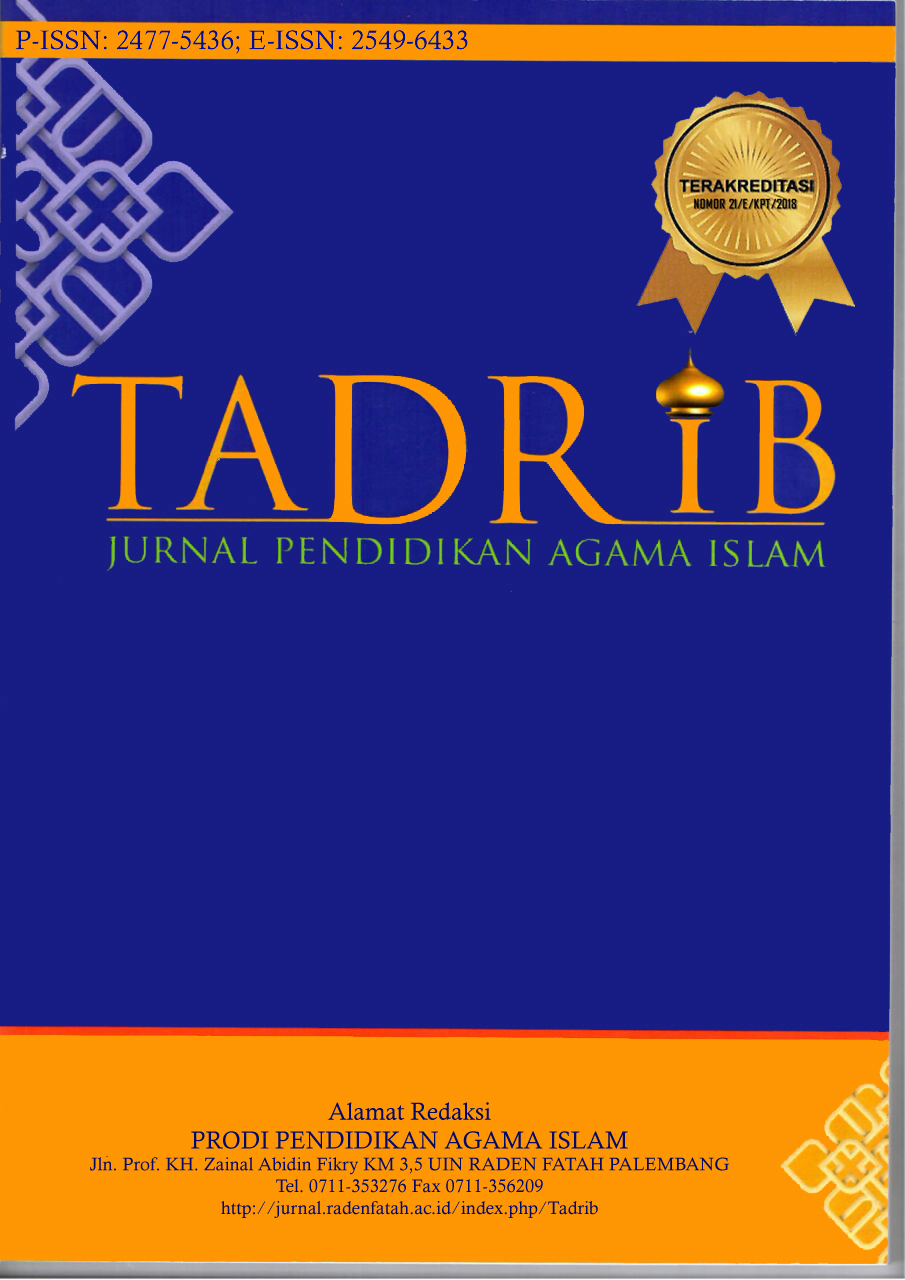 How to Cite
Syafe'i, I., & Fauziyah, A. (2020). PEMBINAAN SIKAP SPIRITUAL KEAGAMAAN MELALUI PEMBELAJARAN TAREKAT QADIRIYAH NAQSABANDIYAH. Tadrib, 6(1), 41-61. https://doi.org/https://doi.org/10.19109/tadrib.v6i1.5183