ARABIC CURRICULUM DEVELOPMENT DESIGN USING VIDEO MEDIA: DIGITAL TECHNOLOGY APPROACH
Eka Utari Handayani

uin suka Yogyakarta
Abstract
Abstract The purpose of this paper presents the development of curriculum in learning Arabic with digital technology based. Methodology or approach - used in this paper using the method or library approach (Library research), while data collection is done by examining and exploring several journals, books, and several data sources or other information that is considered relevant to the study. Based on the studies that have been done, the approach of digital technology in developing the Arabic language curriculum can be one way to do learning without being limited to time and place. One form of learning is using video media. As has been done in several developed countries, namely learning in the classroom. The teacher records and filming before the start of the new school year, then when the teacher starts playing the video that has been recorded, the students listen and pay attention to the video accompanied by the teacher. The technique used in this approach is the student center with Cooperative Learning strategies. Keywords: Development of Arabic language curriculum, Video media, Digital technology.
References
Arifin, Zainal. 2013. Konsep dan Model Pengembangan Kurikulum. Bandung: Remaja Rosdakarya.
Idi, Abdullah. 2013. Pengembangan Kurikulum Teori dan Praktik. Yogyakarta : Ar-Ruz Media.
Hamalik, Oemar. 2012. Manajemen Pengembangan Kurikulum. Bandung : Remaja Rosdakarya.
Fuad Effendy, Ahmad. 2012. Metodologi pengajaran bahasa Arab. Malang : Misykat
Aziz, Fahrurrozi. Pembelajaran Bahasa Arab : Problematika dan Solusinya, Arabiyat Jurnal Pendidikan Bahasa Arab dan Kebahasaaraban, Vol. I, No. 2, Desember 2014.
Nuroifah, Nisfatun dan Bachtiar Syaiful. B, Pengembangan Media Pembelajaran Berbasis Aplikasi Android Materi Sistem Ekskresi Siswa Kelas XI SMA Negeri 1 Dawarblandong Mojokerto. Jurnal UNESA Surabaya.
Iswan dan Herwina, Prosiding Seminar Pendidikan Era Revolusi "Membangun Sinergitas dalam Penguatan Pendidikan Karakter Pada Era IR 4.0 Universitas Muhammadiyah Jakarta, 24 Maret 2018.
Raharjo, Rahmat. 2012. Pengembangan dan Inovasi Kurikulum Membangun Generasi Cerdas & Berkarakter Untuk Kemajuan Bangsa. Yogyakarta : Baituna Publishing.
Munir, 2010. Kurikulum Berbasis Teknologi dan Komunikasi. Bandung : Alfabeta.
Maksudin dan Qoim Nurani, 2018. Pengembangan Kurikulum Pembelajaran Bahasa Arab Teori dan Praktik. Yogyakarta : Pascasarjana FITK UIN Sunan Kalijaga.
Rosyidi, Abd. Wahab & Mamlu'atul Ni'mah. 2011. Memahami Konsep Dasar Pembelajaran Bahasa Arab. Malang: UIN Maliki Press.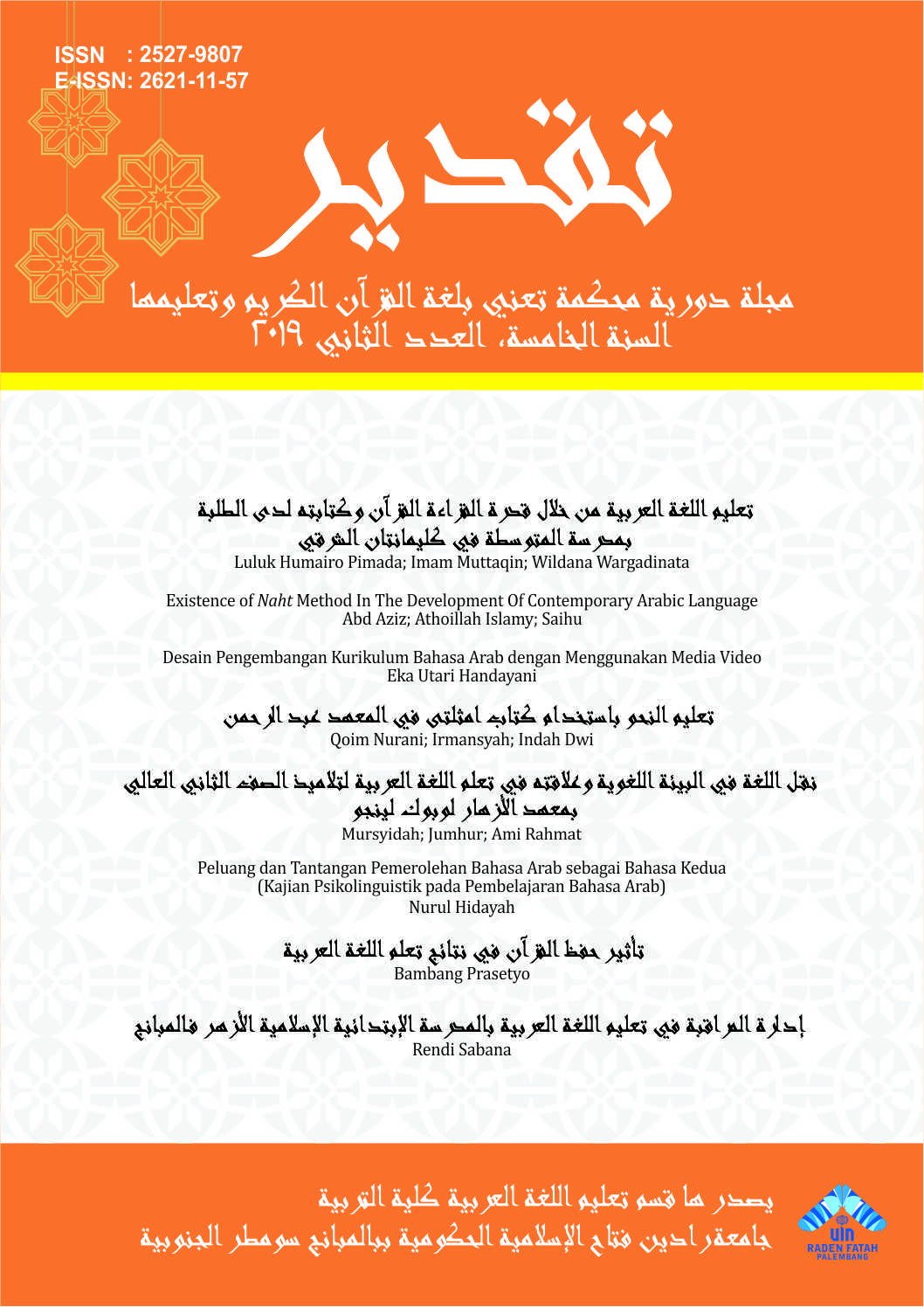 How to Cite
Handayani, E. (2020). ARABIC CURRICULUM DEVELOPMENT DESIGN USING VIDEO MEDIA: DIGITAL TECHNOLOGY APPROACH. Taqdir, 5(2), 29-40. https://doi.org/https://doi.org/10.19109/taqdir.v5i2.4287
The requirements that must be met by the author are as follows:
The author saves the copyright and gives the journal simultaneously with the license  under

Creative Commons Attribution License

which permits other people to share the work by stating that it is firstly published in this journal.
The author can post their work in an institutional repository or publish it in a book by by stating that it is firstly published in this journal.
The author is allowed to post their work online (for instance, in an institutional repository or their own website) before and during the process of delivery. (see

Open Access Effect

).