Existence EXISTENCE OF NAHT METHOD IN THE DEVELOPMENT OF CONTEMPORARY ARABIC LANGUAGE
Athoillah Islamy

IAIN Pekalongan
Abstract
One of the impacts of the development of science and technology is that it occurs in the development of various languages. This also happened to various terminology in Arabic. This study aims to find the significance of naht in the formation of various modern Arabic terminologies. This research is a qualitative research in the form of literature review. The data source of this research is various literatures on the study of naht in the formation of various terminologies in contemporary Arabic. The method of this research is qualitative descriptive analysis method. This study concludes that naht is a method of decapitation and summation of two or more words into one term (words). The existence of the naht pattern can provide great urgency related to the adaptation of Arabic in the development of language in the current modern global era, which can give birth to various new Arabic terminology.
References
Aisyah, Devy. "Analisis Isytiqaq Dalam Kajian Fikih Lughah Dan Pengajarannya." Ta'dib, 2019.
Anis, Ibrahim. Min Asrar Al-Lughah. Kairo: Maktabah al-Anjilu al-Misriyyah, 1972.
Aziz, Abd, Yuan Martina Dinata, "Bahasa Arab Modern dan Kontemporer : Kontinuitas dan Perubahan," Mumtaz, Vol.3, No.1 (2019).
Chaika, Elaine. Language: The Social Mirror. Rowley-London: Newbury-House Publisher Inc, 1982.
Faris, Ahmad bin. Maqayis Al-Lughah. Kairo: Dar Ihya' al-Kutub al-'Arabiyyah, 1366.
Gazali, Erfan, Akronim Majemuk dalam Teks Arab Modern, Proceeding InternationalConference on Applied Linguistics V (CONAPLIN 5) :Languge Teacher Development in Globalized World. (2012).
Hadi, Syamsul, "Pembentukan dan Istilah Baru dalam Bahasa Arab Modern,"Arabiyat, Vol. 4, No.2 (2017).
Ismail, Achmad Satori. "Hubungan Antara Rumpun Bahasa Semit, Bahasa Arab Dan Al-Quran." AlQalam, 2019.
Ma'nawi, Arief. "Ciri-Ciri Morfologis Bahasa Arab Sebagai Anggota Rumpun Bahasa Semit." Humaniora, 2012.
Ni'mah, Ummi Nurun. "Qiyas Sebagai Sebuah Metode Dalam Nahwu." Adabiyyāt: Jurnal Bahasa Dan Sastra, 2019.
Rahmap, "Neologisasi dalam Bahasa Arab."Alfzuna, Vol.1,No.1(2016).
Sibawayh. Al-Kitab. Edited by 'Abd Al-Salam and Muhammad Harun. Kairo: Maktabah al-Khanji, 1988.
Supyan, Abu. "Akronim Dalam Bahasa Arab." Jurnal Humaniora 23, no. 1 (2011).
Ya'qub, Imil Badi'. Fiqh Al-Lughah Al-'Arabiyyah Wa Khasa'Isuha. Beirut: Dar al-Thaqafah al-Islamiyyah,
Salim, Latifah "Sejarah Pertumbuhan dan Perkembangan Bahasa Arab,"Jurnal Diwan, Vol.3, No.1 (2017).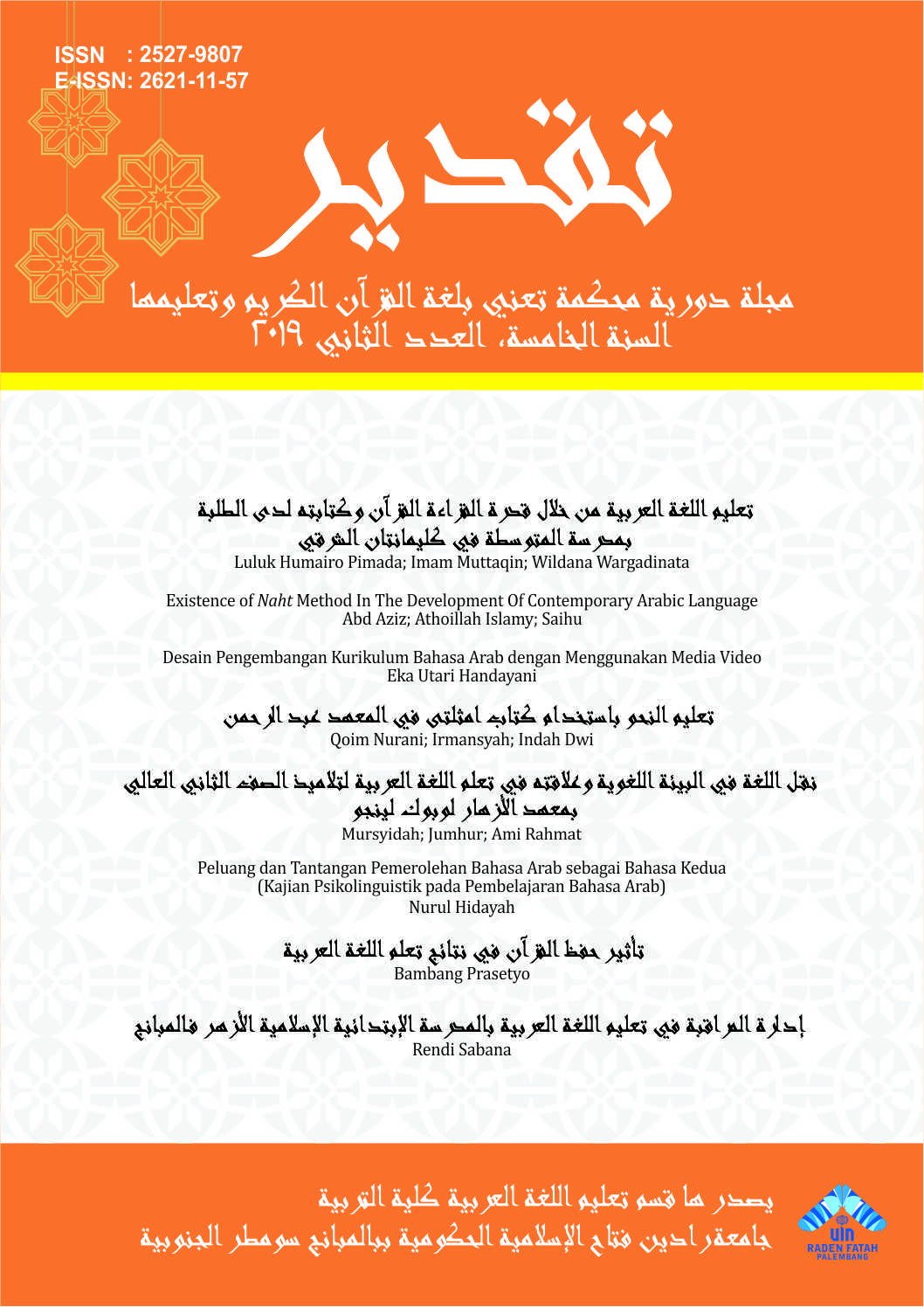 How to Cite
Islamy, A. (2019). Existence EXISTENCE OF NAHT METHOD IN THE DEVELOPMENT OF CONTEMPORARY ARABIC LANGUAGE. Taqdir, 5(2), 19-28. https://doi.org/https://doi.org/10.19109/taqdir.v5i2.4926
The requirements that must be met by the author are as follows:
The author saves the copyright and gives the journal simultaneously with the license  under

Creative Commons Attribution License

which permits other people to share the work by stating that it is firstly published in this journal.
The author can post their work in an institutional repository or publish it in a book by by stating that it is firstly published in this journal.
The author is allowed to post their work online (for instance, in an institutional repository or their own website) before and during the process of delivery. (see

Open Access Effect

).