Studi Komparasi Manajemen Pembelajaran Bahasa Arab Di Kelas XI MAN Sabdodadi Bantul Dan Kelas XI MA As Sakinah Hidayatullah Sleman
Rizal Effendi Putra

Universitas Abdurrab
Abstract
This study aims to determine the differences in learning management implemented in Arabic learning by class XI teachers at Madrasah Aliyah Negeri Sabdodadi Bantul and class XI at Madrasah Aliyah As Sakinah Hidayatullah Sleman Yogyakarta as well as the factors that support and hinder the realization of effective learning. With this research, it is hoped that it can provide input in improving the learning process for all parties, especially Madrasah Aliyah Negeri Sabdodadi Bantul and Madrasah Aliyah As Sakinah Hidayatullah Sleman Yogyakarta. The results of the study indicate: Arabic learning management can be seen from the management functions carried out by the teacher, namely: lesson planning, research results show lesson planning such as syllabus, lesson plan (RPP), daily program, semester program and annual program. on the academic calendar that has been agreed upon by the regional office (Kanwil). Meanwhile, MA As Sakinah Hidayatullah uses a curriculum that has been prepared by the madrasah, namely the kurikulum diniyah and the Arabic language learning syllabus is also compiled by the madrasah. As for each planning identity, it is only written for class XI A MA and XI B MA. Because in MA As Sakinah, especially in class XI, there are no majors.
References
Dale, E. (1965). Management: theory and practice. Rex Bookstore, Inc.
Efendi, R. (2019). Meningkatkan Kemampuan Guru Dalam Menyusun Perencanaan Pembelajaran Melalui Pembinaan Kolaboratif Bagi Guru SMA Negeri 1 Putri Betung Kabupaten Gayo Lues. Jurnal Serambi Edukasi, 3(1).
Firdianti, A. (2018). Implementasi manajemen berbasis sekolah dalam meningkatkan prestasi belajar siswa. Gre Publishing.
Handoko, T. H., & Swasta, B. (2008). Perilaku Konsumen. Yogyakarta BPFE.
Izzan, H. A. (2011). Metodologi pembelajaran bahasa Arab. Humaniora Utama Press.
Mockler, R. J. (2002). Using the arts to acquire and enhance management skills. Journal of Management Education, 26(5), 574–585.
Muhlis, A. (2014). Pengembangan Kurikulum Bahasa Arab Di Mtsn Sumber Bungur Pamekasan. OKARA: Jurnal Bahasa Dan Sastra, 8(1), 107–135.
Rezeki, S. R. S., AR, M. A. R. M., & Harun, C. Z. H. C. Z. (2012). Manajemen Pembelajaran Pendidikan Dan Pelatihan Prajabatan Pada Bkpp Aceh. JURNAL SERAMBI ILMU, 13(2), 81–90.
Rosyidi, A. W. (2009). Media pembelajaran bahasa Arab. UIN-Maliki Press.
Soemitro, R. A. A., & Suprayitno, H. (2018). Pemikiran Awal tentang Konsep Dasar Manajemen Aset Fasilitas. Jurnal Manajemen Aset Infrastruktur & Fasilitas, 2.
Susman, I. (n.d.). DAFTAR PUSTAKA. Azwar, Saifuddin, Sikap Manusia Teori dan Pengukurannya. Edisi ke 2. Cetakan IV. Pustaka Pelajar. Yogyakarta.
Suyanto, B. (2015). Metode Penelitian Sosial: Berbagai Alternatif Pendekatan. Prenada Media.
Uno, H. B. (2007). perencanaan pembelajaran, Bumi Aksara. Jakarta.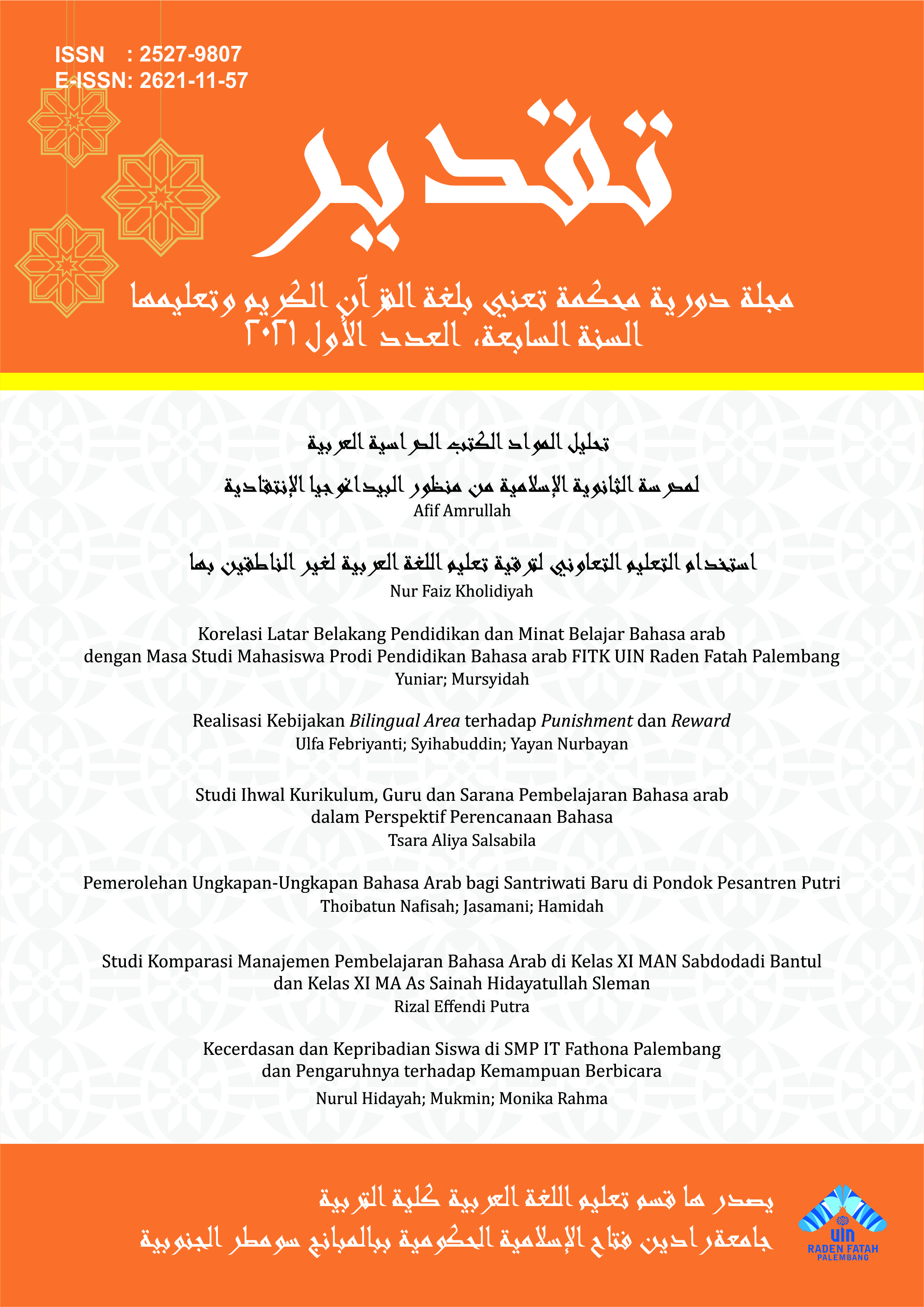 How to Cite
Putra, R. ( ). Studi Komparasi Manajemen Pembelajaran Bahasa Arab Di Kelas XI MAN Sabdodadi Bantul Dan Kelas XI MA As Sakinah Hidayatullah Sleman. Taqdir, 7(1), 93-114. https://doi.org/https://doi.org/10.19109/taqdir.v7i1.7972
The requirements that must be met by the author are as follows:
The author saves the copyright and gives the journal simultaneously with the license  under

Creative Commons Attribution License

which permits other people to share the work by stating that it is firstly published in this journal.
The author can post their work in an institutional repository or publish it in a book by by stating that it is firstly published in this journal.
The author is allowed to post their work online (for instance, in an institutional repository or their own website) before and during the process of delivery. (see

Open Access Effect

).