Kecerdasan Dan Kepribadian Siswa di SMP IT Fathona Palembang Dan Pengaruhnya Terhadap Kemampuan Berbicara
Nurul Hidayah

Universitas Islam Negeri Raden Fatah Palembang

Mukmin Mukmin

Universitas Islam Negeri Raden Fatah Palembang

Monika Rahma

Universitas Islam Negeri Raden Fatah Palembang
Abstract
Speech ability was influenced by several factors including intelligence and personality. SMP IT fathonah has used stifin test in knowing the intelligence and personality of students, the test results are then not only optimized in learning but also in 3 Lingual programs and Arabic-speaking environments. This study uses mixed method method. With qualitative and quantitative approach. The samples in this study were purposive samples with a total of 28 students. The data analysis technique in this study uses the Two Way Anova test formula with SPSS. The results of this study showed that intelligence affects students' speech ability with a degree of significance of 0.003. While personality does not affect students' speech ability because it has a significance of 0.548. But the two variables together affected students' speaking skills by 65.4%. From the data it can be stated that the personality of a student can not be expressed significantly because personality can be affected by other factors for example by motivation, or other psychological elements, while intelligence can affect speech skills significantly because intelligence can certainly support the growth of skills learned by students.
References
Akyas, A. H. (2004). Psikologi Umum dan Perkembangan. Jakarta: Teraju.
Daniel, G. (2009). Kecerdasan Emosional. Jakarta: Gramedia.
Farid, P. (2009). STIFIn Personality (G. Stifin, Ed.). Bekasi.
Fasiak, T. (2010). Tuhan dalam Otak Manusia. Bandung: Mizan.
Ghazali, A. S. (2013). Pemerolehan dan Pembelajaran Bahasa Kedua. Malang: Bayu Media Publishing.
HabibI Syahid, A. (2014). Kepribadian Ekstrovert-Introvert dan Pemerolehan Bahasa Kedua Perspektif Psikolinguistik pada Santri Pondok Modern. Al-Qalam, 31(2), 399–426.
Hermawan, A. (2011). Metodologi Pembelajaran Bahasa Arab. Bandung: PT. Remaja Rosda Karya.
Hidayat, F. (2020). Penerapan Metode Stifin dalam Menghafal al-Qur'an di Pondok Pesantren Nurul Jadid Paiton. Retrieved from www.journal.uta45jakarta.ac.id
Istifaizah. (2019). Hubungan Pengelolaan Minat Membaca Dan Penguasaan Kosakata Terhadap Keterampilan Berbicara Pada Siswa Madrasah Ibtidaiyah Miftahul Falah Undaan Tengah Undaan Kudus Tahun Ajaran 2018/2019. IAIN Kudus.
Jaenudin, U. (2015). Psikologi Kepribadian. Bandung: Pustaka Setia.
Khoiriyah, S. (2017). Motivasi Terhadap Keterampilan Berbicara Bahasa Arab pada Peserta Didik Kelas X SMK Muhammadiyah 1 Metro TP 2016/2017. IAIN Metro.
Mundiri, A., & Zahra, I. (2017). Implementasi Metode STIFIn dalam Meningkatkan Kemampuan Menghafal Al-Qur'an di Rumah Qur'an STIFIn Paiton Probolinggo. Jurnal Pendidikan Agama Islam (Journal of Islamic Education Studies), 5(2), 201. https://doi.org/10.15642/jpai.2017.5.2.201-223
Munir. (2011). Perencanaan Sistem Pembelajaran Bahasa Arab. Palembang: Noer fikry Press.
Pamesangi, A. A. (2020). Optimalisasi Potensi Kecerdasan Anak Sejak Dini dalam belajar Bahasa Arab. Jurnal Program Studi Pendidikan Islam Anak Usia Dini, 3(2), 151–159.
Ramly, N. (2010). Rahasia dan Keajaiban Otak Tengah. Jakarta: Best Media Utama.
Ratminingsih, N. M. (2013). Pengaruh Gender Dan Tipe Kepribadian. Jurnal Pendidikan Dan Pengajaran, (11), 278–288.
Ratnaningtyas, O. (2015). Pembelajaran Menulis Bahasa Arab Di Program Khusus Perkuliahan Bahasa Arab (Pkpba) Universitas Islam Negeri Malang. Jurnal Penelitian Dan Kajian Keislaman Desemer, 3(2), 2338–3186.
Ratnaningtyas, O. (2019). Implementasi Dalam Pembelajaran Keterampilan Berbicara Bahasa Arab. 3, 21–44.
Robbins, S. (2001). Perilaku Organisasi. Jakarta: PT. Indeks.
Setiawan, A. R. (2020). Kecerdasan Majemuk Berdasarkan Neurosains Multiple Intelligences Based on Neuroscience. Kajian Keilmuan, (April 2020), 1–8.
Suherlan, H. (2013). Psikologi Pelayanan (M. Peribahan, Ed.). Bandung.
Susanti, S. (2020). Multiple Intelligences dalam Pembelajaran Bahasa Arab di Madrasah. Tatsqifiy: Jurnal Pendidikan Bahasa Arab, 1(2), 57. https://doi.org/10.30997/tjpba.v1i2.2777
Tarigan, H. G. (1994). Membaca Sebagai Suatu Keterampilan Berbahasa. Bandung: Angkasa.
Tutik, S. D. dan S. (2008). Etika dan Kepribadian. Salatiga: Widya Sari.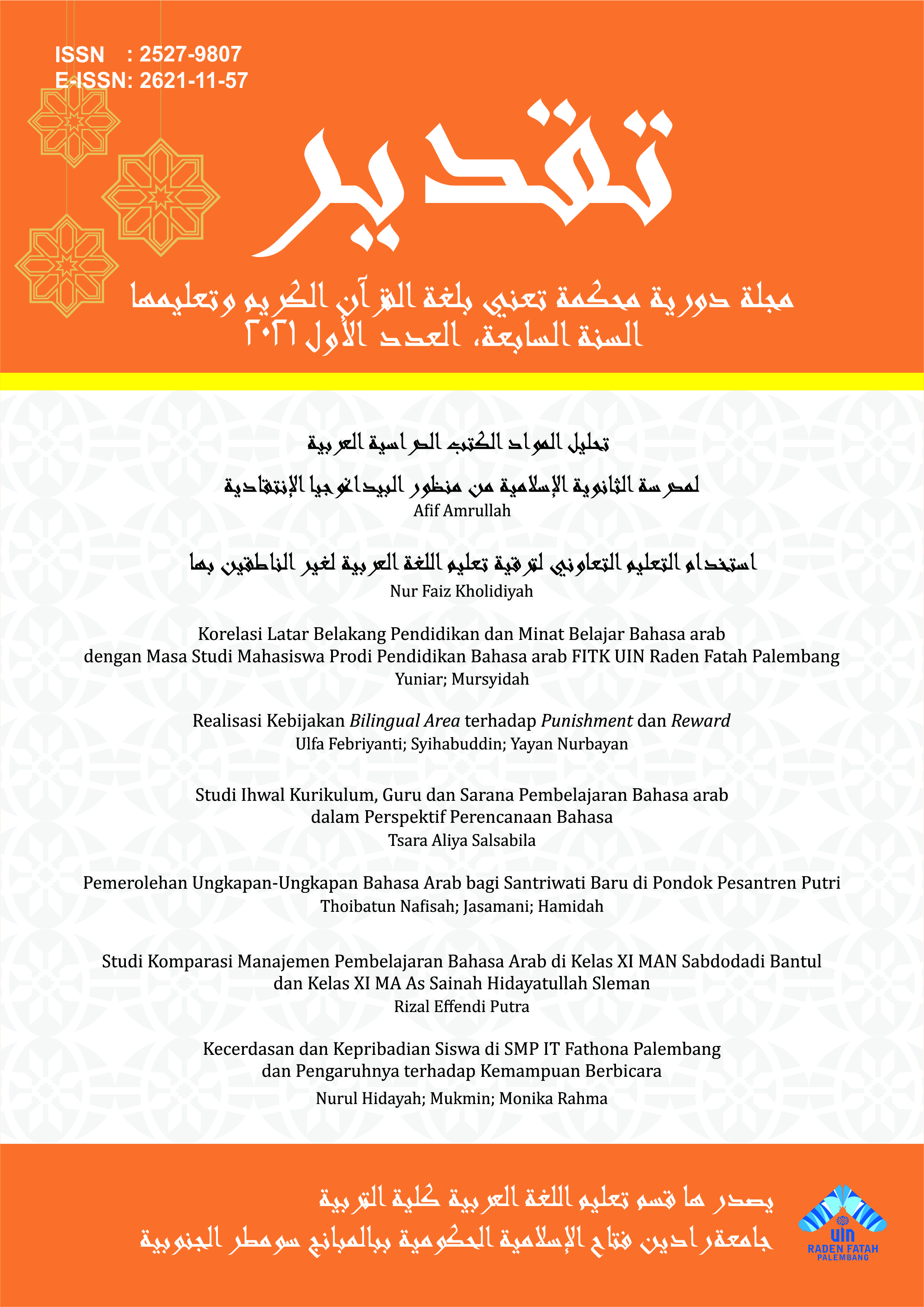 How to Cite
Hidayah, N., Mukmin, M., & Rahma, M. (2021). Kecerdasan Dan Kepribadian Siswa di SMP IT Fathona Palembang Dan Pengaruhnya Terhadap Kemampuan Berbicara. Taqdir, 7(1), 115-130. https://doi.org/https://doi.org/10.19109/taqdir.v7i1.8455
The requirements that must be met by the author are as follows:
The author saves the copyright and gives the journal simultaneously with the license  under

Creative Commons Attribution License

which permits other people to share the work by stating that it is firstly published in this journal.
The author can post their work in an institutional repository or publish it in a book by by stating that it is firstly published in this journal.
The author is allowed to post their work online (for instance, in an institutional repository or their own website) before and during the process of delivery. (see

Open Access Effect

).