Pengikatan Diri dalam Mursyid Institusi Keagamaan Pendekatan Konseling Kognisi
Sugandi Miharja

Universitas Islam Negeri Sunan Gunung Djati Bandung, Indonesia
Abstract
This study aims to explore the method of the murshidan guidance system for congregations. There is a rare phenomenon where activities in a mosque do not stop and continue to be visited by worshipers from various walks of life and regions. This underlies the research question of how the congregational guidance system is in a murshidan manner and what is the attraction of Muslims participating in congregational prayers in the five daily prayers. This mosque became a research location in Citaman Village, Bandung West Java. Data collection techniques used are observation, documentation, and interviews. The study results showed that several methods were applied in the mosque. First, there is the development of Muslims in the community, which is the target area of the mosque. Second, the Jami Mosque holds activities connected for 24 hours by voluntary mosque activists. Third, mosque activists spread the kemurshidan system by having taklim fadhilah amal after every obligatory prayer. Fourth, every week, delegates from residents come to deliberation meetings at the sub-district and Bandung Raya levels. Apart from that, periodically, there are congregations from other areas outside the province, even abroad, who come to the village mosque. The method applied by this mosque is also referred to as the Jamaah Tablighi concept.
References
Abdullah, Rahmiwati. "Peran Organisasi Islam Dalam Membentuk Akhlak Peserta Didik" 1 (2021).
Abshor, M. Ulil. "Penafsiran Keislaman Di Laman YouTube: Studi Kasus Tafsir Lisan Gus Izza Sadewaa." Urnal Ilmiah Spiritualis: Jurnal Pemikiran Islam Dan Tasawuf 8, no. 1 (2022): 1–27. http://ejurnal.iaipd-nganjuk.ac.id/index.php/spiritualis/article/view/384.
Adamy, Aulina, and Abu Hassan Abu Bakar. "Developing a Building-Performance Evaluation Framework for Post-Disaster Reconstruction: The Case of Hospital Buildings in Aceh, Indonesia." International Journal of Construction Management 21, no. 1 (2021): 56–77. https://doi.org/10.1080/15623599.2018.1506903.
Arroisi, Jarman, and Martin Putra Perdana. "Psikologi Modern Perspektif Malik Badri ( Analisis Kritis Atas Paradigma Psikoanalisa Dan Behaviourisme )," no. August 2020 (2021).
Bukhori, Baidi. "Dakwah Melalui Bimbingan Dan Konseling Islam" 5, no. 1 (2014): 1–18.
Dakwah, Fakultas. "Urgensi Layanan Bimbingan Dan Konseling Bagi Anak Berkebutuhan Khusus" 7, no. 1 (2015): 46–64.
Derobertis, Eugene M. "Deriving a Humanistic Theory of Child Development from the Works of Carl r. Rogers and Karen Horney." Humanistic Psychologist 34, no. 2 (2006): 177–99. https://doi.org/10.1207/s15473333thp3402_5.
Fauzan, Irma Tyasari. "Pengaruh Religiusitas Dan Etika Kerja Islami Terhadap Motivasi Kerja." Modernisasi 8, no. 3 (2012): 206–32.
Fitriani, Yustina. "Analysis of Psychological Aspects of The Main Character in Movie 'Joker' Based on Sigmund Freud Theory." Humanitatis 6, no. 1 (2019): 109–18.
H. Morgan, John. "The Interpersonal Psychotherapy of Harry Stack Sullivan: Remembering the Legacy." Journal of Psychology & Psychotherapy 04, no. 06 (2014). https://doi.org/10.4172/2161-0487.1000162.
Hasan, Noorhaidi. "The Making of Public Islam: Piety, Agency, and Commodification on the Landscape of the Indonesian Public Sphere." Contemporary Islam 3, no. 3 (2009): 229–50. https://doi.org/10.1007/s11562-009-0096-9.
Hossain, Md. Mahroof. "Psychoanalytic Theory Used in English Literature: A Descriptive Study." Global Journal of Human-Social Science: Linguistics & Education 17, no. 1 (2017): 41–46.
Islam, Universitas, Negeri Raden, and Fatah Palembang. "Kritik Terhadap Tarekat : Telaah Kritisterhadap Pola Pikir Dan Cara Hidup Sufi." Jia, no. 2 (2019): 192–202.
Islami, Konseling, Islamic Guidance, and Gold Generation. "Kata Kunci:" 1, no. 1 (2015): 1–11.
Journal, International, Existential Psychology, and Psychotherapy Volume. "Life, But Ask What You Can Give" 6, no. 1 (2016).
Kartadinata, Sunaryo. "Teori Bimbingan Dan Konseling." Psychotherapy Research 10, no. 1 (2017): 1–16.
Kuntowijoyo, Karya. "Gagasan Tasawuf Pada Kumpulan Puisi Isyarat," n.d., 87–99.
Kurniawati, Fauziyah, and Siti Masithoh. "Human Spiritual Journey in Movie Muhammad: The Messenger of God Based on Jean-Paul Sartre's Perspective" 370 (2019): 120–24. https://doi.org/10.2991/adics-elssh-19.2019.25.
Kusnawan, Aep, and Ridwan Rustandi. "Nalar : Jurnal Peradaban Dan Pemikiran Islam Menemukan Moderasi Beragama Dalam Kaderisasi Dakwah : Kajian Pada Pemuda Persatuan Islam Jawa Barat" 5 (2021): 41–61. https://doi.org/10.23971/njppi.v5i1.2900.
Latif, Umar. "Al-Qur'an Sebagai Sumber Rahmat Dan Obat Penawar (Syifa') Bagi Manusia." Jurnal Al-Bayan 21, no. 30 (2014): 88.
Litzky, Barrie E., Kimberlya Eddleston, and Deborah L. Kidder. "The Good, the Bad, and the Misguided: How Managers Inadvertently Encourage Deviant Behaviors." Academy of Management Perspectives 20, no. 1 (2006): 91–103. https://doi.org/10.5465/AMP.2006.19873411.
Mansyur. "Al-Qolbu Dalam Perspektif Al-Qur'an." Tafsere 5, no. 1 (2017): 45–66. http://journal.uin-alauddin.ac.id/index.php/tafsere/article/view/7318/6002.
Marinda, Leny. "Piaget Dan Problematikanya." Jurnal An-Nisa :Jurnal Kajian Perempuan & Keislaman 13, no. 1 (2020): 116–52.
Miri, Seyed Javad, Robert Lake, and Tricia M. Kress. "Reclaiming the Sane Society: Essays on Erich Fromm's Thought." Reclaiming the Sane Society: Essays on Erich Fromm's Thought, no. January 2014 (2014): 1–224. https://doi.org/10.1007/978-94-6209-607-3.
Neumann, Iver B., and Ole Jacob Sending. "'The International' as Governmentality." Millennium: Journal of International Studies 35, no. 3 (2007): 677–701. https://doi.org/10.1177/03058298070350030201.
Pendidikan, Jurnal, Islam Anak, and Usia Dini. "A s - S A B I Q U N" 4, no. November (2022): 1209–24.
Psikologi, Pendekatan, Dalam Kajian, Muhammad Nidom, and Hamami Abicandra. "P_issn : 2460-3325 e-Issn : Muhammad Nidom Hamami Abicandra," no. 1 (n.d.): 21–30.
Rose, Leigha, Michael L. Crowe, Brinkley M. Sharpe, Kaela Van Til, Donald R. Lynam, and Joshua D. Miller. "Factor Structure of the FFM ATM: Antagonism, Emotional Stability, Impulsivity, and Agency." Journal of Personality Assessment, 2022, 1–42. https://doi.org/10.1080/00223891.2022.2117624.
Strauss, Clara, Kate Cavanagh, Annie Oliver, and Danelle Pettman. "Mindfulness-Based Interventions for People Diagnosed with a Current Episode of an Anxiety or Depressive Disorder: A Meta-Analysis of Randomised Controlled Trials." PLoS ONE 9, no. 4 (2014). https://doi.org/10.1371/journal.pone.0096110.
Suhemi, Emi. "Mashdar Dalam Surat Al-Kahfi: Suatu Kajian Morfologis." Jurnal Ilmiah Al-Mu'ashirah 17, no. 2 (2020): 186. https://doi.org/10.22373/jim.v17i2.9180.
Sutoyo, Anwar. "Model Bimbingan Dan Konseling Sufistik Untuk Mengembangkan Pribadi Yang 'Alim Dan Saleh." Konseling Religi 8, no. 1 (2017): 1–22.
Tarbiyah, Fakultas Ilmu, Keguruan Uin, Raden Fatah, and Palembang Email. "Jurnal Inventa Vol III. No 1 Maret 2019" III, no. 1 (2019).
Timur, Jakarta, and Jakarta Timur. "Rehabilitasi Sosial Bagi Penyandang Disabilitas Mental Melalui Unit Informasi Dan Layanan Sosial Rumah Kita" 1, no. 03 (2015): 278–92.
Watts, Richard E, and Richard E Watts. "Of Social Interest ( 1933 )," no. July (2015).
Weston, Burns H., and Tracy Bach. "Recalibrating The Law of Humans with The Laws of Nature: Climate Change, Human Rights, and Intergenerational Justice." SSRN Electronic Journal, no. 10 (2012). https://doi.org/10.2139/ssrn.1443243.
Yao, Yiyu. "Tri-Level Thinking: Models of Three-Way Decision." International Journal of Machine Learning and Cybernetics 11, no. 5 (2020): 947–59. https://doi.org/10.1007/s13042-019-01040-2.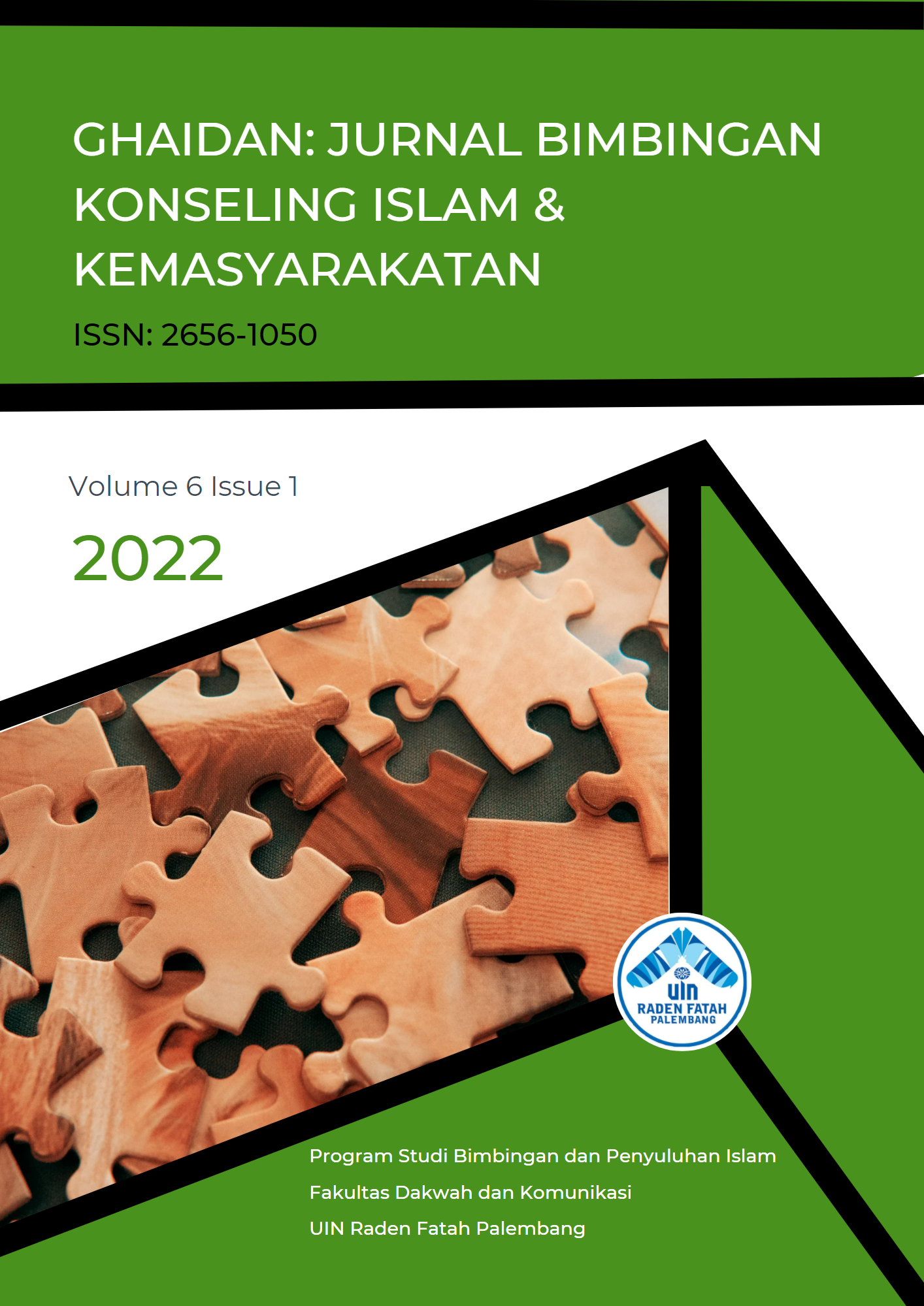 How to Cite
Miharja, S. (2022). Pengikatan Diri dalam Mursyid Institusi Keagamaan Pendekatan Konseling Kognisi. Ghaidan: Jurnal Bimbingan Konseling Islam Dan Kemasyarakatan, 6(1), 37-50. https://doi.org/https://doi.org/10.19109/ghaidan.v6i1.12470