Pengembangan E-LKPD Eksperimen Berbasis Inkuiri Terbimbng Berbantuan Phyphox untuk Meningkatkan Pemahaman Konsep
Nora Nora

Program Studi Pendidikan Fisika Universitas PGRI Palembang

Lukman Hakim

Rita Sulistyowati
Keywords:
Experimental Guide, E-LKPD Physics, Phyphox, Collision
Abstract
This study is to describe the validity, practicality and effectiveness of the guided inquiry-based physics e-LKPD experimental guide on collision material assisted by the Phyphox application to improve students' conceptual understanding. This research is research and development, while the development model used is the ADDIE model. Methods of collecting research data with surveys, interviews and questionnaires. The results showed that the e-LKPD Physics experimental guide was generated as a whole from the assessment of several aspects of the three validators including the material aspect, an average value of 87% was obtained in the valid category, the language aspect obtained an average value of 87% in the valid category and the media aspect. obtained an average of 89% with a valid category. Then the value of the practicality of the product from the students obtained an average of 84.30% in the practical category. So that from distributing questionnaires about the product to validators and students, the product is declared suitable for use in a wider scope. While the effectiveness of students in using the product is obtained from the N-gain formula with an average value of 0.7 with a high category
References
Budiyono, A., & Madura, U. I. (2016). PENGARUH MODEL PEMBELAJARAN INKUIRI TERBIMBING TERHADAP KETERAMPILAN PROSES SAINS. 4(2).
Dermawati, N., Suprapta, & Muzakkir. (2019). Pengembangan Lembar Kerja Peserta Didik (LKPD) Berbasis Lingkungan. Jurnal Pendidikan Dan …, 7(1), 74–78.
Erfan, M., & Ratu, T. (2018). Pencapaian HOTS (Higher Order Thinking Skills) Mahasiswa Program Studi Pendidikan Fisika FKIP Universitas Samawa. Jurnal Pendidikan Fisika Dan Teknologi, 4(2), 208. https://doi.org/10.29303/jpft.v4i2.831
Herawati, R., & Nurulia, E. (2019). Pengembangan Panduan Eksperimen Fisika Menggunakan Smarthphone dengan Aplikasi Phyphox pada Materi Tumbukan. 10(2), 101–107. https://doi.org/10.26877/jp2f.v10i2.4019
Muhaimin, A., & Soeprianto, H. (2015). Pengembangan Media Kapasitor Dan Pengaruhnya Terhadap Pemahaman Konsep Dan Sikap Ilmiah Siswa. Jurnal Pendidikan Fisika Indonesia, 11(1), 59–72. https://doi.org/10.15294/jpfi.v11i1.4004
Rubi, Y., Hamdani, N. A., Hudiana, & Jamilah. (2018). Penerapan Model Pembelajaran Kontekstual Berbantuan Media Presentasi Flash Terhadap Pemahaman Siswa Tentang Hukum Newton Pada Mata Pelajaran Fisika Di Kelas X Sman 4 Garut Tahun Ajaran 2014/2015. JTEP-Jurnal Teknologi Pendidikan Dan Pembelajaran, 3(1), 539–562.
Sugiono, P. D. (2014). Metode penelitian pendidikan pendekatan kuantitatif.pdf. In Metode Penelitian Pendidikan Pendekatan Kuantitatif, Kualitatif Dan R&D. Alfabeta.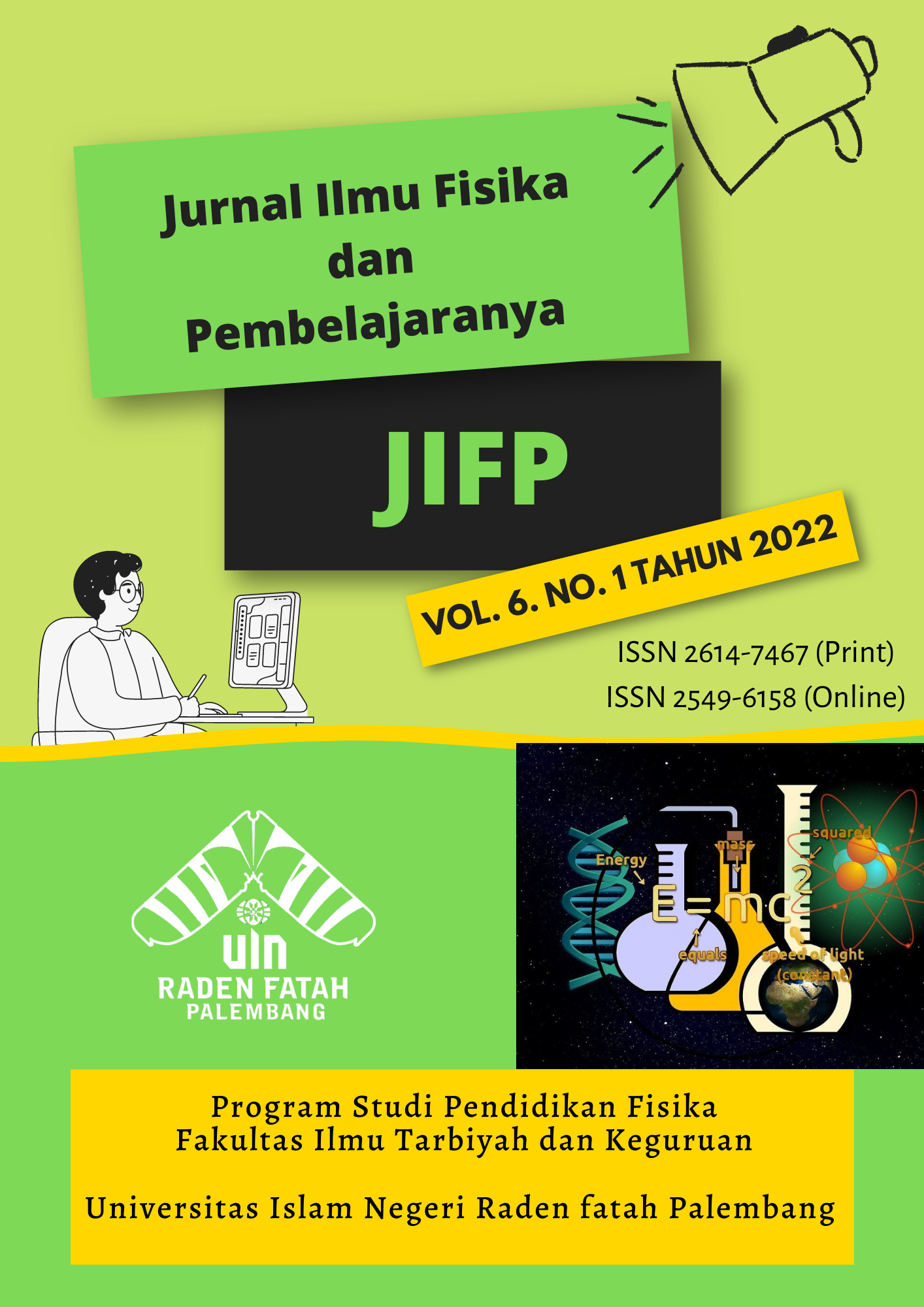 How to Cite
Nora, Nora, Lukman Hakim, and Rita Sulistyowati. "Pengembangan E-LKPD Eksperimen Berbasis Inkuiri Terbimbng Berbantuan Phyphox Untuk Meningkatkan Pemahaman Konsep". Jurnal Ilmu Fisika dan Pembelajarannya (JIFP) 6, no. 1 ( ): 20-27. Accessed December 3, 2023. http://jurnal.radenfatah.ac.id/index.php/jifp/article/view/10374.
The names and email addresses entered in this journal site will be used exclusively for the stated purposes of this journal and will not be made available for any other purpose or to any other party.