Analysis Of The Use Of The Discovery Learning Model And Their Effect On Science Process Skills In Science Learning At SMPN 41 Muaro Jambi
Listiani Listiani

Universitas Jambi
Abstract
In the 2013 curriculum, students are required to be active in learning. One of the learning models that are suitable to meet current needs is the discovery learning model. Based on the learning model, learning is directed at the active involvement of students through process activities. Process activities are obtained from experience through experimental activities, to get process activities required a skill called process skills. Skills in carrying out activities related to science are commonly called science process skills (KPS) which are a complex set of abilities that are commonly used in conducting scientific investigations in the learning process. This study aims to determine the use of discovery learning learning models and the effect of discovery learning models on science process skills in science learning for class VII SMPN 41 Muaro Jambi. This research was conducted on science learning, especially the material of heat and its transfer with the number of students 30 people. This research method uses the type of research concurrent embedded mixed methods. The results of the study using the discovery learning learning model in science learning in class VII SMPN 41 Muaro Jambi quite received a good response from the students, it can be seen from the pre-test and post-test test scores that obtained a much better score indicated by the average value. The pre-test average was 44.4 and the post-test mean was 78.133. Discovery learning learning model in science learning has a significant influence. The results of the calculation of hypothesis testing with paired t-test or t-Test: Paired Two Sample For Means show tcount = -15,445 and ttable = -2,045. In conclusion, because tcount > ttable then Ho is rejected and Ha is accepted.
References
Alimuddin, A. (2014). Penilaian Kurikulum K13. Prosiding.1(1), (pp. 23-33). Makasar: Jurusan Matematika FMIPA UNM Makassar.
Asrul., Ananda, R., & Rosnita. 2015. Evaluasi Pembelajaran. Bandung: Citapustaka Media
Efendy. 2013. Ilmu Komunikasi Teori dan Praktek. Bandung: PT. Remaja Rosdakarya
Erikanto, C. 2016. Teori Belajar dan Pembelajaran. Yogyakarta: Media Akademi
Gufron. 2016. Kominikasi Pendidikan. Yogyakarta: Kalimedia
Kosasih. 2014. Strategi Belajar Dan Pembelajaran. Bandung: Yarma Widya.
Kristin, F. 2016. Analisis Model Pembelajran Discovery Learning Dalam Meningkatikan Hasil Belajar Siswa SD. Jurnal Pendidikan Dasar PerKhasa, 2(1), 90-98.
Kurniawan, D. 2008. Uji t Berpasangan (Paired T-Test). Vienna (AT): Foundation For Statistical Computing .
Nurdyanshah, dan Fahyuni, F. 2016. Inovasi Pembelajaran. Sidoarjo: Nizamia Learning Center.
Sati, D,L., Medriati, M., dan Rohadi, N. 2017. Penerapan Model Discovery Learning Untuk Meningkatkan Hasil Belajar Kognitif Dan Keterampilan Proses Sains Di Kelas VII.B Smp Negeri 10 Kota Bengkulu. Jurnal Pendidikan Fisika, 1(1), 73-78.
Susanti. E., Mohamad, J., & Samsurizal, M. S. 2016. Pengaruh Model Pembelajaran Discovery Learning Terhadap Keterampilan Sains Dan Hasil Belajar Siswa Kelas VIII Tentang IPA SMP Advent Palu. Jurnal. Program Studi Magister Pendidikan Sains Pascasarjana Universitas Tadulako.
Trianto, 2015, Model Pembelajaran Terpadu, Jakarta: Bumi Aksara
Tyas, R. A., Insih, W., & Suyanta, S. 2020. Pengaruh pembelajaran IPA berbasis discovery learning terintegrasi jajanan lokal daerah terhadap keterampilan proses sains. Jurnal Inovasi Pendidikan IPA, 6 (1), 114-125.
Yusuf, A.M. 2019. Metode Penelitian Kualitatif, Kuantitatif dan Penelitian Gabungan. Jakarta: Prenadamedia Group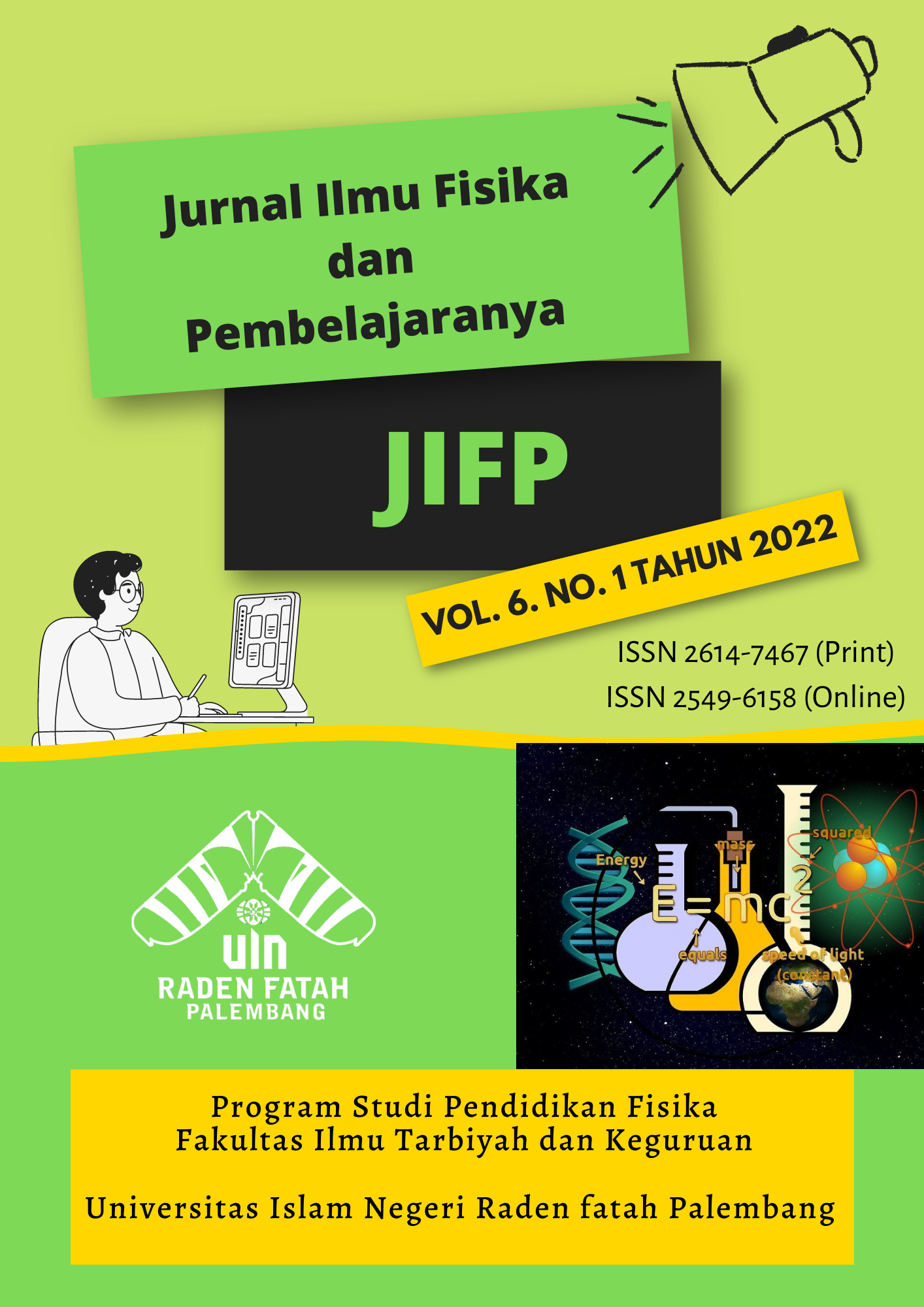 How to Cite
Listiani, Listiani. "Analysis Of The Use Of The Discovery Learning Model And Their Effect On Science Process Skills In Science Learning At SMPN 41 Muaro Jambi". Jurnal Ilmu Fisika dan Pembelajarannya (JIFP) 6, no. 1 (June 14, 2022): 51-60. Accessed February 2, 2023. http://jurnal.radenfatah.ac.id/index.php/jifp/article/view/11007.
The names and email addresses entered in this journal site will be used exclusively for the stated purposes of this journal and will not be made available for any other purpose or to any other party.