Analysis of Noise Level Around Gate Campus University Of Bengkulu
Fades Br Gultom

Universitas Bengkulu

Refpo Rahman

Heriansyah Heriansyah
Keywords:
Noise Level, Highway, University of Bengkulu
Abstract
The purpose of this study was to determine the level of noise that occurred around the entrance and exit gates of the south and west of Bengkulu University. Noise level measurements will be carried out using a sound level meter type GM 1356 with a measurement range between 30-130 dB(A) or 35-130 dB(C). The research method used a descriptive analysis with data collection techniques by systematic purposive sampling. Sound intensity data at the entrance and exit of the south and west gates were recorded in the time range 7.00-7.30, 7.30-8.00, 8.00-8.30, 11.15-11.45 and 13.00-13.30 WIB for four days. The results showed that the equivalent sound pressure level during the day (Ls) was 64.98 dBA, 66.47 dBA, 65.2 dBA, 63.69 dBA. The data shows a decrease in sound intensity in the time range of 8.00-8.30 WIB, which is 56.1 dBA. The average data has exceeded the threshold value of school noise quality standards and the like, which is 55 dBA. So it is necessary to take countermeasures to anticipate the emergence of communication, hearing and psychological disorders in both the campus community and the community outside the campus.
References
Ahmad F., Handayani I. D., dan Nurweni S. 2017. Analisis Tingkat Kebisingan Terhadap Aktivitas Belajar Mengajar Di Fakultas Teknik Universitas Semarang. Jurnal Pengembangan Rekayasa dan Teknologi, Vol 13, No. 2, pp (43-46)
Fithri, P., dan Annisa I. Q. 2015. Analisis Intensitas Kebisingan Lingkungan Kerja pada Area Utilities Unit PLTD dan Boiler di PT.Pertamina RU II Dumai. Jurnal Sains Teknologi dan Industri. Vol. 12. No. 2 pp. 278 - 285
Indrawati S., Santika B.B., dan Suyatno. 2017. Analisis Kebisingan Arus Lalu Lintas terhadap Kegiatan Belajar Mengajar (KBM) di SMA Swasta Surabaya. Jurnal Fisika Dan Aplikasinya Vol. 13 No. 1
Lucia, M.B., Lefrandt I. R., dan Kumaat M. 2020. Analisa Tingkat Kebisingan Lalu Lintas Di Jalan Raya Ditinjau Dari Tingkat Baku Mutu Kebisingan Yang Diizinkan. Jurnal Sipil Statik Vol.8 No.2, p (249-256)
Menteri Negara Lingkungan Hidup. 1996. Keputusan Menteri Negara Lingkungan Hidup Nomor: Kep-48/Menlh/11/1996 Tentang Baku Tingkat Kebisingan.
Moller A. (2006). Hearing: Anatomy, Physiology, and Disorders of the Auditory System, 2nd edition, Elsevier Science : United States of America.

Rusjadi D.TE. dan Palupi M.R. 2011. Kajian Metode Sampling Pengukuran Kebisingan Dari Keputusan Menteri Lingkungan Hidup No. 48 Tahun 1996 Study Sampling Method Of Environment Noise From The Decision Of Environment Minister No. 48 Of 1996. Jurnal Standardisasi Vol. 13, No. 3, p (176 – 183)
Singkam A.R. 2020. Kondisi Kebisingan di Gedung Perkuliahan Universitas Bengkulu. PENDIPA Journal of Science Education. Vol. 4 No. 2, p(14-20)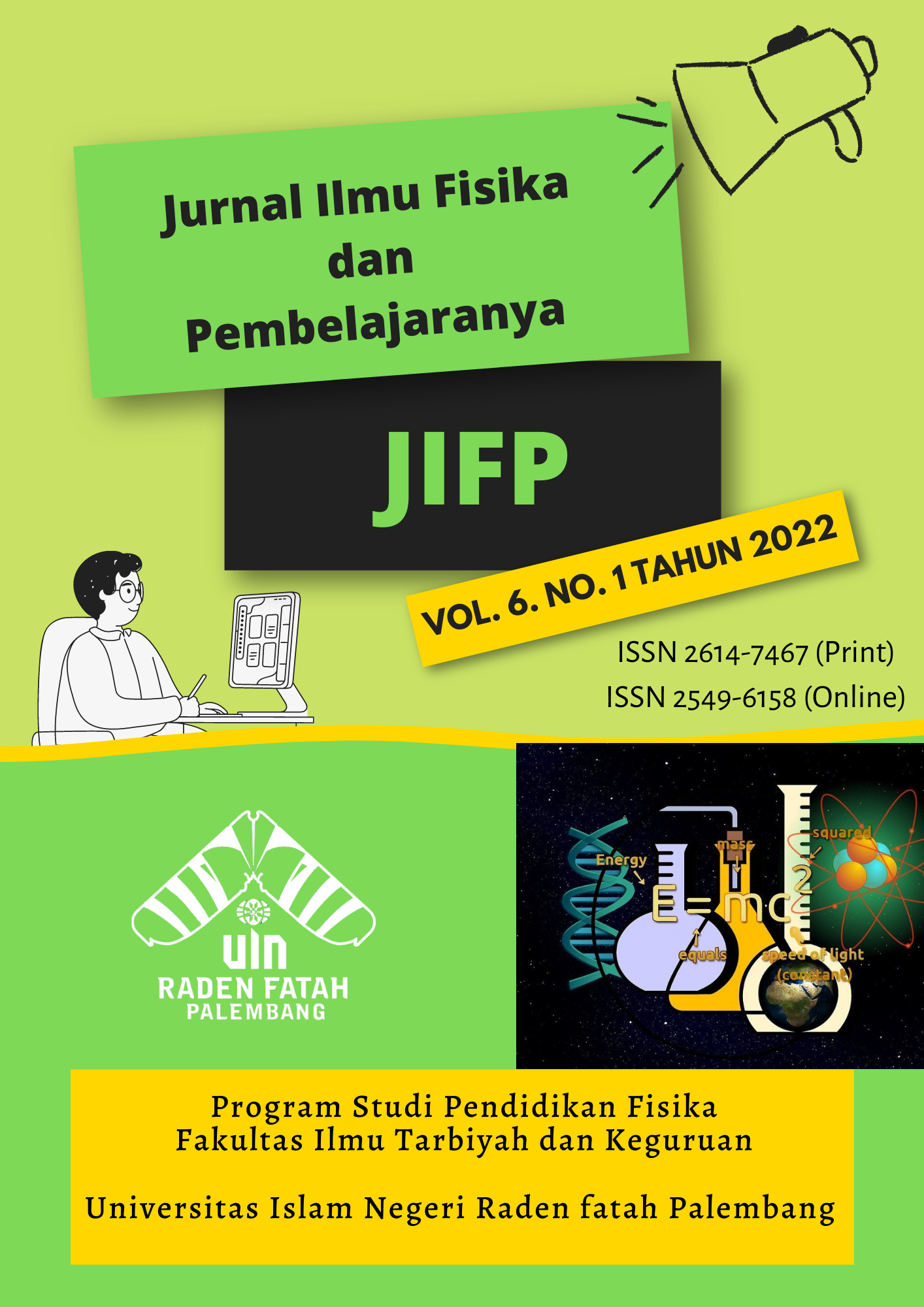 How to Cite
Gultom, Fades, Refpo Rahman, and Heriansyah Heriansyah. "Analysis of Noise Level Around Gate Campus University Of Bengkulu". Jurnal Ilmu Fisika dan Pembelajarannya (JIFP) 6, no. 1 (June 14, 2022): 34-38. Accessed February 2, 2023. http://jurnal.radenfatah.ac.id/index.php/jifp/article/view/11140.
The names and email addresses entered in this journal site will be used exclusively for the stated purposes of this journal and will not be made available for any other purpose or to any other party.