English Pengembangan AndroPhys sebagai Media Interaktif Berbasis Android untuk Meningkatkan Hasil Belajar Materi Momentum dan Impuls
English
Ryan Aryuansyah Artya Widodo

Universitas Negeri Surabaya
Keywords:
English, Indonesia
Abstract
The current Covid-19 situation has various impacts on human life. The education sector is no exception. The development of science as it is today is very fast where the internet and technology have become the main thing and are attached to society. This development is expected to be a new learning tool with this pandemic. The provision of learning media models that have never been taught in schools can improve the student's learning process to achieve the expectations desired by the teacher. So the researchers created an application called "AndroPhys" which can be applied in learning at school. The purpose of this research is to measure the validity, effectiveness, and practicality of the interactive media "AndroPhys" as a learning medium for student learning outcomes on momentum and impulse materials. This type of research is included in R&D with the ADDIE method. Based on the research stages that have been carried out, the validity of the "AndroPhys" application in the teaching and learning process is obtained with a percentage value of 90.30% with criteria that are said to be very feasible. The effectiveness of the "AndroPhys" application is said to be quite effective and the results of the implementation of learning achieved a percentage value of 94.44% so that it can be categorized as very good. From the results obtained this application can be said to be very practical. Through the results obtained, the "AndroPhys" application is appropriate to be used as an interactive medium for learning momentum and impulse materials in schools.   Keyword: AndroPhys, Media, Learning, Momentum, Impulse
References
Astuti, I. A. D., Sumarni, R. A., & Saraswati, D. L. (2017). Pengembangan Media Pembelajaran Fisika Mobile Learning berbasis Android. Jurnal Penelitian & Pengembangan Pendidikan Fisika, 3(1), 57. https://doi.org/10.21009/1.03108
Azhar Arsyad. (2011). Media pembelajaran. Jakarta: PT Raja Grafindo Persada, 36(1), 9–34.
Branch, R. M. (2009). Instructional Design-The ADDIE Approach. New York: Springer.
Dian Anggraeni, R., & Kustijono, R. (2013). Pengembangan Media Animasi Fisika Pada Materi Cahaya Dengan Aplikasi Flash Berbasis Android. Jurnal Penelitian Fisika Dan Aplikasinya (JPFA), 3(1), 11. https://doi.org/10.26740/jpfa.v3n1.p11-18
Endang Mulyaningsih. (2011). Metodologi Penelitian Terapan Bidang Pendidikan. Bandung: Alfabeta
Halliday, D. & Resnick, R. (2005). Fisika Dasar Edisi Ketujuh Jilid 1 (Terjemahan). Jakarta. Erlangga
Kanginan, Marthen. (2002). SMA Fisika X. Jakarta : Erlangga
Mahfudin, M. A., & Hariyono, E. (2020). Upaya Untuk Melatihkan Keterampilan Berpikir Kritis Peserta Didik Sma Pada Masa Pandemic Covid-19 Melalui Media Pembelajaran Software Simulasi Gunungapi. Inovasi Pendidikan Fisika, 9(3).
Pujiasih, E. (2020). Membangun Generasi Emas Dengan Variasi Pembelajaran Online Di Masa Pandemi Covid-19. Ideguru: Jurnal Karya Ilmiah Guru, 5(1), 42–48. https://doi.org/10.51169/ideguru.v5i1.136
Riduwan. (2015). Skala pengukuran Variabel-Variabel Penelitian. Bandung: Alfabeta
Serway, Jewett. (2014). Fisika untuk Sains dan Teknik. Jakarta: Salemba Teknika
Setiawan, R. (2020). Rancang Bangun Media Pembelajaran Berbasis Android Tanpa Coding Semudah Menyusun Puzzle. Jurnal Sistem Informasi Dan Sains Teknologi, 2(2), 1–7. https://doi.org/10.31326/sistek.v2i2.729
Sugiyono. (2019). Metode Penelitian Pendidikan Pendekatan Kuantitatif, Kualitatif, dan R&D. Bandung: Alfabeta.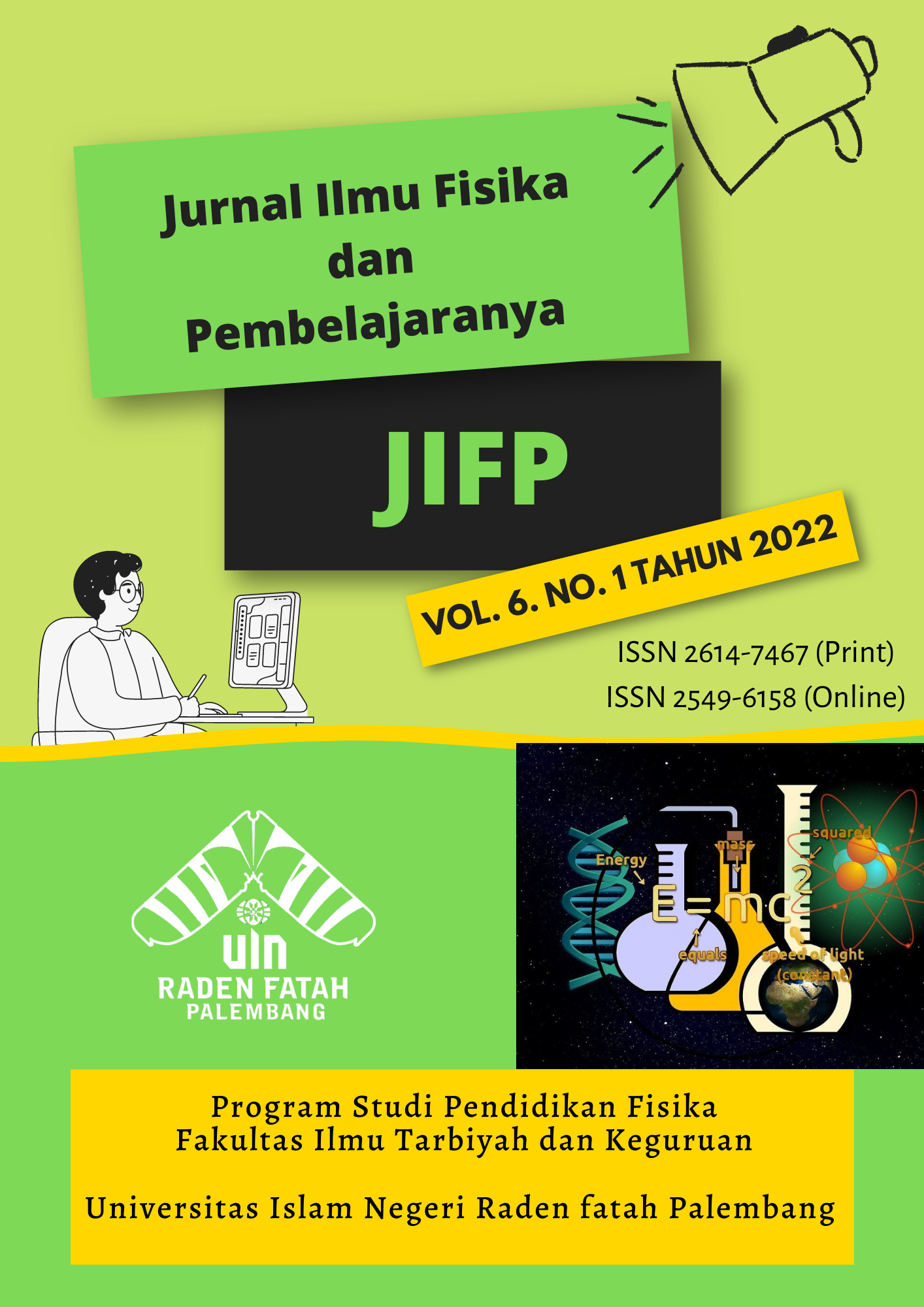 How to Cite
Widodo, Ryan. "English Pengembangan AndroPhys Sebagai Media Interaktif Berbasis Android Untuk Meningkatkan Hasil Belajar Materi Momentum Dan Impuls". Jurnal Ilmu Fisika dan Pembelajarannya (JIFP) 6, no. 1 ( ): 1-10. Accessed February 2, 2023. http://jurnal.radenfatah.ac.id/index.php/jifp/article/view/12459.
The names and email addresses entered in this journal site will be used exclusively for the stated purposes of this journal and will not be made available for any other purpose or to any other party.