Rancang Bangun Alat Kontrol Aliran Fluida Untuk Mensimulasikan Hukum Kontinuitas Sebagai Media Pembelajaran Fisika
-
Jesi Pebralia

Universitas Islam Negeri Raden Fatah
Keywords:
Arduino Uno, Continuity Law, Fluid Fow, Water Flow Sensor
Abstract
This study aims to create a fluid flow control to simulate continuity law as a media for physics learning. Fluid flow control is designed using a digital devices, consist of two main components: Arduino Uno microcontroller and a water flow sensor, that is systematically designed. This study produces a valid fluid flow control to simulate the Continuity Law which can be used as a media for physics learning. Key words: Fluid flow, Arduino Uno, water flow sensor, Continuity Law.
References
Abidin, K., dan Wagiani, S. 2013. Studi Analisis Perbandingan Kecepatan Aliran Air melalui Pipa Venturi dengan Perbedaan Diameter Pipa. Jurnal Dinamika hal: 62-78, Vol.04, No.1.

Sutoyo, Edi. 2016. Simulasi Aliran Fluida melalui Pendekatan Sistem Dinamik. Jurnal Ilmiah Teknik Mesin, Vol.02, No.02.

Hadi, Sutrisno. Analisis Regresi. Yogyakarta: Andi.

Mukhaiyar, Utriwenni. 2011. Regresi Linier Sederhana dan Korelasi. https://personal.fmipa.itb.ac.id/utriweni/files/2011/08/11.-Regresi-Linear-Andat-Nov-11.pdf, diakses pada 8 Oktober 2018.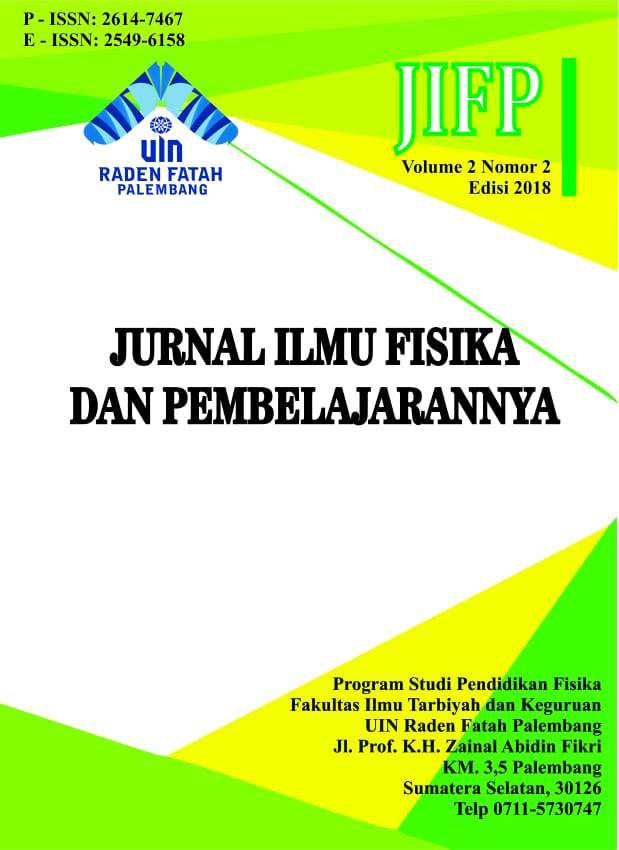 How to Cite
Pebralia, Jesi. "Rancang Bangun Alat Kontrol Aliran Fluida Untuk Mensimulasikan Hukum Kontinuitas Sebagai Media Pembelajaran Fisika". JIFP (Jurnal Ilmu Fisika dan Pembelajarannya) 2, no. 2 (December 14, 2018): 13-19. Accessed June 4, 2020. http://jurnal.radenfatah.ac.id/index.php/jifp/article/view/2658.
The names and email addresses entered in this journal site will be used exclusively for the stated purposes of this journal and will not be made available for any other purpose or to any other party.