Pengembangan Buku Saku (E-Media) Termodinamika Berorientasi Android
-
Andi Putra Sairi

UIN Raden Fatah Palembang
Keywords:
Andriod, Development, E-Media, Pocket Book, Thermodynamics
Abstract
Completing the teaching material is a task that must be carried out by the lecturer when carrying out pedagogical and pedagogical activities. A good learning tool is an element that must exist and must always be developed in order to improve the quality of learning in universities, such as learning materials. Indeed, the learning medium itself is a tool used to transmit knowledge to students in order to overcome the limitations of the senses, time and space. In addition, the availability of learning materials should also follow the evolution of the science and technology that is developing at this time. On this basis, efforts should be made to develop an educational resource in the form of an effective " pocket book " that will serve as a pedagogical medium for students to overcome the problems they face. Therefore, the purpose of this study is to describe the design, validity, and efficiency of using a thermodynamic paperback for Android. This research is a research and development (R & D) with the model used in this development is the development model of the model 4-D (model Four D). These steps are definition, design, development and propagation (desimination). The results showed that the Android-oriented thermodynamic pocket book (e-media) was very valid, very practical and effective for learning activities.
References
Adnan, M. 2009. Penelitian pengembangan. Malang: Universitas Negeri Malang.

Arsyad, Azhar. (2011). Media Pembelajaran. Jakarta: PT Raja Grafindo Persada.

Asyhari, Ardian. Dan Silvia, Helda. (2017). Pengembangan Media Pembelajaran Berupa Buletin dalam Bentuk Buku Saku untuk Pembelajran IPA Terpadu. Jurnal Ilmiah Pendidikan Fisisika (JIPF) Al-Biruni. Volume 5. No.1. DOI: http://dx.doi.org/10.24042/jpifalbiruni.v5i1.100

Prastowo, Andi. (2014) Pengembangan Bahan Ajar Tematik Tinjauan Teoretis dan Praktik. Jakarta: Kencana.

Sanjaya, Wina. (2008). Perencanaan dan Desain Sistem Pembelajaran. Jakarta: Prenadamedia Group.

Sugiyono. (2010). Metode Penelitian Pendidikan Pendekatan Kuantitatif, Kualitatif, dan R&D. Bandung: Alfabeta.

Trianto. (2009). Mendesain Model Pembelajaran Inovasi Progresif. Jakarta: Kencana Prenada Media.

Wahidmurni. (2008). Peneitian Tindakan Kelas dan Teori Menuju Praktik. Malang: UM Press.

Yaqin, Ainul. (2017). Pengembangan Buku Saku Digital Berbasis Android Sebagai Pendukung Bahan Ajar Pada Materi Pph Pasal 21. Jurnal Pendidikan Akuntansi (JPAK). Volume 5. No.1.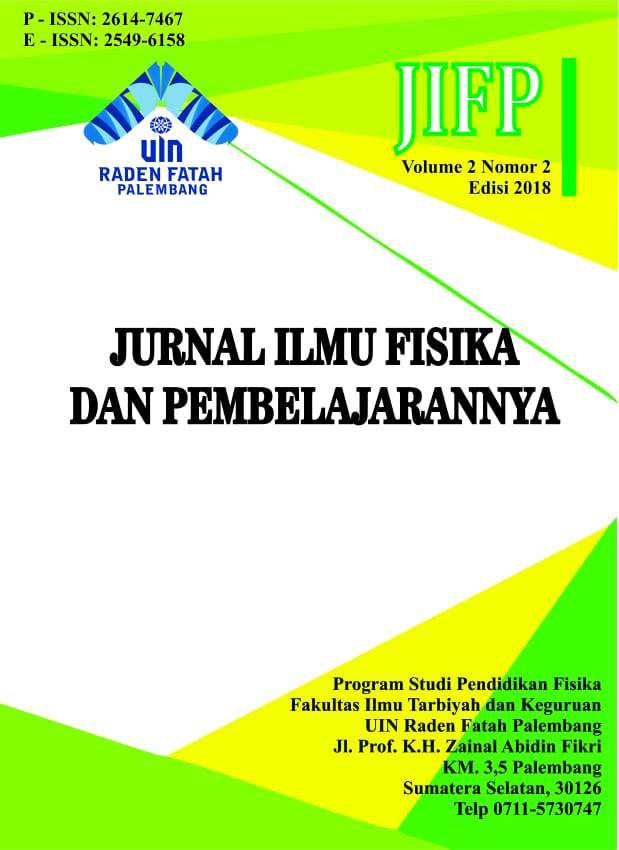 How to Cite
Sairi, Andi. "Pengembangan Buku Saku (E-Media) Termodinamika Berorientasi Android". Jurnal Ilmu Fisika dan Pembelajarannya (JIFP) 2, no. 2 (December 14, 2018): 20-33. Accessed November 29, 2023. http://jurnal.radenfatah.ac.id/index.php/jifp/article/view/2664.
The names and email addresses entered in this journal site will be used exclusively for the stated purposes of this journal and will not be made available for any other purpose or to any other party.