PERHITUNGAN ANALITIK ALGORITMA GROVER
Keywords:
Perhitungan Analitik, Algoritma, Grover
Abstract
Telah dilakukan perhitungan secara analitik ulang algoritma Grover pada komputasi kuantum untuk pencarian data dalam suatu basis data. Selain itu, dengan hasil juga diberikan hasil dari perhitungan numerik bahwa pencarian/query pada basis data data tak terurut dengan kompleksitas waktu O (N)
References
http://www.intel.com/ pressroom/ kits/events/ moores_law_40th/
Yung Man-Hong, Whitfield J D., Boixo S, Tempel D G. and Aspuru-Guzik A, Introduction to Quantum Algorithms for Physics and Chemistry, arXiv:1203.1331v1 [quant-ph], 2012.
Daz S and Kunstatter Q, Adiabaticquantum computation and Deutsch's lgo- rithm, Phy. Rev. A 65, 062310, 2002.
Bang J, Yoo S, Lim J, Ryu J, Lee C and Lee J, Quantum heuristic algorithm for traveling salesman problem, arXiv:1004.4124v2 [quant-ph], 2010.
McMahon D, Quantum Computing Explained, John Wiley & Sons Inc. 2008.
Nielsen M A. and Chuang I L., Quantum Computation and Quantum Informa- tion 10th Anniversary Edition, Cambridge University Press, 2010.
Pinski S, Samson J, Adiabatic Quantum Computing, arXiv:1108.0560v1 [physics.pop-ph], 2011.
Dasgupta S., Papadimitriou C.H., and Vazirani U.V., Algorithms, 2006, http://www.cs.berkeley.edu /vazirani/ algorithms.html.
Barahona F, On the computational complexity of Ising spin glass models, J. Phys. A 15, 3241, 1982.
Shor P.W., Polynomial-Time Algorithms for Prime Factorization and Discrete Logarithms on a Quantum Computer, arXiv:quant-ph/9508027v2, 1996.
Harrow A W., Hassidim A and Lloyd S, Quantum Algorithm for Linear Systems of Equations, Phys. Rev. Lett, 103, 150502, 2009.
Pittenger A O., An Introduction to Quantum Computing Algorithms, Birkhäus- er Boston, 2000.
Perry R T., The Temple of Quantum Computing Version 1.2, 2010.
Farhi E, Goldstone J, Gutmann S and Sipser M, Quantum Computation by Adiabatic Evolution, arXiv:quantph/0001106v1, 2000.
Cullimore M., Everitt M.J., Ormerod M. A., Samson J.H., Wilson R.D. and Zagoskin A.M., Relationship between minimum gap and success probability in adiabatic quantum computing, arXiv:1107.4034v2 [quant-ph], 2012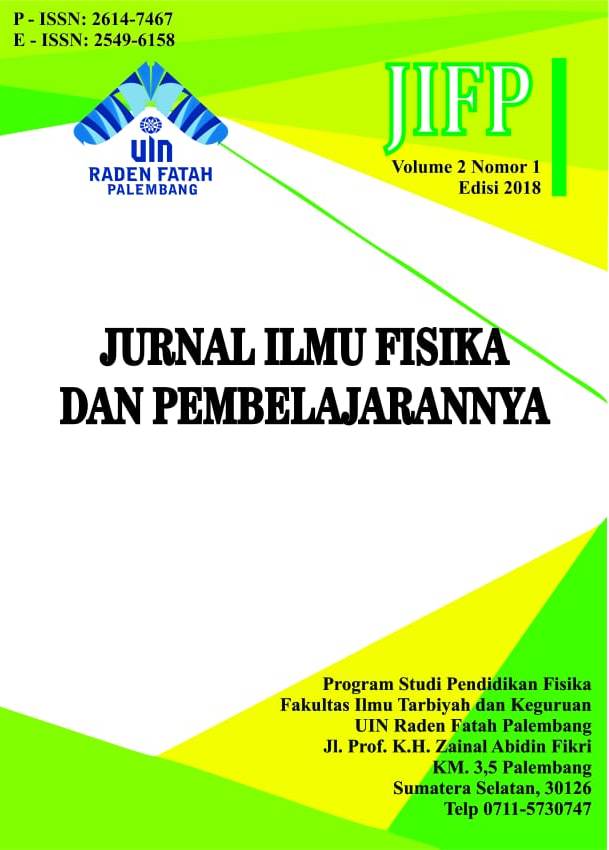 How to Cite
Suhadi, Suhadi. "PERHITUNGAN ANALITIK ALGORITMA GROVER". JIFP (Jurnal Ilmu Fisika dan Pembelajarannya) 2, no. 1 (June 13, 2018): 1-5. Accessed September 16, 2019. http://jurnal.radenfatah.ac.id/index.php/jifp/article/view/2798.
The names and email addresses entered in this journal site will be used exclusively for the stated purposes of this journal and will not be made available for any other purpose or to any other party.