Provision Of Energy Gap Value Of TiO2 /C Thin Lining Using Touc Plot Method
Agus Agus

Universitas Jambi

Helga Dwi Fahyuan

Universitas Jambi

Damris M

Universitas Jambi
Keywords:
TiO2/C,, Swanepoel, Energy Gap
Abstract
Research has been conducted on the determination of the value of the TiO2/C energy gap using the Touc Plot method. The purpose of this study was to determine the effect of the addition of percent doping C to the energy gap on TiO2. In this study the variation of doping C percent on TiO2 was 0, 0.2, 0.4, and 0.6%. To obtain the energy gap value of TiO2/C, a transmittance test was performed using a UV-Vis spectrophotometer. The data transmission is processed using the swanepoel equation to determine the refractive index and thickness of the TiO2 / C that is used to determine the value of the energy gap using the touc plot method, and obtain each energy gap with each doping variation of 3.2, 2 , 60, 2.77, 3.0 eV. Where with the addition of doping C to TiO2 the value of the gap energy produced decreases. Keywords: TiO2/C, Swanepoel, Energy Gap
References
Bilalodin. 2012. Pembuatan dan Penentuan Celah Pita Optik Film Tipis TiO2. Purwokerto. Jurnal Prosiding Pertemuan Ilmiah XXVI HFI Jateng & DIY:86-89

Dewi, WidiyoIko Suryo .2017. Studi Optimasi Pengaruh Perubahan Konsentrasi Terhadap Kecepatan Putar Spin Coating Pada Penumbuhan Membran Polyvinyl Alcohol (PVA) Di Atas Elektroda Platinum (Pt) (skripsi). Surakarta: Universitas Sebelas Maret.

Hendri, A., 2014. Rancang Bangun Alat Spin Coating Sederhana Untuk Penumbuhan Lapisan Tipis Semikonduktor. Padang : UPI

Kusumanigrum, J., dkk. 2011. Adsorpsi Fenol dengan TiO2/Ziolit Artificial Berbahan Dasar Sekam Padi dan Limbah Kertas. Jurnal Kimia Sains dan Aplikasi, 14,1 26-31

Mai, L., dkk. 2009. Effect of C Doping on the Structural and Optical Properties of Sol Gel TiO2 thin Films. Applied Surface Science 255 (2009) 9285-9289.

Morikawa, T., dkk. 2003. Visible light photocatalys nitrogen doped titanium dioxide, R & D Review of Toyota CRDL. 40(3): 45-49

Wang, D., dkk. 2005. Synthesis and Characterization of anatase TiO2 nanotubes with unform diameter from titanium powder. Material Letter, 62,1819-1822.

Zhao, Q., dkk. 2012. Facile Fabrication, Characterization, and enhanced Photoelectrocatalytic degradation performance of Highly Oriented TiO Nanotube array. Journal of Nanoparticle Research, 11, 2153-2162.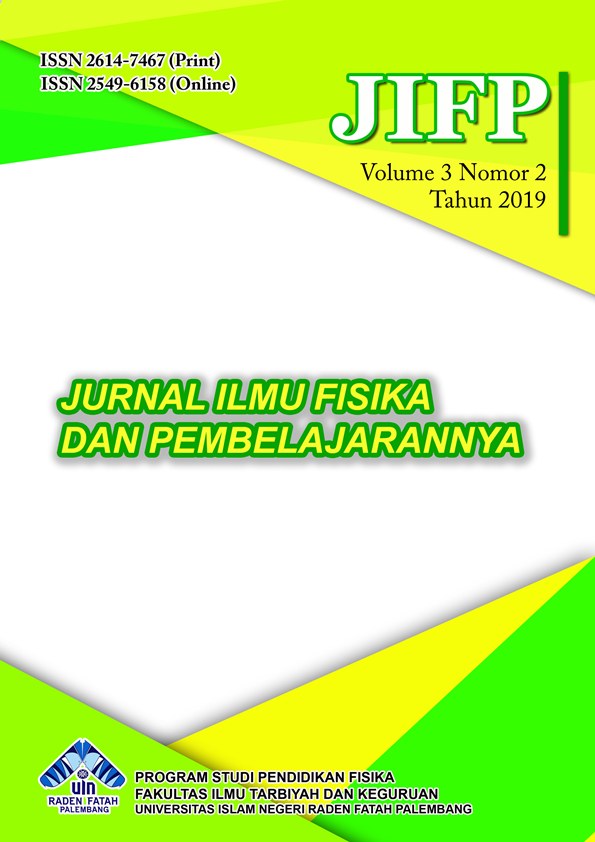 How to Cite
Agus, Agus, Helga Fahyuan, and Damris M. "Provision Of Energy Gap Value Of TiO2 /C Thin Lining Using Touc Plot Method". Jurnal Ilmu Fisika dan Pembelajarannya (JIFP) 3, no. 2 (January 6, 2020): 63-67. Accessed June 4, 2023. http://jurnal.radenfatah.ac.id/index.php/jifp/article/view/3914.
The names and email addresses entered in this journal site will be used exclusively for the stated purposes of this journal and will not be made available for any other purpose or to any other party.