Testing of water turbidity using turbidity sensor based arduino
Refpo Rahman

Universitas Bengkulu
Keywords:
Arduino Uno, Turbidity Sensor, water turbidity tool
Abstract
The water turbidity tester has designed using a turbidity sensor based on Arduino Uno to measure water turbidity levels. Testing the instrument is divided into two stages. The first stage, calibration testing using five samples symbolized by sample A-E. This sample is measured to obtain the voltage output from the water turbidity tester and the water turbidity level (NTU) from the standard tool. The results have obtained sample A (4.17 V and 3.014 NTU), sample B (4.066 V and 43.02 NTU), sample C (3.864 V and 225 NTU), sample D (3.798 V and 312 NTU), and sample E (2.49 V and 3000 NTU). This measurement value is used to calibrate the water turbidity level. In the second stage, the calibrated tools are re-tested with NTU output data. This measurement is used to calculate the relative error by comparing the data. The result shows that the smallest error rate when measuring the sample is> 220 NTU with an error rate below 10%. Meanwhile, the largest error rate when measuring water turbidity is <220 NTU with an error rate of above 10% to 100%.   Keyword: Arduino Uno; Turbidity Sensor; water turbidity tool.
References
Astuti W., dkk. 2018. Perancangan Deteksi Banjir Menggunakan Sensor Kapasitif Mikrokontroler ATMega328p dan SMS Gateway. Jurnal Informatika. 5 (2), 255-261.
Faisal M., Harmadi., Puryanti D. 2016. Perancangan Sistem Monitoring Tingkat Kekeruhan Air Secara Realtime Menggunakan Sensor TDS-10. Jurnal Ilmu Fisika. 8 (1), 9-16
Noor A., Supriyanto A., Rhomadhona H. 2019. Aplikasi Pendeteksi Kualitas Air Menggunakan Turbidity Sensor dan Arduino Berbasis Web Mobile. Jurnal CoreIT. 5 (1), 13-18.
Permenkes RI. 2017. Peraturan Menteri Kesehatan Republik Indonesia Nomor 32 Tahun 2017 tentang Standar Baku Mutu Kesehatan Lingkungan dan Persyaratan Kesehatan Air untuk Keperluan Higiene Sanitasi, Kolam Renang, Solus Per Aqua dan Pemandian Umum
Putri, O,A., Harmadi. 2018. Rancang Bangun Alat Ukur Tingkat Kekeruhan Air Menggunakan Fotodioda Array Berbasis Mikrokotroler ATMega328. Jurnal Fisika Unand. Vol. 7, No. 1, 27-31
Rachmansyah, F., Utomo, B. S., dan Sumardi (2014). perancangan dan penerapan alat ukur kekeruhan air menggunakan metode nefelometrik pada instalasi pengolahan air dengan multi media card (mmc) sebagai media penyimpanan (studi kasus di pdam jember). Jurnal Berkala Saintek. II (1):17-21
Sari Z., Permana H., Indrasari. 2017. Karakterisasi Sensor Photodioda, DS18B20, dan Konduktivitas pada Rancang Bangun Sistem Deteksi Kekeruhan dan Jumalh Zat Pada Terlarut dalam Air. Spektra: Jurnal Fisika dan Aplikasinya. 2 (2), 149-156.
Wirman P R., Whardana I., Isnaini V. 2018. Kajian Tingkat Akurasi Sensor pada Rancang Alat Ukur Total Dissolved Solids (TDS) dan Tingkat Kekeruhan Air. Jurnal Fisika. 9(1), 37-46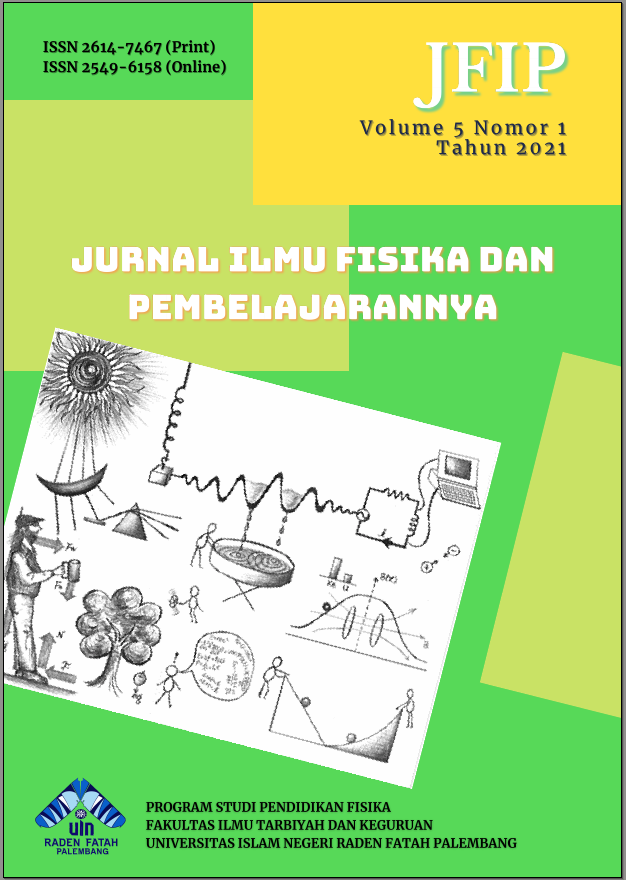 How to Cite
Rahman, Refpo. "Testing of Water Turbidity Using Turbidity Sensor Based Arduino". JIFP (Jurnal Ilmu Fisika dan Pembelajarannya) 5, no. 1 (June 29, 2021): 19-23. Accessed October 25, 2021. http://jurnal.radenfatah.ac.id/index.php/jifp/article/view/6916.
The names and email addresses entered in this journal site will be used exclusively for the stated purposes of this journal and will not be made available for any other purpose or to any other party.