Ability of Acoustic Materials from Banana Stems and Coconut Coirs as Noise Absorbers
Annisaaul Lathiifah

Program Pascasarjana Universitas Negeri Semarang
Keywords:
Keyword: Acoustic Materials; Banana Stems; Coconut Coirs; Noise; Sound Absorption Coefficient.
Abstract
As technology develops, it causes more and more equipment which can mostly trigger noise. Acoustic materials can be used to reduce noise because they reduce sound. The purpose of this research is to determine the sound absorption coefficient of the acoustic material from banana stems and coconut coirs. Six samples were made and tested using a resonator space to test the sound absorption coefficient. The test results reveal that the sound absorption coefficient is influenced by the thickness of the sample. The sound absorption coefficient for each sample at a frequency of 500 Hz is 0,03836; 0,02359; 0,02139; 0,01971; 0,01631; 0,01069. The best sample in this study is sample 1 which has a sound absorption coefficient of 0,03836 which is the highest compared to other samples.
References
Asade, F., & Isranuri, I. (2013). Perancangan Tabung Impedansi dan Kajian Eksperimental Koefisien Serap Bunyi Paduan Aluminium-Magnesium, Jurnal e-Dinamis, 6 (2), 90–98.
Astika, I. M., & Dwijana, I. G. K. (2016). Karakterstik Serapan Suara Komposit Polyester Berpenguat Serat Tapis Kelapa, Jurnal Dinamika Teknik Mesin, 6 (1), 8–14.
Dewi, A. K., & Elvaswer. (2015). Material Akustik Serat Pelepah Pisang (Musa Acuminax Balbasiana Calla) sebagai Pengendali Polusi Bunyi, Jurnal Fisika Unand, 4 (1), 78–82.
Elvaswer, R. P., & Muttaqin, A. (2011). Analisis Gelombang Akustik pada Papan Serat Kelapa Sawit sebagai Pengendali Kebisingan, Jurnal Ilmu Fisika, 3 (1), 16–22.
Fatkhurrohman, M. A., & Supriyadi. (2013). Tingkat Redam Bunyi Suatu Bahan (Triplek, Gypsum dan Styrofoam), Jurnal Fisika Unnes, 3 (2), 138–143.
Hayat, W., Syakbaniah, & Darvina, Y. (2013). Pengaruh Kerapatan terhadap Koefisien Absorbsi Bunyi Papan Partikel Serat Daun Nenas, Jurnal Pillar of Physics, 1, 44–51.
Kartikaratri, Y. M., Subagio, A., & Widiyandari, H. (2012). Pembuatan Komposit Serat Serabut Kelapa dan Resin Fenol Formadehide sebagai Material Peredam Akustik, Jurnal Berkala Fisika, 15 (3), 87–90.
Mutia, P., Ngatijo, & Fahyuan, H. D. (2019). Pengaruh Jenis Serat Alam terhadap Koefisien Absorpsi Bunyi sebagai Peredam Kebisingan, Jurnal Ilmu Fisika dan Pembelajarannya, 3 (1), 18–23.
Pawestri, A. K. R., Hasanah, W., & Murphy, A. (2018). Studi Karakteristik Komposit Sabut Kelapa dan Serat Daun Nanas sebagai Peredam Bunyi, Jurnal Teknologi Bahan Alam, 2 (2), 112–117.
Thamrin, S., Tongkukut, S. H. J., & As'ari. (2013). Koefisien Serap Bunyi Papan Partikel dari Bahan Serbuk Kayu Kelapa, Jurnal MIPA UNSRAT, 2 (1), 56–59.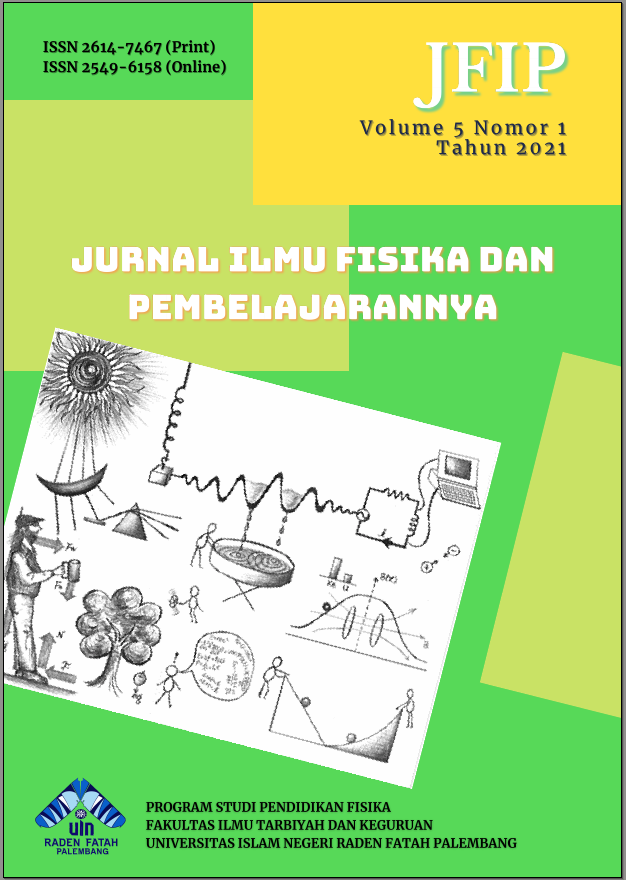 How to Cite
Lathiifah, Annisaaul. "Ability of Acoustic Materials from Banana Stems and Coconut Coirs As Noise Absorbers". JIFP (Jurnal Ilmu Fisika dan Pembelajarannya) 5, no. 1 (June 29, 2021): 14-18. Accessed October 25, 2021. http://jurnal.radenfatah.ac.id/index.php/jifp/article/view/7316.
The names and email addresses entered in this journal site will be used exclusively for the stated purposes of this journal and will not be made available for any other purpose or to any other party.