PENERAPAN MODEL PEMBELAJARAN BERPUSAT SISWA DALAM MENGEMBANGKAN KETERAMPILAN PROSES SAINS DAN PEMECAHAN MASALAH SISWA
IMPLEMENTING OF DESIGNED STUDENT-CENTERED INSTRUCTION TO DEVELOP SCIENTIFIC PROCESS SKILL AND PROBLEM SOLVING
Wiwid Pungki Ningrum

UIN Raden Fatah Palembang
Keywords:
model pembelajaran berpusat siswa, keterampilan proses sains, PM
Abstract
Penelitian ini bertujuan untuk mengungkapkan perbedaan keterampilan proses sains (KPS) dan pemecahan masalah (PM) siswa yang belajar dengan model pembelajaran berpusat siswa (MPBS) dengan siswa yang belajar dengan direct instruction (DI). MPBS diterapkan pada materi asam-basa di kelas XI SMA. Aspek KPS yang diukur ialah observasi, inferensi, merancang percobaan, mengukur, mengkontruksi tabel, dan komunikasi. PM diukur dengan tes yang mengukur proses kognitif C2, C3 dan C4 dengan dimensi pengetahuan faktual, konseptual dan prosedural. Desain penelitian yang diterapkan ialah post-test control group. Sampel pada kelas kontrol dan kelas eksperimen sebanyak 27 siswa. Kedua data dianalisis dengan MANOVA. Test of between-subjects effects dilakukan pada data PM, sedangkan uji U-Mann Whitney dilaksanakan pada variabel KPS sebab data tidak normal. Hasil menunjukkan pada taraf signifikansi 0,05 tidak terdapat perbedaan yang signifikan pada KPS dan PM siswa pada kedua kelas, namun ada effect size sebesar 0,071. Hasil uji U-Mann Whitney menunjukkan terdapat perbedaan signifikan pada KPS siswa di kedua kelas terutama pada aspek merancang percobaan dan observasi. Test of between-subject effects menunjukkan terdapat perbedaan signifikan pada PM siswa pada kedua kelas, dengan effect size sebesar 5,7%. Perbedaan PM paling signifikan terdapat pada sub-materi pH asam kuat dan pH basa lemah. Kata kunci : model pembelajaran berpusat siswa, keterampilan proses sains, PM
References
Cigdemoglu, C., & Geban, O. (2015). Improving students' chemical literacy levels on thermochemical and thermodynamics concepts through a context-based approach. Chemistry Research and Practice, 16(2), 302-317. doi:10.1039/C5RP00007F

Ergül, R., Simsekli, Y., Calis, S., & Ozdilek, Z. (2011). The effects of inquiry-based science teaching on elementary school students' science process Skills and science attitudes. Bulgarian Journal of Science and Education Policy, 5(1), 48–68.

Feyzioglu, B. (2009). An investigation of the relationship between science process skills with efficient laboratory use and science achievement in chemistry education. Turkish Science Education, 6(3), 114–132.

GPS, E. (2017, 04 19). Education GPS. Diambil kembali dari OECD: http://gpseducation.oecd.org/

Karsli, F., Sahin, C., & Ayas, A. (2009). Determining science teachers' ideas about the science process: A case study. Procedia Social and Behavioral Science, 890-895. doi:https://doi.org/10.1016/j.sbspro.2009.01.158

Katuuk, D. A. (2014). Manajemen implementasi kurikulum: Strategi penguatan implementasi kurikulum 2013. Cakrawala Pendidikan, 1(XXXIII), 12-26.

Kim, M. C., & Hannafin, M. J. (2010). Scaffolding problem solving in technology-enhanced learning environments (TELEs): Bridging research and theory with practice. Computers & Education Journal, 56(2011), 403-417.

Komalasari, K. (2012). The Living Values-Based Contextual Learning to Develop the Students' Character. Journal of Social Sciences, 8(2), 246-25.

Maikristina, N., Dasna, I. W., & Sulistina, O. (2013). Pengaruh penggunaan model pembelajaran inkuiri terbimbing terhadap hasil belajar dan keterampilan proses sains siswa kelas XI IPA SMA N 3 Malang pada materi hidrolisis garam. Jurnal Universitas Negeri Malang. Diambil kembali dari jurnal-online.um.ac.id/data/artikel/artikel68099EE989A697168C97626B63B8B4E4.pdf

Özer, D. Z., & Özkan, M. (2013). The effect of project based learning method on science process skills of prospective teachers of science education in biology lessons. International Online Journal of Educational Sciences, 5(3), 635-645.

Pursitasari, I. D. (2009). Peningkatan aktivitas dan pemahaman siswa dalam pembelajaran kimia melalui pendekatan kontekstual. Jurnal Ilmu Pendidikan, 3(16), 172-177. doi:http://dx.doi.org/10.17977/jip.v16i3.2570

Rahayu, S. (2012). Designed student-centered instruction (DSCI): Model pembelajaran berbasis konstruktivistik, inkuiri dan kontekstual. Seminar Nasional Kimia dan Pendidikan Kimia, (hal. 1-16). Surakarta.

Rahayu, S., Chandrasegaran, A., Treagust, D. F., Ibnu, S., & Kita, M. (2011). Understanding acid base concept : Evaluating the efficacy of the senior high school student-centred instructional program in Indonesia. International Journal of Science and Mathematics Education, 1439-1458.

Rauf, R. A., Rasul, M. S., Mansor, A. N., Othman, Z., & Lyndon, N. (2013). Inculcation of science process skills in a science classroom. Asian Social Science, 47-57.

Rezba, R. J., Sprague, C., & Flel, R. (2003). Learning and assess science process skill. Iowa: Kendall/Hunt.

Scherer, R., & Tiemann, R. (2012). Factors of problem-solving competency in a virtual chemistry environment: The role of metacognitive knowledge about strategies. Computers and Education, 59(4), 1199-1214. doi:10.1016/j.compedu.2012.05.020

Subali, B. (2011). Pengukuran kreativitas keterampilan proses sains dalam konteks assesment for learning. Cakrawala Pendidikan, 130-144.

Sung, H.-Y., Hwang, G.-J., & Chang, H.-S. (2015). An integrated contextual and web-based issue quest approach to improving student's learning achievements, attitudes and critical thinking. Educational Technology & Society, 18(4), 299-311.

Supartono, Saptorini, & Asmorowati, D. S. (2009). Pembelajaran kimia menggunakan kolaborasi inkuiri dan konstruktif berorientasi chemo-enterpreneurship. Jurnal Inovasi Pendidikan Kimia, 2(3), 476-483.

Trilling, B., & Fadel, C. (2009). 21st century skill : Learning for life in our times. California: John Wiley & Sons.

Wardana, I. K., Marhaeni, A. A., & Tika, I. N. (2013). Pengaruh model kontekstual terhadap keterampilan proses sains dan hasil belajar sains pada siswa kelas IV SD Gugus V DR. Suetomo. e-Journal Program Pascasarjana Universitas Pendidikan Ganesha Prodi Pendidikan Dasar. Diambil kembali dari http://pasca.undiksha.ac.id/e-journal/index.php/jurnal_pendas/article/view/713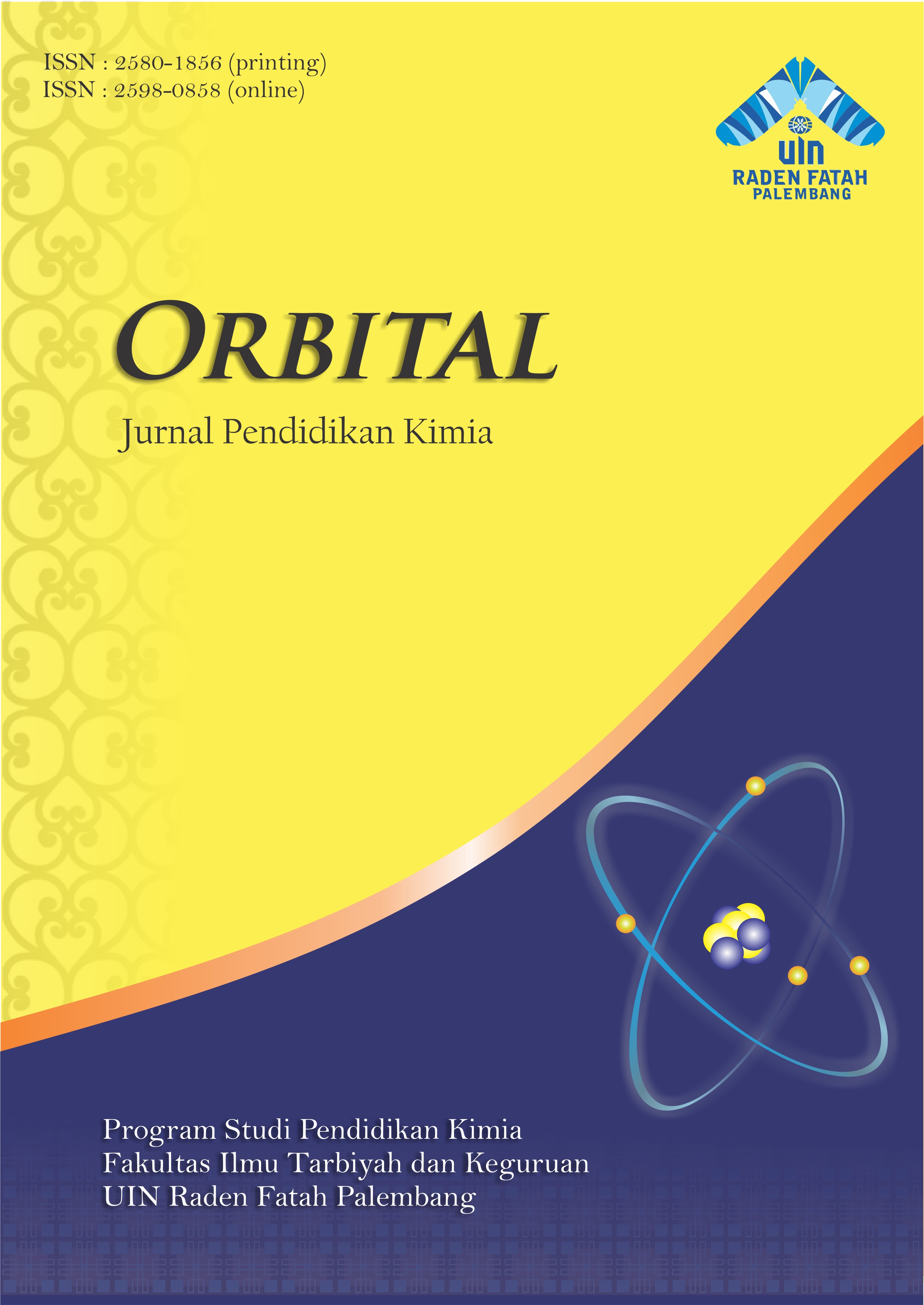 This work is licensed under a
Creative Commons Attribution-NonCommercial-ShareAlike 4.0 International License
.