PENGEMBANGAN DAN PENGGUNAAN INSTRUMEN TWO-TIER MULTIPLE CHOICE PADA MATERI TERMOKIMIA UNTUK MENGUKUR KEMAMPUAN BERPIKIR KRITIS
Pandu Jati Laksono

UIN Raden Fatah
Keywords:
Penelitian Pengembangan, Two-Tier Multiple Choice, Termokimia, Kemampuan Berpikir Kritis
Abstract
Penelitian ini bertujuan untuk mengembangkan instrumen tes Two-Tier Multiple Choice pada materi termokimia menjadi instrumen penilaian yang mampu mengukur keterampilan berpikir kritis. Instrumen yang dikembangkan perlu diujikan kelayakannya ditinjau dari validitas logis para ahli dan instrumen penilaian Two-Tier Multiple Choice  yang dikembangkan ditinjau dari validitas empiris yaitu reliabilitas, analisis kualitas butir soal, dan analisis pengecoh yang dapat dikategorikan soal yang baik.  Penelitian ini dikategorikan sebagai penelitian pengembangan. Instrumen tes yang dikembangkan adalah Two-Tier Multiple Choice pada materi termokimia untuk mengukur kemampuan berpikir kritis . Model pengembangan yang digunakan yaitu model pengembangan 4 D (four D model) oleh S. Thigarajan, Dorothy S. Semmel, dan Melvyn I. Semmel. Model pengembangan 4D terdiri atas 4 tahap utama yaitu: (1) Define (Pendefinisian), (2) Design (Perancangan), (3) Develop (Pengembangan), dan (4) Disseminate (Penyebaran). Berdasarkan hasil penelitian yang telah dilakukan kesimpulan yang didapatkan adalah Instrumen penilaian Two-tier Multiple Choice yang dikembangkan dinyatakan layak dan memenuhi kriteria sebagai suatu soal yang baik dengan hasil validitas aiken  rata-rata 0,84. Instrumen penilaian Two-tier Multiple Choice yang dikembangkan dinyatakan layak  ditinjau dari realibilitas tes rata-rata 0,737 yang tergolong tinggi, memiliki daya beda dengan persentase 41,67% sangat baik, 40,00% baik,18,33% cukup baik dan 0% jelek, berdasarkan tingkat kesukaran 8,33% mudah, 80,00% sedang dan 11,67% sukar, berdasarkan indeks pengecoh disimpulkan pengecoh tidak ada yang bekerja lebih baik daripada kunci jawaban dan nilai pengecoh sebagian besar lebih dari 5% dipilih sehingga dinyatakan efektif.
References
Adodo, S. O. (2013). Effects of Two-Tier Multiple Choice Diagnostic Assessment items on Students' Learning Outcome in Basic Science Technology. Ondo State: Academic Journal of Interdisciplinary Studies by MCSER-CEMAS-Sapienza University of Rome. E-ISSN 2281-4612. ISSN 2281-3993. Vol 2 no 2.

Aiken, L. R. (1985). Three Coefficients for Analyzing The Reliability and Validity of Ratings. Education and Psychological Measurement, 45, 131–142.

Chandrasegaran, A. L., Treagus, D. F. Mucerino, M. (2007). The Development of a Two-tier Multiple-Choice Diagnostic Instrument for Evaluating Secondary School Students' Ability to Describe and Explain Chemical Reactions Using Multiple Level of Representation. The Royal Society of Chemistry. Chemistry Education Research and Practice, 8(3), 293-307

Cullinane, A., Liston, M. (2011). Two-tier Multiple Choice Question (MCQs)-How Effective are they: A Pre-servis Teachers' Perspective. UK: IOSTE-NW Europe

Facione, P. A. (2015). Critical Thinking : What It Is and Why It Counts. Insight Assessment.

Fisher, A. (2009). Berpikir Kritis. Jakarta: Erlangga.

Fisher,Alec., Spiker, A, and Riedel, S. L. (1992). Critical Thinking Training for Army Officers Volume Two: A Model of Critical Thinking (Research Report). US Army Research Institute for the Behavioral and Social Science.

Gagne, R.M. (1980). Learnabel Aspects of Human Thinking. In: Lawson, A. E. (Ed). Science Education Information Report. (hlm. 1-28.) New York: The Eric Science, Mathematics and Environmental Education Clearing House.

Hassoubah, Z. I. (2004). Developing Creative & Critical Thinking : Cara Berpikir Kreatif & Kritis. Bandung : Nuansa.

Kartimi, & Liliasari. (2012). Pengembangan Alat Ukur Berpikir kritis pada Konsep Termokimia untuk Siswa SMA Peringkat Atas dan Menengah. Jurnal Pendidikan IPA Indonesia (JPPI), 1(1), 21–26.

Kartimi, Liliasari, & Permanasari, A. (2012). Pengembangan Alat Ukur Berpikir Kritis pada Konsep Senyawa Hidrokarbon untuk Siswa SMA di Kabupaten Kuningan. Jurnal Pendidikan MIPA, 13(1), 18–25

King, F. J., Goodson, L., Rohani, F.,(2004). Higher Order Thinking Skill. Apublication of the EducationalServices Program, now known asthe Center for Advancement of Learning andAssessment.http://www.Cala. Fsu.Edu

Krulik, S dan Rudnick, J.A (1993). The New Sourcebook for Teaching Reasoning and Problem Solving in Elementary School. Massachusetts: Allyn & Bacon A Simon & Schuster Company.

Purwanto, Ngalim (2002) Prinsip-Prinsip dan Teknik Evaluasi Pengajaran. Bandung: PT Remaja Rosdakarya.

Shidiq, A.S. 2014. Pengembangan Instrumen Penilaian Two-Tier Multiple Choice Untuk Mengukur Keterampilan Berpikir tingkat Tinggi (Higher Order Thinking Skills) Pada Materi Kelarutan Dan Hasil Kali Kelarutan Untuk Siswa SMA/MA Kelas XI. Jurnal Pendidikan Kimia (JPK),3(4),83-92.

Qing, Z., Jing, G., Yazhuan, L., Ting, W., & Junping, M. (2010). Promoting Preservice Teacher's Critical Thinking Disposition by Inquiry-Based Chemical Experiment. Procedia - Social and Behavioral Sciences, 9, 1429–1436.

Sudijono, Anas. (2009). Pengantar Evaluasi Pendidikan. Jakarta: Rajawali Pers

Sukiman. (2012). Pengembangan Sistem Evaluasi. Yogyakarta: Insan Mandiri.

Thiagarajan, Sivasailam, Dorothy S. Semmel, and Melvyn I. Semmel.(1974). Instructional Development for Training Teachers of Exceptional Children. Washinton DC: National Center for Improvement Educational System.

Yamtinah, S., Haryono, Saputro, S., Mulyani, B., & BU, S. (2016). Item Discrimination of Two Tier Test. Proceeding International Conference on Educatonal Research and Evaluating(ICERE). 29-31 May 2016, Yogyakarta State University.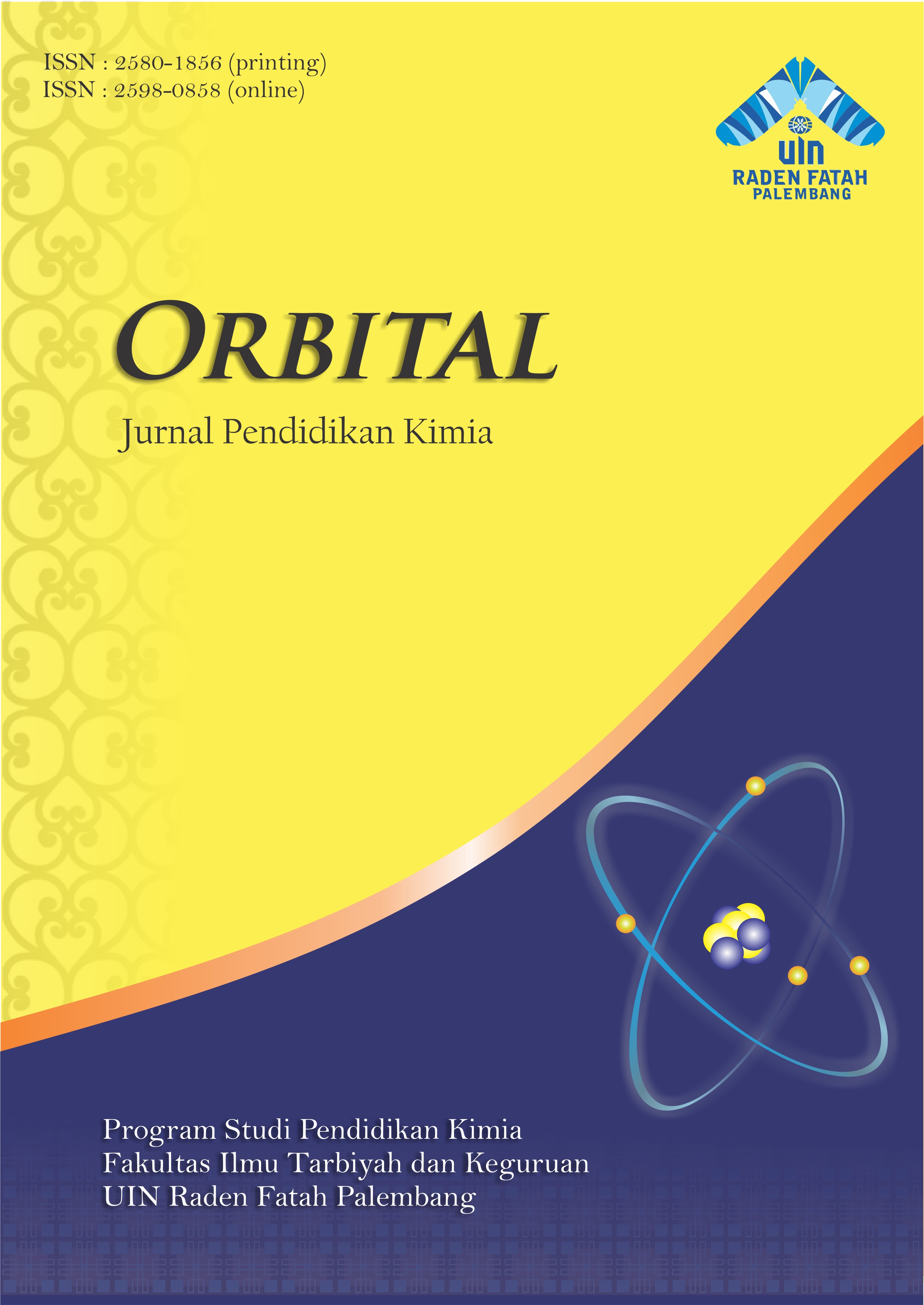 This work is licensed under a
Creative Commons Attribution-NonCommercial-ShareAlike 4.0 International License
.