LEMBAR KERJA SISWA BERBASIS INKUIRI PADA KURIKULUM 2013 MATERI ASAM BASA
Rusly Hidayah

Universitas Negeri Surabaya

Alis Rahmawati

Universitas Negeri Surabaya

Nuril Fatimah

Universitas Negeri Surabaya

Ni'matul Zahro

Universitas Negeri Surabaya
Keywords:
acid base, inquiry, worksheet
Abstract
The obstacles that must be faced in the 2013 Curriculum are the limitations of the media to support the learning process on acid-base material. Research has been conducted with the aim of developing Student Worksheets (LKS) on chemistry subjects based on the 2013 Curriculum which is inquiry based on Acid-Base material for class XI SMA / MA and equivalent. The research was conducted at SMA Al-Hikmah Surabaya using the 4-D development method (Define, Design, Develop, Disseminate). The trial was limited to 19 students of class XI MIA who were randomly selected. This study uses a One Shot Case Study design without a comparison group and a pre-test for the trial phase where students will get a test after students are given treatment using a developed worksheet. The instruments used were study sheets, validation sheets, test sheets and student response questionnaires. Based on the results of the research it is known that this LKS has 76% content feasibility, 90% presentation, 82.5% language, and conformity to the 88% inkuri model based on validation besides that student learning outcomes achieve classical completeness of 94.73% and student responses to student worksheets which is developed tested positive.
References
Arikunto, S. (2005). Manajemen Penelitian. Jakarta: Rineka Cipta.
Astuti, Y., & Setiawan, B. (2013). Pengembangan lembar kerja siswa (LKS) berbasis pendeka­tan inkuiri terbimbing dalam pembelajaran kooperatif pada materi kalor. Jurnal Pendidikan IPA Indonesia, 2(1), 88–92. https://doi.org/10.15294/jpii.v2i1.2515
Blanchard, M. R., Southerland, S. A., Osborne, J. W., Sampson, V. D., Annetta, L. A., & Granger, E. M. (2010). Is inquiry possible in light of accountability?: A effectiveness of guided quantitative comparison of the relative inquiry and verification laboratory instruction. Science Education, 94(4), 577–616.
Budiyono. (2003). Metodologi Penelitian Pendidikan. Surakarta: UNS Press.
Darmodjo, H., & Kaligis, J. R. (1993). Pendidikan IPA II. Jakarta: Departemen Pendidikan dan Kebudayaan Badan Penelitian dan Pengembangan Pendidikan dan Kebudayaan Republik Indonesia.
Depdiknas. (2003). Undang-undang RI Nomor 20 Tahun 2003 tentang Pendidikan Nasional. Jakarta: Depdiknas
Hofer, E., & Lembens, A. (2018). Implementing Aspects Of Inquiry-Based Learning In Secondary Chemistry Classes : A Case Study. ESERA 2017 Conference, 2344–2353.
Jannah, M., Sugianto, & Sarwi. (2012). Pengembangan Perangkat Pembelajaran Berorientasi Nilai Karakter Melalui Inkuiri Terbimbing Materi Cahaya Pada Siswa Kelas VIII Sekolah Menengah Pertama. Journal of Innovative Science Education, 1(1).
Js, A. F. R., Mawardi, M., & Handayani, F. (2019). The Effect of Using Student Worksheets Based on Guided Inquiry on Acid Base Materials to Improve Learning Outcomes Student in SMAN 4 Padang. International Journal of Progressive Sciences and Technologies, 14(2), 296–300. Retrieved from https://ijpsat.ijsht-journals.org/index.php/ijpsat/article/view/919
Kuslan, L. I., & Stone, A. H. (1969). Teaching children science: An approach. Belmont, California: Wadsworth Publishing Company.
Kusumaningtyas, P., Oktafiani, R., Nurhadi, M., & Sulistyaningwarni, S. (2020). Pengaruh Isu Sosiosaintifik Dalam Model Discovery Learning Terhadap Keterampilan Berpikir Kritis Siswa Pada Materi Asam Basa. Orbital: Jurnal Pendidikan Kimia, 4(1), 64–74. https://doi.org/10.19109/ojpk.v4i1.5172
Mawardi, M., Js, A. F. R., & Handayani, F. (2020). Effectiveness of student worksheets based guided inquiry on acid base material to improve students higher order thinking skill (HOTS). Journal of Physics: Conference Series, 1481(1). https://doi.org/10.1088/1742-6596/1481/1/012083
Menteri Pendidikan dan Kebudayaan Republik Indonesia. (2013). Peraturan Menteri Pendidikan Nasional No. 69 tahun 2013. Jakarta: Menteri Pendidikan dan Kebudayaan Republik Indonesia
Mulyana, S., Rusdi, R., & Vivanti, D. (2018). The Effect of Guided Inquiry Learning Model and Scientific Performance on Student Learning Outcomes. Indonesian Journal of Science and Education, 2(1), 105. https://doi.org/10.31002/ijose.v2i1.596
Myers, T., Monypenny, R., & Trevathan, J. (2012). Overcoming The Glassy Eyed Nod : An Application of Process Oriented Guided Inquiry Learning Techniques in Information Technology. Journal of Learning Design, 12–22.
Permendikbud. (2014). Peraturan Menteri Pendidikan Dan Kebudayaan Republik Indonesia Nomor 104 Tahun 2014 Tentang Penilaian Hasil Belajar Oleh Pendidik Pada Pendidikan Dasar Dan Pendidikan Menengah. Jakarta : Menteri Pendidikan dan Kebudayaan Republik Indonesia

Riduwan. (2010). Skala Pengukuran Variabel-Variabel Penelitian. Bandung: Alfabeta.
Rizalini, R., & Sofyan, H. (2018). Pengembangan Lembar Kerja Peserta Didik Kimia Berbasis Inkuiri Terbimbing untuk Kelas XI IPA SMA/MA. Jurnal Inovasi Teknologi Pendidikan, 5(2), 103–114. https://doi.org/10.21831/jitp.v5i2.14445
Roestiyah. (2001). Strategi Belajar Mengajar. Jakarta: Rineka Cipta.
Rosaini, R., Budiyono, B., & Pratiwi, H. (2019). Mathematics teacher supporting higher order thinking skill of students through assessment as learning in instructional model. In Journal of Physics: Conference Series (Vol. 1157, p. 32076). Institute of Physics Publishing. https://doi.org/10.1088/1742-6596/1157/3/032076
Sayekti, I. (2016). Pembelajaran IPA Menggunakan Inkuiri Terbimbing Melalui Eksperimen Dan Demonstrasi Ditinjau Dari Kemampuan Analisis Siswa. Jurnal Pendidikan Sains (Jps), 4(1), 6–16. https://doi.org/10.26714/jps.4.1.2016.6-16
Sugiyono. (2010). Model Penelitian Kuantitatif Kualitatif dan R&D. Bandung: Alfabeta.
Sumarni. (2004). Pengembangan Bahan Ajar. Jakarta: PT. Elek Media Komputindo.
Susilo, A. B., & Ismono. (2020). Pengembangan Lembar Kegiatan Siswa (LKS) Berorientasi Inkuiri Cycle untuk Melatihkan Keterampilan Berfikir Kritis Pada Materi Asam Basa Kelas XI SMA. Unesa Journal of Chemical Education, 9(1), 101–107.
Thiagarajan, S., Semmel, D. S., & Semmel, M. I. (1974). Instructional Development for Training Teachers of Exceptional Children: A Sourcebook. Indiana: Indiana University.
Yonata, B., & Nasrudin, H. (2018). Laboratory Activity Worksheet to Train High Order Thinking Skill of Student on Surface Chemistry Lecture. In Journal of Physics: Conference Series (Vol. 947, p. 12027). Institute of Physics Publishing. https://doi.org/10.1088/1742-6596/947/1/012027
Zammiluni, Z., Ulianas, A., & Mawardi, M. (2018). Development of Guided Inquiry Based Work Sheet with Class and Laboratory Activity on Chemical Bonding Topic in Senior High School. International Journal of Chemistry Education Research, 2(2), 1–7. https://doi.org/10.20885/ijcer.vol2.iss2.art1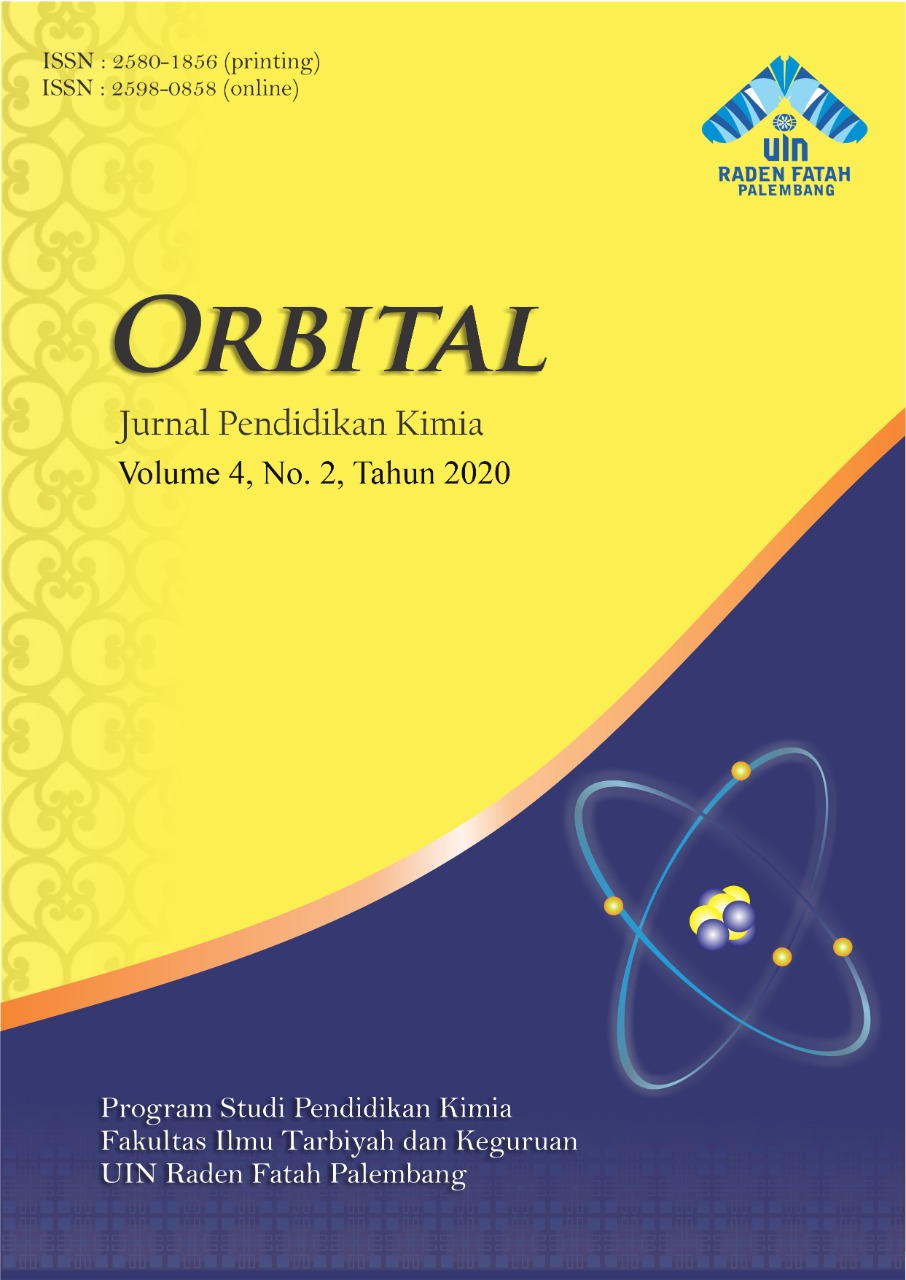 This work is licensed under a
Creative Commons Attribution-NonCommercial-ShareAlike 4.0 International License
.