PENANAMAN NILAI-NILAI FILANTROPI MELALU KEGIATAN INFAK DAN SEDEKAH DI SMP NEGERI 4 LAIS
Brenda Yakuta

Universitas Islam Negeri Raden Fatah Palembang

Alimron Alimron

Universitas Islam Negeri Raden Fatah Palembang

Romli Romli

Universitas Islam Negeri Raden Fatah Palembang
Keywords:
Philanthropy Value, Infaq, alms
Abstract
This thesis discusses "planting philanthropic values ​​through infaq and alms activities at SMP Negeri 4 Lais". The background in this research is the lack of understanding in instilling philanthropic values ​​in students so the process of implementing Infak and Alms is still not running effectively. The purpose of this research is to find out the inculcation of philanthropic values ​​through infaq and alms activities and to find out what are the supporting and inhibiting factors of the activities carried out by students carrying out infaq and alms. This study uses qualitative methods using observation, interviews, and documentation. Then, the researcher will use data analysis techniques, namely the process of creating, searching, and finding data which is then arranged regularly on the data that has been obtained both from observations, interviews, and documentation. Then the researcher will choose what data is important and studied. Then the last researcher will make research conclusions that are useful so that they are easily understood by researchers and others. The research results obtained are: First, the process of instilling philanthropic values ​​through infaq and alms activities at SMP Negeri 4 Lais has been instilled by the principal and teachers to students. However, the family and community environment also affects infaq and alms. Second, supporting factors in providing philanthropic values ​​to students are not only carried out by school principals, educators, and students but are carried out by students' guardians so that philanthropic values ​​can be embedded from an early age. Third, the obstacles that exist in the process of instilling philanthropic values ​​through infaq and alms activities, due to a lack of awareness about religion and understanding of philanthropy, a lack of sense of responsibility for students and economic conditions, and awareness of guardians of students.
References
Amrullah, Djumransjah dan. "Pendidikan Islam Menggali Tradisi, mengukuhka neksistensi." Malang: UIN Malang Press, 2017.

Arif Maftuhin. Filantropi Islam Teori dan Prakti. Yogyakarta: Magnum Pustaka Utama, 2017.

Arifin, Gus. Keutamaan Zakat, Infak, Sedekah. Jakarta: Elex Media Komputindo, 2016.

Kuntarno Noor dan Mohd.Nasir Tajang. Zakat Dan Peran Negara. Jakarta: Forum Zakat, 2016.

Misdar, Muh, et al. "Proses Pembelajaran Di Program Studi Pendidikan Agama Islam Fitk Uin Raden Fatah Palembang." Tadrib 3.1 (2017): 52-74.

Mardeli. "Konsep Al-Qur'an Tentang Metode Pendidikan Islam." Ta'dib:Jurnal Pendidikan Islam XVI. No. 0 (2011).

Mardeli, dkk. "Penanaman Nilai-Nilai Akhlak Dalam Pembelajaran Pendidikan Agama Islam menghadapi Era Milenial di SMA Negeri 2 Rejang Lebong." Tadrib: Jurnal Pendidikan Agama Islam 6 No. 2 (2020).

Qordhowi, Yusuf. Hukum Zakat. Bogor: Pustaka Antar Nusa, 2011.

Sugiono. Metode Penelitian Kuantitatif, Kulitatif, dan R&D. Bandung: Al-fabeta, 2018.

Syarnubi, Syarnubi. "Profesionalisme Guru Pendidikan Agama Islam dalam Membentuk Religiusitas Siswa Kelas IV di SDN 2 Pengarayan." Tadrib 5.1 (2019): 87-103.

Wawancara Bersama kepala sekolah bapak Gawi Widarto, pada tanggal 30 agustus 2021.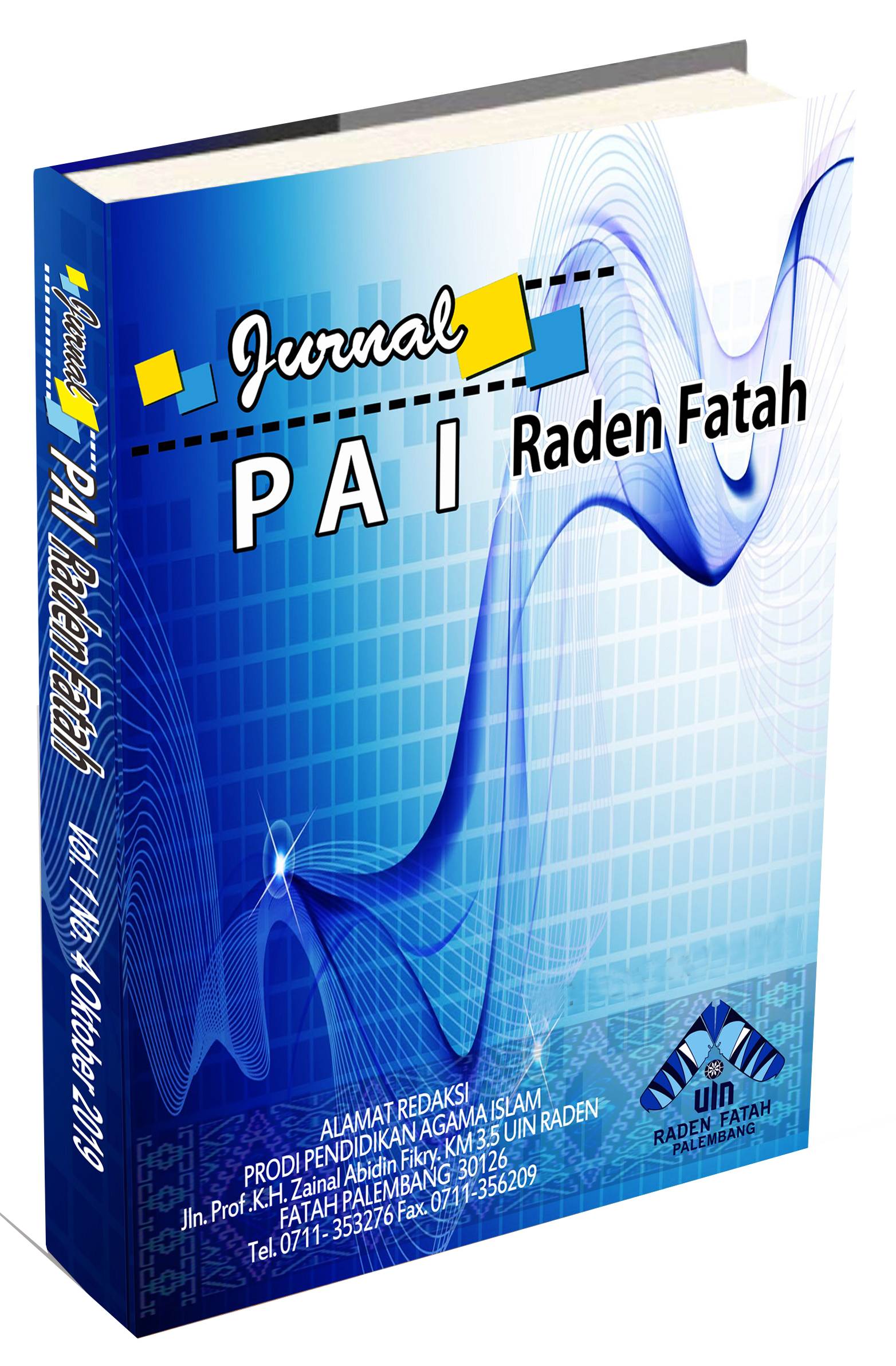 How to Cite
Yakuta, B., Alimron, A., & Romli, R. (2022). PENANAMAN NILAI-NILAI FILANTROPI MELALU KEGIATAN INFAK DAN SEDEKAH DI SMP NEGERI 4 LAIS. Jurnal PAI Raden Fatah, 4(1), 15-24. https://doi.org/https://doi.org/10.19109/pairf.v4i1.10169