RELIGIUSITAS DENGAN FLOW AKADEMIK PADA SISWA
Arbi Alfarabi

Fakultas Psikologi Universitas Muhammadiyah Malang

Putri Saraswati

Fakultas Psikologi Universitas Muhammadiyah Malang

Tri Dayakisni

Fakultas Psikologi Universitas Muhammadiyah Malang
Keywords:
Religious, Academic Flow, Boredom
Abstract
Problems in education are students who experience boredom in the learning process, whereas in the learning required concentration, interest and motivation, which required students to experience flow. Flow itself blends in total concentration which refers to the solemn concept in religiosity. The purpose of this research is to know religiosity relationship with academic flow. The design of this study is non-experimental correlation type. The data retrieval technique uses cluster sampling technique. Totals subjects as many as 222 students in city of Malang. Data collection method used in this research is the scale of religiosity made by the researcher. Then the scale of academic flow using the scale of LIS (The flow inventory for student), the researchers add some items in the scale of LIS. Data analysis method used product moment. The results of data analysis obtained r = 0.508 p = 0.000 (sig <0.01) means that this study shows a significant positive relationship between religiosity and academic flow. While the effective contribution of religiosity to academic flow is 25.8% and the rest equal to 74.2%, influenced by other factors.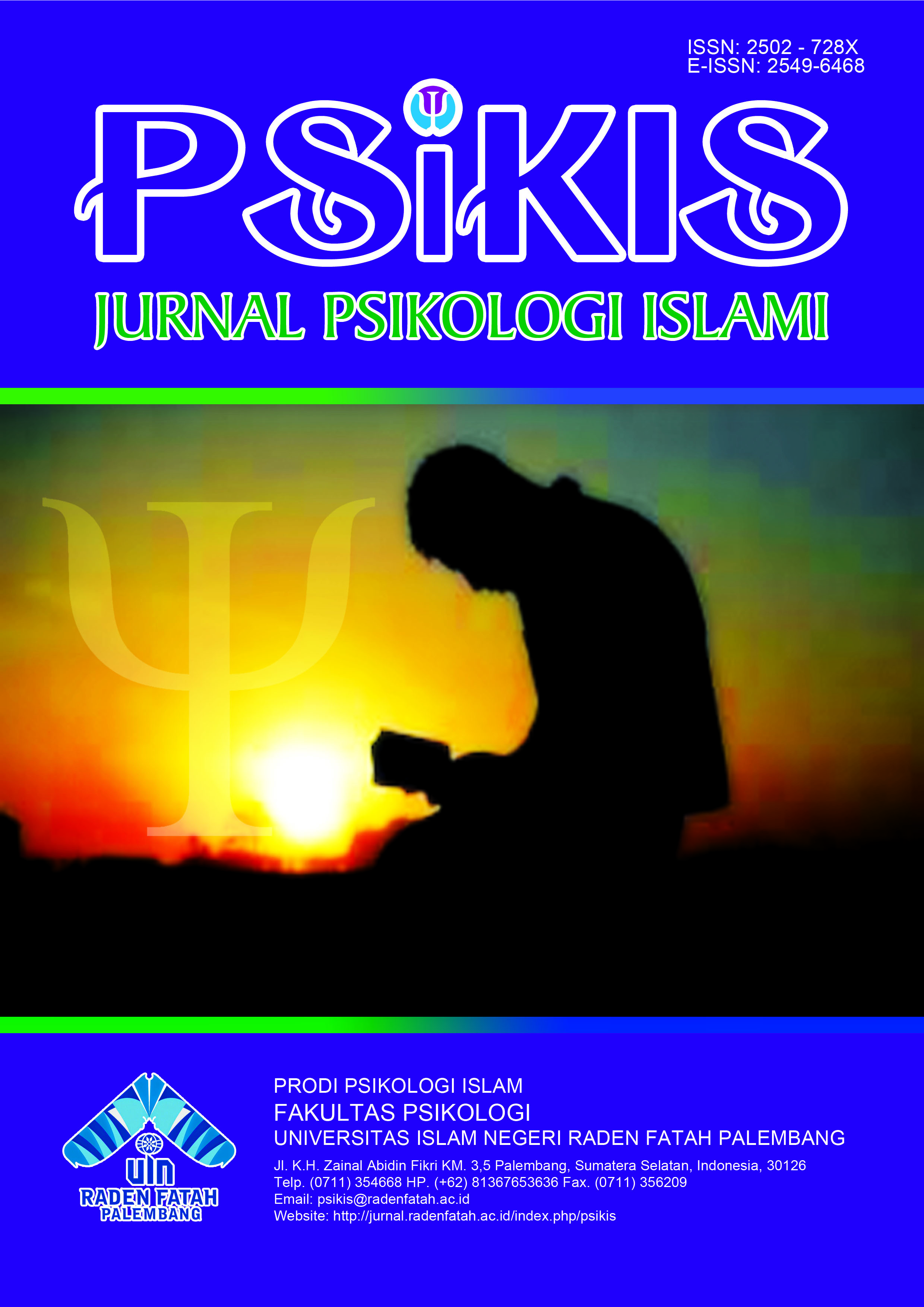 How to Cite
Alfarabi, A., Saraswati, P., & Dayakisni, T. (2018). RELIGIUSITAS DENGAN FLOW AKADEMIK PADA SISWA. Psikis : Jurnal Psikologi Islami, 3(2), 145-154. https://doi.org/https://doi.org/10.19109/psikis.v3i2.1759
Section
Articles December 2017

Psikis: Jurnal Psikologi Islami by http://jurnal.radenfatah.ac.id/index.php/psikis is licensed under a Lisensi Creative Commons Atribusi-BerbagiSerupa 4.0 Internasional.