ORIENTASI TUJUAN DAN EFIKASI AKADEMIK TERHADAP KECURANGAN AKADEMIK PADA MAHASISWA FAKULTAS PSIKOLOGI UIN RADEN FATAH PALEMBANG
Muhamad Uyun

Fakultas Psikologi UIN Raden Fatah Palembang
Keywords:
Goal Orientation, Academic Efficacy To Academic Cheating
Abstract
The research entitled goal orientation and academic efficacy to academic cheating on students of Faculty of Psychology UIN Raden Fatah Palembang. It begins the reality of education in Indonesia has not been quite successful in creating a whole person. It Looks from the are still splendid phenomenon that illustrates the moral decay of learners. One of them is a disturbing phenomenon of cheating behavior in this research is called academic cheating. This study aims to prove, how the influence of goal orientation and academic efficacy of academic cheating on students of the Faculty of Psychology UIN Raden Fatah. This type of correlational research because it explains the causal relationships that occur between variables, By using scale as a means of data collection. Data analysis use structural equation model (SEM) with program moment of structure analysis (AMOS.18).
References
Arikunto, S. (2010). Prosedur Penelitian Suatu Pendekatan Praktik. Jakarta: Rineka Cipta.
Bandura, A. (1997). Self Efficcay: The Exercize of Control. New York: W. H. Freeman and Company.
Dweck, C. S., & Legget, E. L. (1988). A Social-Cognitive Approach to Motivation and Personality. American Psychological Association , 95.
Ghonsooly, B., & Ghanizadeh, A. (2011). Self Efficacy And Self Regulation And Their Relationship: A Study Of Iranian EFL Teachers. United Kingdom: Routledge.
Jensen, L. A. (2002). It's Wrong, But Everybody Does It: Academic Dishonety among High School and College Student. Contemporary Educational Psychology.
Kitsantas, A., & Zimmerman, B. J. (2009). College Students' Homework and Academic Achievement: The Mediating Role of Self-Regulatory Belief. United State of America: Business Media.
Klein, D. (2011). Why Learners Choose Plagiarism: a Review of Literatures. Minot: Minot State University.
McCabe, D. L., & Trevino, L. K. (1997). Individual and Contextual Influences on Academic Dishonesty: A Multicampus Investigation. Research in Higher Education , 38 (3), 379-396.
Mulyawati, H., Masturoh, I., Anwaruddin, I., & Mulya. (2010). Pembelajaran Studi Sosial. Bandung: Alfabeta.
Nasional, M. P. (2010, Agustus 16). Peraturan Menteri Pendidikan Nasional Republik Indonesia Nomor 17 Tahun 2010 Tentang Pencegahan dan Penanggulangan Plagiat di Perguruan Tinggi. Jakarta.
Nora, Yan, W. L., Zhang, & Chen, K. (2010). Motives of Cheating among Secondary Students: The Role of Self-Efficacy and Peer Influence Nora. Asia Pacific Education Review , 11 (4), 573-584.
Stone, T. H. (2010). Predicting Academic Misconduct Intentions and Behavior Using the Theory of Planned Behavior and Personality. New York: Taylor & Francis Group: Psychology Press.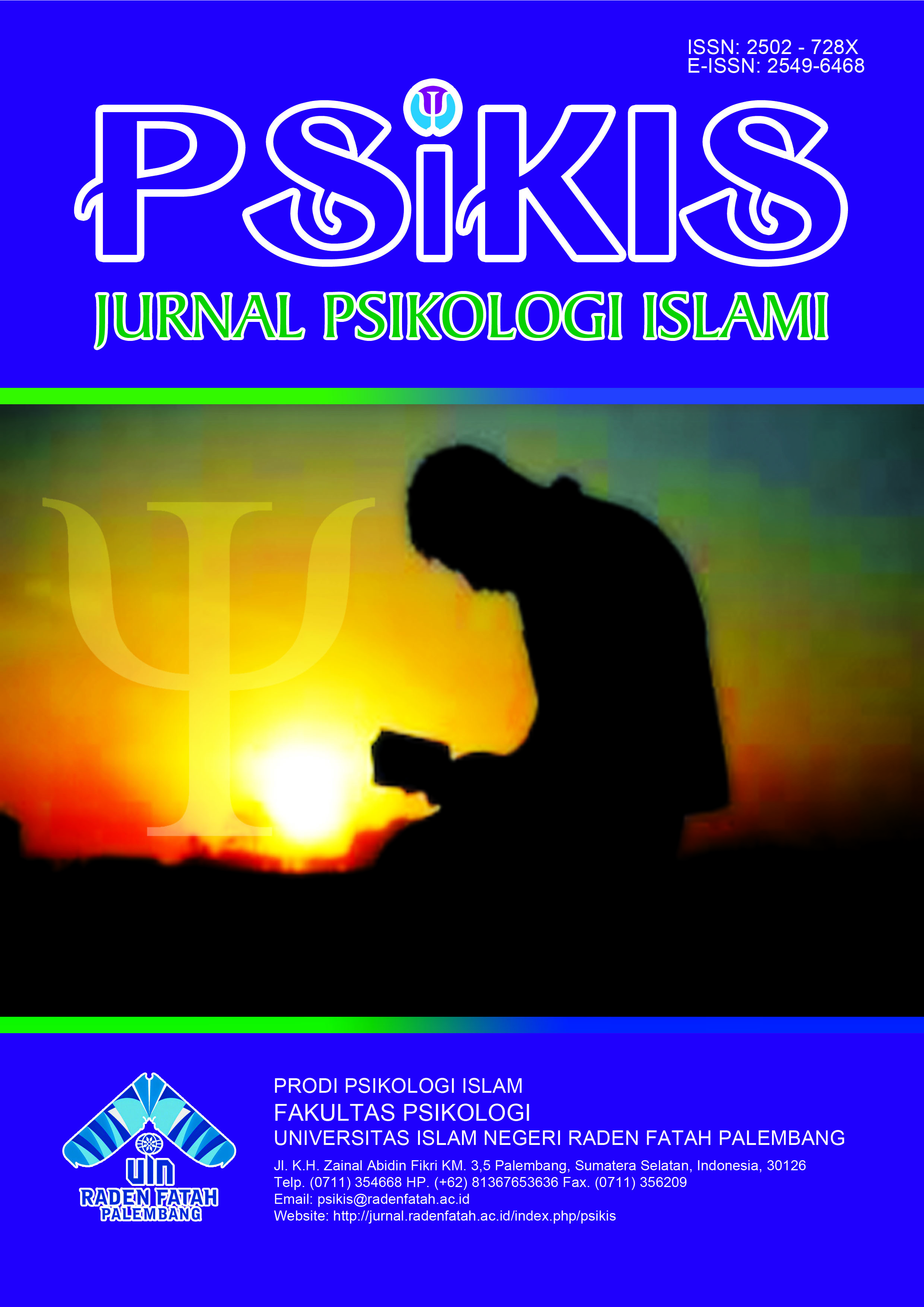 How to Cite
Uyun, M. (2018). ORIENTASI TUJUAN DAN EFIKASI AKADEMIK TERHADAP KECURANGAN AKADEMIK PADA MAHASISWA FAKULTAS PSIKOLOGI UIN RADEN FATAH PALEMBANG. Psikis : Jurnal Psikologi Islami, 4(1), 45-51. https://doi.org/https://doi.org/10.19109/psikis.v4i1.1938
Section
Articles June 2018

Psikis: Jurnal Psikologi Islami by http://jurnal.radenfatah.ac.id/index.php/psikis is licensed under a Lisensi Creative Commons Atribusi-BerbagiSerupa 4.0 Internasional.