KEHARMONISAN KELUARGA DAN KENAKALAN REMAJA PADA SISWA KELAS 9 MTS NEGERI 2 PALEMBANG
Desy Oktaviani

Fakultas Psikologi, UIN Raden Fatah Palembang

Lukmawati Lukmawati

Fakultas Psikologi UIN Raden Fatah Palembang
Keywords:
Harmony Family, Deliquency Teengers
Abstract
The goal of this research is for examine relationship between harmony family with delinquency teenagers. The sample of this research is IX class of the MTs negeri 2 palembang consist of 173 Students. The methods used data using the Statistical Programme for Social Science (SPSS) versi 20.00 for windows to test the relationship between harmony of family and delinquency teenagers. The result of Product Moment Correlation showed the number r= -0,598 with ρ = 0.000 where (ρ<0.01), it can be concluded that there is a negative relationship which is significant between harmony family and deliquency teenagers from IX class students of MTs Negeri 2 Palembang. The Negative association shows that the higher that harmony family the lower is delinquency teenagers vice verse lower is harmony family the increasingly high deliquency teenagers happened.
References
Ahmadi, A. (2009). Ilmu Sosial Dasar. Jakarta: PT.Rineka Cipta.
Alhamdu. (2016). Analisis Statistik Dengan Program SPSS. Palembang: NoerFikri Offset.
Azwar, S. (2017). Penyusunan Skala Psikologi. Yogyakarta: Pustaka Pelajar.
Hawari, D. (2004). Al-Qur'an: Ilmu Kedokteran Jiwa dan Kesehatan Jiwa. Yogyakarta: Dana Bhakti Prima Yasa.
Hurlock, & Elizabeth, B. (1980). Psikologi Perkembangan: Suatu Pendekatan Sepanjang Rentang Kehidupan (Edisi Kelima). Jakarta: Erlangga.
Ingram, J. R., Patchin, J. W., Huebener, B. M., McCluskey, J. D., & Bynum, T. S. (2015). (2015).Parents, Friends, and Serious Delinquency An Examination of Direct and Indirect Effects Among At-Risk Early Adolescents. Criminal Justice Review , 32.
Kartono, K. (2014). Patologi Sosial 2 kenakalan Remaja. Jakarta: Raja Grafindo Persada.
Liputan6. (2016, Oktober 7). VIDEO: 6 Pelajar Ini Dimarahi Risma karena Memakai Narkoba. Retrieved April 16, 2017, from Liputan 6: https://www.liputan6.com/news/read/2620046/video-6-pelajar-ini-dimarahi-risma-karena-memakai-narkoba
Muniriyanto, & Suharnan. (2014). Keharmonisan Keluarga, Konsep Diri Dan Kenakalan Remaja. Psikologi Indonesia Persona , 3.
Purba, F. (2017, Maret 11). Tawuran Antarpelajar, Satu Siswa SMP di Bekasi Tewas. Retrieved April 16, 2017, from Liputan 6: https://www.liputan6.com/news/read/2882958/tawuran-antarpelajar-satu-siswa-smp-di-bekasi-tewas
S. L. (2012). Psikologi Perkembangan Anak dan Remaja. Bandung: PT. Remaja Rosdakarya.
Saputra, G. (2017, April 11). Sepasang Remaja di Kudus Asyik Pacaran di Angkot Selasa. Retrieved April 16, 2017, from Semarang Pos: http://m.semarangpos.com/2017/04/11/sepasang-remaja-di-kudus-asyik-pacaran-di-angkot-808817
Sarlito, S. W. (2012). Psikologi Remaja. Jakarta: Rajawali Pers.
Setiono, K. (2011). Psikologi Keluarga, Bandung. Bandung: PT. Alumni.
Sumiati, D. (2009). Kesehatan Jiwa Remaja dan Konseling. Jakarta: Trans Indo Media.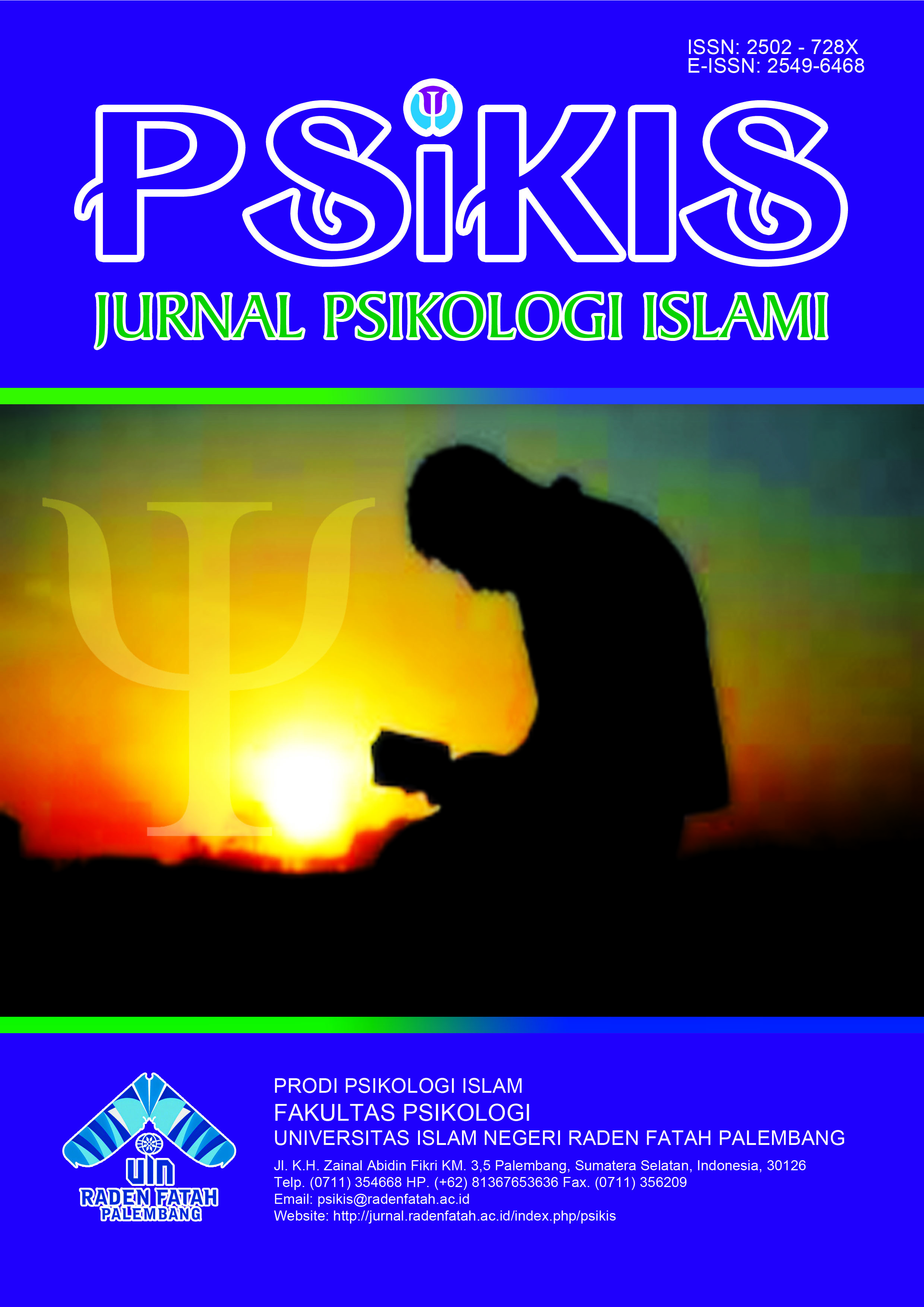 How to Cite
Oktaviani, D., & Lukmawati, L. (2018). KEHARMONISAN KELUARGA DAN KENAKALAN REMAJA PADA SISWA KELAS 9 MTS NEGERI 2 PALEMBANG. Psikis : Jurnal Psikologi Islami, 4(1), 52-60. https://doi.org/https://doi.org/10.19109/psikis.v4i1.2027
Section
Articles June 2018

Psikis: Jurnal Psikologi Islami by http://jurnal.radenfatah.ac.id/index.php/psikis is licensed under a Lisensi Creative Commons Atribusi-BerbagiSerupa 4.0 Internasional.