SALAT SUBUH DAN DIMENSI IDEAL MAHASISWA
Ahmad Yasser Mansyur

Sitti Syawaliyah Gismin

Unit Psikologi Klinis, Fakultas Psikologi Universitas Bosowa Makassar
Keywords:
Subuh Prayer, Student Ideal Dimension, Character Education
Abstract
This study aims to examine the influence of morning prayers on the formation of student ideal dimensions. The subject of the study was a student of Faculty of Psychology xx in Makassar. This research uses experimental method by including as many as 27 students who have been through the assessment stage. The data collection tool used in this research is the ideal dimension of student dimension (DIM). The data obtained were analyzed using paired samples t test with SPSS for Window program. In the experimental process, students are given group counseling services in the form of virtues and aspects of the morning prayer ruhiyah. The results showed mean DIM before and after the test was significantly different (t (.26) = -1.263, p < 05). Where mean DIM after test is higher (mean = 95.7407) than mean DIM before test. With the results it can be stated that the morning prayer is able to form the ideal dimension of Student. The ideal value of the students that comes from the implementation of the morning prayers is the aspect of IQ (tough and confident in seeking a successful study), EQ (empathy, assertiveness and leadership in social life) and SQ (honest and always maintain religiosity). It is an intrinsically ideal student ideal that is needed in college to support qualified human resources in the future.
References
Agustianto. (2008). Implementasi Ekonomi Syari`ah. Jakarta: Pascasarjana PSTTI Universitas Indonesia.
Amirullah, L. H. (2013). Penentuan Awal Waktu Salat Subuh Menurut Muhammadiyah. Yogyakarta.
Andriani, & Debrina, P. (2010). Menjadi Sosok Mahasiswa Ideal Masa Kini. Malang.
At Tilmidz. (2015). Shifat Sholat Nabi Shallallahu'alaihi Wasallam. Akhukum Fillah La Adri.
Badan Pengembangan dan Pembinaan Bahasa, K. P. dan K. R. I. (2016). Pencarian - KBBI Daring. Retrieved February 25, 2018, from https://kbbi.kemdikbud.go.id/
Bambang, H., Siswoyo, B., Orang, N., Siswoyo, B. B., Manajemen, J., & Ekonomi, F. (2009). Pengembangan Jiwa Kewirausahaan di Kalangan Dosen dan Mahasiswa. Jurnal Ekonomi Bisnis, 14(2).
Hartaji, R. D. H. (2010). Motivasi Berprestasi Pada Mahasiswa Yang Berkuliah Dengan Jurusan Pilihan Orang Tua. Retrieved December 27, 2018, from https://library.gunadarma.ac.id/repository/view/8478/motivasi-berprestasi-pada-mahasiswa-yang-berkuliah-dengan-jurusan-pilihan-orang-tua.html/
Mansyur, A. Y. (2018). Aplikasi Psikologi Islam. Makassar: Fakultas Psikologi Universitas Negeri Makassar.
Rahmawati, A. (2006). Motivasi Berprestasi Mahasiswa Ditinjau dari Pola Asuh Program Studi Psikologi. Medan.
Ristekdikti. (2012). Buku Panduan Pengembangan dan Penyusunan Kurikulum Pendidikan Tinggi. Jakarta: Ristekdikti.
Saltanera Teknologi. (n.d.). Ensiklopedi Hadits - Kitab 9 Imam. Retrieved December 23, 2018, from http://store.lidwa.com/get/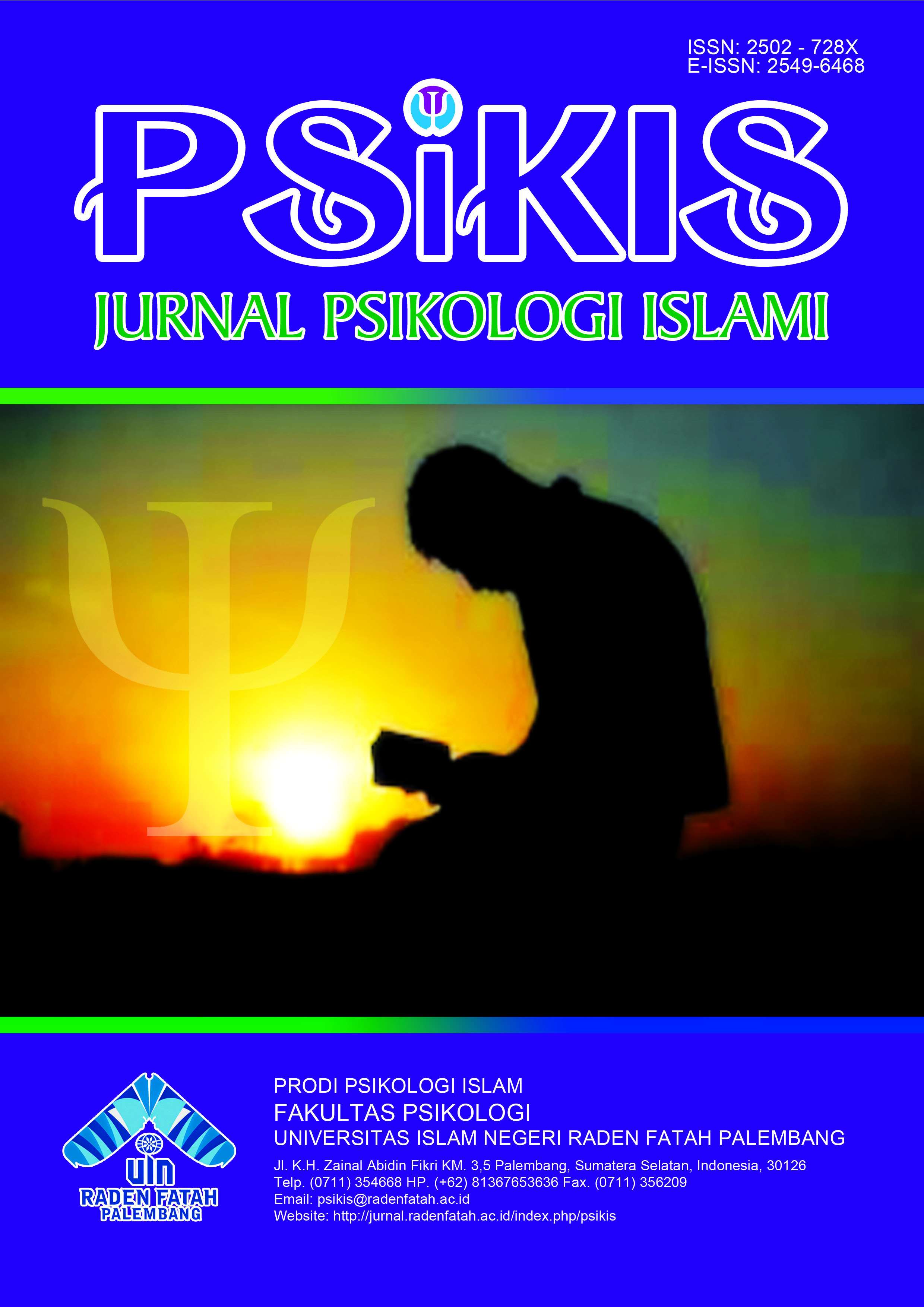 How to Cite
Mansyur, A., & Gismin, S. ( ). SALAT SUBUH DAN DIMENSI IDEAL MAHASISWA. Psikis : Jurnal Psikologi Islami, 4(2), 82 - 90. https://doi.org/https://doi.org/10.19109/psikis.v4i2.2040
Section
Articles December 2018

Psikis: Jurnal Psikologi Islami by http://jurnal.radenfatah.ac.id/index.php/psikis is licensed under a Lisensi Creative Commons Atribusi-BerbagiSerupa 4.0 Internasional.