PENDEKATAN PSIKOLOGI DALAM KAJIAN PENDIDIKAN ISLAM
Keywords:
Approach, Psychology, Islamic Education
Abstract
This study examines psychology as an approach in Islamic studies, especially in Islamic education. Islamic psychology and education basically have the same pattern in seeing various cases in scientific buildings, so that in Islamic studies such as Islamic education, an approach is required to look at deeper social phenomena, namely by using a psychological approach. This research is literature study (library research) that is research which come from library materials by using qualitative approach. Therefore, what is done is the exploration of some data both primary and secondary data with concrete steps as follows: read and examine in depth primary data such as books which is the result of research, thesis or dissertation related to psychology and education of Islam. Therefore, psychology as an approach can give birth to findings that fit the context. In Islamic studies, especially Islamic education can be access for other sciences to serve as a tool in viewing various social problems. It then happens with the psychology and education of Islam because it gave birth to the psychology of Islamic education.
References
Abdullah, T., & Rusli, K. (1989). Metodologi Penelitian Agama Sebuah Pengantar. Yogyakarta: Tiara Wacana.
Adz-Dzaky, H. M. (2002). Psikoterapi dan Konseling Islam, penerapan metode sufistik. Fajar Pustaka Baru: Yogyakarta.
Ancok, D., & Suroso, F. N. (2004). Psikologi Islam, Solusi Islam atas Problem-Problem Psikologi,. Jakarta: Pustaka Pelajar.
Assegaf, A. R. (2011). Filsafat Pendidikan Islam. Jakarta: PT. Raja Grafindo.
Bastaman, H. D. (2007). Logoterapi (Psikologi Untuk Menemukan Makna Hidup dan Meraih Hidup Bermakna). Jakarta: Raja Grafindo.
Corsini, R. (2003). Psikoterapi Dewasa: Dari Psikoanalisis Hingga Analisa Transaksional. Jakarta: Ikon Teralitera.
Daradjat, Z. (1984). Kesehatan Mental. Jakarta: UIN Syarif Hidayatullah.
Freud, S. (2009). Pengantar Umum Psikoanalisis. Yogyakarta: Pustaka Pelajar.
Kanfer, F. H., & Goldstein, A. P. (1970). Helping People Change: A Textbook of Methods. New York: John Wiley.
Langgulung, H. (1985). Pendidikan dan Peradaban Islam. Jakarta: PT Maha Grafindo.
Maslow, A. (2006). On Dominace, Self Esteen And Self Actualization, Ann Kaplan. Maurice Basset.
Muhadjir, N. (1996). Metodologi Penelitian Kualitatif. Yogyakarta: Penerbit Rake Sarasen.
Rakhmat, J. (2005). Psikologi Agama, sebuah pengantar. Bandung: Mizan Media Pustaka.
Shaleh, A. R. (2008). Psikologi Suatu Pengantar dalam Perspektif Islam. Jakarta: Kencana.
Tafsir, A. (2010). Ilmu Pendidikan dalam Perspektif Islam. Bandung: PT Remaja Rosdakarya.
Taufiq, M. I. (2006). Panduan Lengkap dan Praktis Psikologi Islam, Sari Narulita, Dkk, (terj.). Depok: Gema Insan.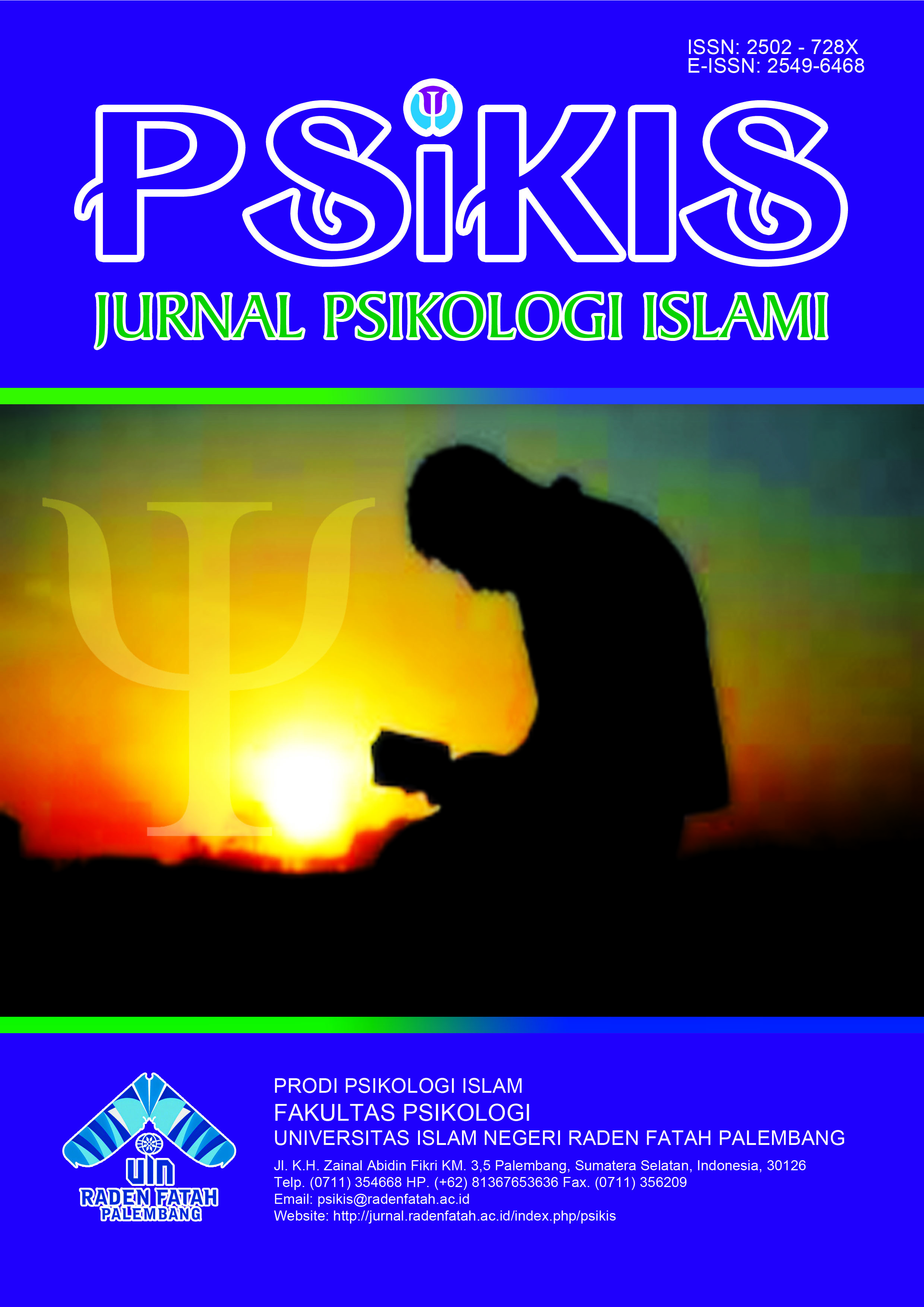 How to Cite
Mansir, F. (2018). PENDEKATAN PSIKOLOGI DALAM KAJIAN PENDIDIKAN ISLAM. Psikis : Jurnal Psikologi Islami, 4(1), 61-73. https://doi.org/https://doi.org/10.19109/psikis.v4i1.2042
Section
Articles June 2018

Psikis: Jurnal Psikologi Islami by http://jurnal.radenfatah.ac.id/index.php/psikis is licensed under a Lisensi Creative Commons Atribusi-BerbagiSerupa 4.0 Internasional.