PENDIDIKAN KEIMANAN SEBAGAI BASIS KECERDASAN SOSIAL PESERTA DIDIK: TELAAH PSIKOLOGI ISLAMI
Keywords:
Education of Faith, Social Intelligence, Learners
Abstract
This article aims to reveal the importance of faith in education as the basis of the Social intelligence of learners although it can not be measured concretely through quantitative data. This domain is a benchmark of the success of the educational process in Islam as the goal of Islamic education itself. This article use literature research, which examines the subject through the literature related to the focus of the problem that result the conclusion as follows: First, Man created by God was born as a person who brings potential social intelligence. The multi-dimensional social intelligence that God bestows on human beings is able to assume his duty as chalif and dedicate himself totally in the form of faith and piety to Allah; Secondly, the education of faith becomes important and the main thing is given to learners, by: introducing the name of Allah SWT and His Apostle; gives the description of ​​who the creator of the universe is through examply stories; introducing the Almighty of Allah SWT; to be an example for children in both worship and friendship; respect the abilities of the children; positioning them not as objects but as learning partners; and give a positive appreciation of all the advantages possessed by learners.
References
Adana, I. C. (2013). Kecerdasan Intelektual, Kecardasan Emosional, Kecerdasan Spiritual, dan Kesehatan Fisik untuk Memprediksi Prestasi Belajar Mahasiswa Akuntansi. Jurnal Akuntansi , XVII (03).
Alder, H. (2012). Boost Your Inteligence. Jakarta: Erlangga.
Amstrong, T. (2005). Setiap Anak Cerdas. Jakarta: Gramedia Pustaka Utama.
Campbell, L. (2002). Metode Terbaru Melesatkan Kecerdasan. Depok: Inisiasi Press.
Diane, R. (2009). Pengajaran Matematika Sesuai Cara Kerja Otak. Jakarta: Indeks.
Djaali. (2009). Psikologi Pendidikan. Jakarta: Bumi Aksara.
Gardner, H. (2013). Kecerdasan Mayemuk: Teori dan Praktis. (A. Sindoro, Trans.) Jakarta: Interaksara.
Hafizh, M. N. (1997). Mendidik Anak Bersama Rasulullah SAW . Bandung: Al Bayan.
Halim, M. N. (2001). Anak Shaleh Dambaan Keluarga. Yogyakarta: Mitra Pustaka.
Hasbullah. (2011). Dasar-Dasar Ilmu Pendidikan. Jakarta: Raja Grafindo Persada.
Hidayat, A. (2013). Efektivitas Program Mentoring Halaqah dalam Meningkatkan Kecerdasan Moral Siswa. Jurnal Etika dan Pekerti , 1.
Lusi, N., & Heni, M. (2011). Peran Kecerdasan Ruhaniah terhadap kecenderungan munculnya Post Power Syndrome pada Anggota TNI AU. (U. M. Press, Ed.) Asosiasi Psikologi Islami .
Muhadjir, N. (2000). Metode Penelitian Kualitatif. Yogyakarta: Rake Sarasin.
Muhammad, Y. (2008). Nilai-Nilai Sosial-Humanistik dalam Teks Hadis. Penelitian Agama , XVII (3).
Nazir, M. (1999). Metode Penelitian. Jakarta: Ghalia Indonesia.
Nida, & Khoirun, L. F. (2012). Peran Kecerdasan Spritual dalam Pencapaian Kebermaknaan Hidup. Konseling Relig (Jurnal Bimbingan dan Konseling Islam) , 3 (1).
Qomar, M. (2005). Epistemologi Pendidikan Islam: Dari Metode Rasional hingga Metode Kritis. Jakarta: Erlangga.
Sarlito, S. (2009). Pengantar Psikologi Umum. Jakarta: Raja Grafindo Persada.
Saroni, M. (2010). Orang Miskin Harus Sekolah. Yogyakarta: Ar-Ruzz Media.
Siti, R. (2008). Teori Kecerdasan Majemuk Howard Gardner dan Pengembangannya pada Metode Pembelajaran Pendidikan Agama Islam untuk Anak Usia Sekolah Dasar. Pendidikan Agama Islam , V (1).
Sobur, A. (2003). Psikologi Umum. Bandung: Pustaka Setia.
Sudibyo. (2008). UU RI No. 20 tahun 2003 tentang Sisdiknas dan Peraturan Pemerintah No. 47 tahun 2008 Tentang Wajib Belajar. Bandung: Citra Umbara.
Sukardi, D. K. (2007). Analisis Tes Psikologi. Jakarta: Rineka Cipta.
Udin, S. W., & dkk. (2007). Teori Belajar dan Pembelajaran. Jakarta: Universitas Terbuka.
Utami, M. (2005). Mengembangkan Bakat dan Kreativitas Anak Sekolah. Jakarta: Gramedia.
Winkel, W. (1997). Psikologi Pendidikan dan Evaluasi Belajar. Jakarta: Gramedia.
Zainudin, e. (1991). Seluk Beluk Pendidikan dari AL Ghazali. Jakarta: Bina Askara.
Zed, M. (2008). Metodologi Penelitian Kepustakaan. Jakarta: Yayasan Obor Indonesia.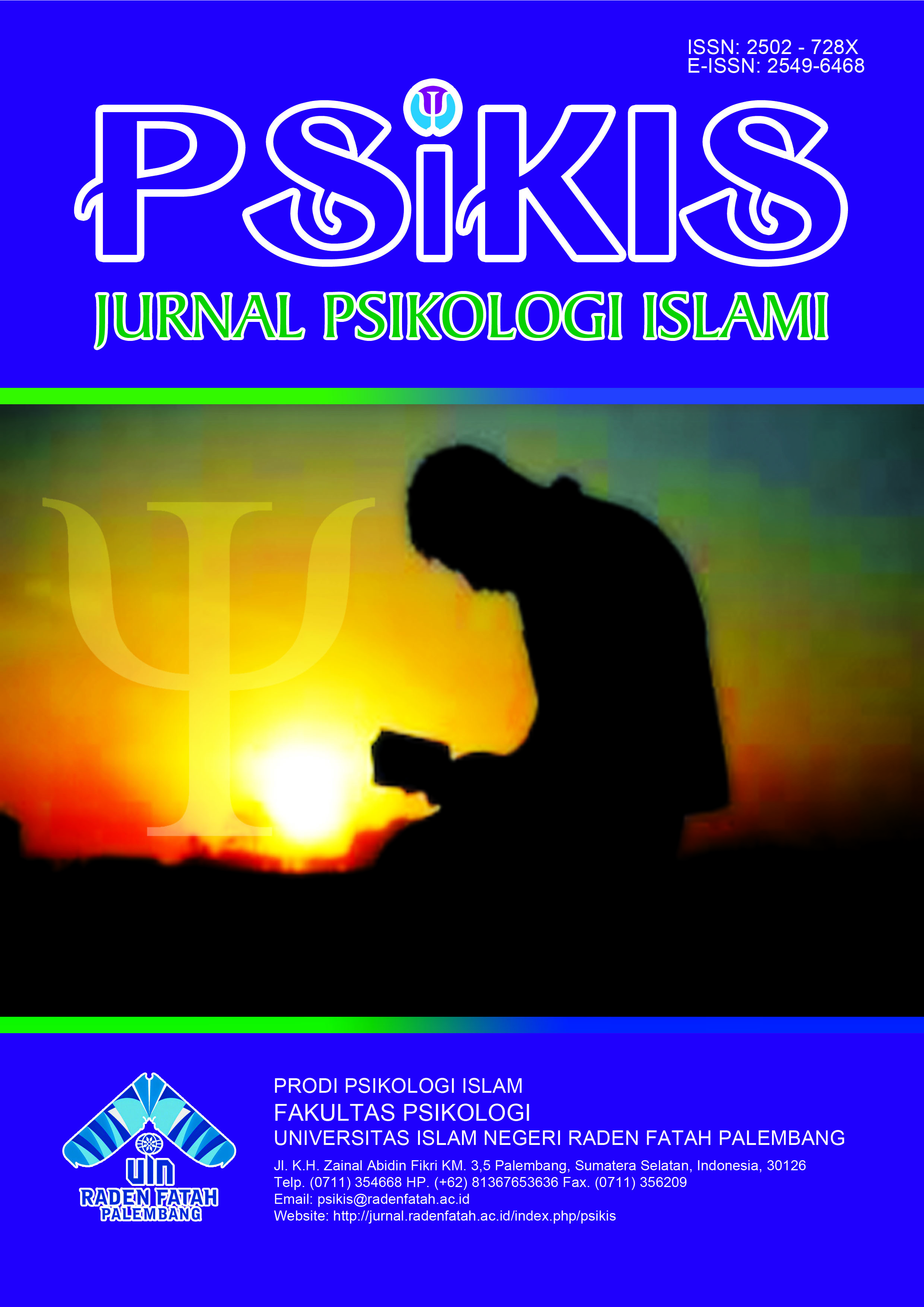 How to Cite
Warsah, I. (2018). PENDIDIKAN KEIMANAN SEBAGAI BASIS KECERDASAN SOSIAL PESERTA DIDIK: TELAAH PSIKOLOGI ISLAMI. Psikis : Jurnal Psikologi Islami, 4(1), 1-16. https://doi.org/https://doi.org/10.19109/psikis.v4i1.2156
Section
Articles June 2018

Psikis: Jurnal Psikologi Islami by http://jurnal.radenfatah.ac.id/index.php/psikis is licensed under a Lisensi Creative Commons Atribusi-BerbagiSerupa 4.0 Internasional.