SIKAP TAWAKAL DENGAN KECEMASAN MENGHADAPI UJIAN NASIONAL PADA SISWA KELAS XII MADRASAH ALIYAH DI KOTA PALEMBANG
Bobi Januar Iskandar

Fakultas Psikologi, UIN Raden Fatah Palembang

Muhammad Noupal

Fakultas Psikologi, UIN Raden Fatah Palembang

Kiki Cahaya Setiawan

Fakultas Ushuluddin dan Pemikiran Islam UIN Raden Fatah Palembang
Keywords:
Attitudes of Tawakal, Anxiety Facing National Exam
Abstract
The independent variable in this research is the attitude of tawakal. While the dependent variable is anxiety facing the national exam. Hypothesis research there is correlation between attitude tawakal with anxiety face national exam at student class XII. The samples were taken using Cluster Random Sampling technique. The sample in this study amounted to 165 students class XII IPA 1, XII IPA 2, XII IPA 4, XII IPS 1 and XII IPA 3. Methods of data retrieval in this study using the scale of attitude tawakal and the scale of anxiety face the national exam. Data analysis method used to test the research hypothesis using Pearson Product Moment analysis. All data analysis calculations were performed using the SPSS (Statistical Packager For Social Science) software version 22.00. The conclusion of this research is there is a significant negative correlation between attitude tawakal with anxiety face national examination at student of class XII (r = -0,596; p = 0,000). This suggests that the role of tawakal attitude to anxiety is very important. Humans who have a high tawakal attitude will have a low anxiety and vice versa.
References
Al-Mighwar, M. (2006). Psikologi Remaja : Petunjuk bagi Guru dan Orangtua. Bandung: Pustaka Setia.
Anwar, S. (2013). Metodologi Penelitian Bisnis, Cet.3. Jakarta: Salemba Humanika.
Astuti, R. P., & Edi, P. (2014). Perbedaan Self Efficacy Siswa dalam Menghadapi Ujian Nasional di SMP Negeri 1 Boyolali Ditinjau Keikutsertaan Bimbingan Belajar. Educational Psychology , 3 (1).
Azwar, S. (1995). Sikap Manusia : Teori dan Pengukurannya, Edisi kedua. Yogyakarta: Pustaka Pelaja.
Durand, V. D., & David, H. B. (2006). Intisari Psikologi Abnormal. Yogyakarta: Pustaka Pelaja.
Duwi, P. (2009). 5 Jam Belajar Olah Data dengan SPSS 17. Yogyakarta: Andi Offset.
Elva, Y., & dkk. ( 2013). Penerapan Spiritual Emotinal Freedom Technique dalam Bimbingan Belajar Kelompok Untuk Menurunkan Kecemasan Siswa SMA dalam Menghadapi Ujian Nasiona Nomor. BK Unesa , 03 (01).
Gendro, W. (2011). Merancang Penelitian Bisnis dengan Alat Analisis SPSS 17 & SmartPls 2. Yogyakarta: UPP STIM YKPN.
Hartono. (2015). Analisis Item Instrumen. Pekanbaru: Zanafa Publishing.
Lobby, L., & Yari, D. (2013). Model Training Guru BK untuk Membantu Siswa mengatasi Kecemasan Menghadapi Ujian Nasional Melalui Relaksasi. Widya Sari , 15 (1).
Maisaroh, E. N., & Falasifatul, F. ( 2011). Religiusitas dan Kecemasan Menghadapi Ujian Nasional (UN) Pada Siswa Madrasah Aliyah. Proyeksi , 6 (2).
Riduwan. (2010). Belajar Mudah Penelitian Untuk Guru, Karyawan, dan Peneliti Pemula. Bandung: Alfabeta.
Rizem, A. (2015). Melawan Stress dan Depresi : Dahsyatnya Mukjizat Al-Qur'an Menumpas Segala Gangguan Jiwa . Yogyakarta: Saufa.
Rusmaini. (2011). Ilmu Pendidikan . Palembang: Grafika Telindo Press.
Safaria, T., & Nofrans, E. S. (2012). Manajemen Emosi: Sebuah Panduan Cerdas Bagaimana Mengelola Emosi Positif Dalam Hidup Anda. Jakarta: Bumi Aksara.
Santrock, J. W. (2012). Perkembangan Masa Hidup. Jakarta: Erlangga.
Sawi, S. (2014). Diktat Statistika Penelitian. Palembang.
Teguh, T. (2014). Pengantar Pendidikan, Cet. 1. Jakarta: Bumi Aksara.
Visi dan Misi. (n.d.). Retrieved Desember 12, 2015, from MAN 3 Palembang: http://www.man3plg.sch.id/website/?halm=profil&di=5
Wawan, A., & Dewi, M. (2010). Teori & Pengukuran Pengetahuan, Sikap, dan Perilaku Manusia : Dilengkapi Contoh Kuesioner. Nuha Medika.
Wiratna, V. S. (2015). SPSS Untuk Penelitian. Yogyakarta: Pustaka Baru Press.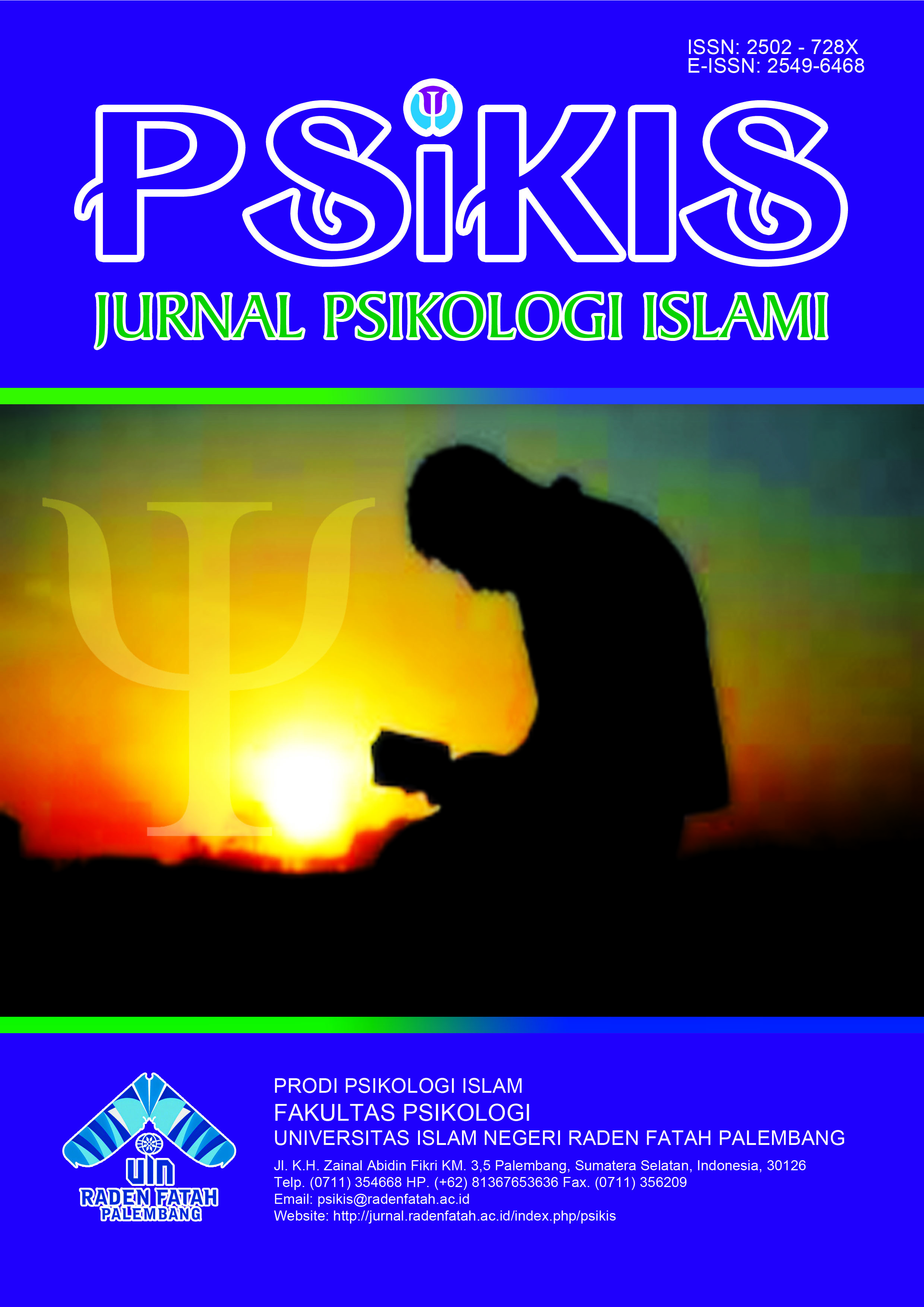 How to Cite
Iskandar, B., Noupal, M., & Setiawan, K. (2018). SIKAP TAWAKAL DENGAN KECEMASAN MENGHADAPI UJIAN NASIONAL PADA SISWA KELAS XII MADRASAH ALIYAH DI KOTA PALEMBANG. Psikis : Jurnal Psikologi Islami, 4(1), 17-26. https://doi.org/https://doi.org/10.19109/psikis.v4i1.2158
Section
Articles June 2018

Psikis: Jurnal Psikologi Islami by http://jurnal.radenfatah.ac.id/index.php/psikis is licensed under a Lisensi Creative Commons Atribusi-BerbagiSerupa 4.0 Internasional.