KESEJAHTERAAN PSIKOLOGIS PADA JEMAAH PENGAJIAN DITINJAU DARI RELIGIUSITAS DAN HUBBUD DUNYA
Lavenda Azalia

Universitas Islam Indonesia

Leli Nailul Muna

Universitas Islam Indonesia Yogyakarta

ahmad Rusdi

Universitas Islam Indonesia Yogyakarta
Keywords:
Hubbud Dunya, Religiosity, Psychological Well-Being
Abstract
Psychological well-being is an important psychological element that supports individual total functioning. Psychological well-being is influenced by various factors including religiosity, and inversely proportional to psychological illness such as depression, anxiety, and materialism. This study aims to test the hypothesis of the relationship between hubbud dunya and religiosity with psychological well-being in the congregation of pengajian. The sample in this study is the congregation of pengajian by sampling method using purposive sampling. Methods of data collection using 4 scales of research. The psychological well-being scale of Ryff (1995), the scale of religiosity 1 and 2 of Nashori & Wijaya (2016), and the scale of hubbud dunya compiled by researchers based on Imam al-ghazali thought in ihya 'ulumuddin. Data analysis using spearman correlation coefficient test. The results showed there was a positive relationship between religiosity and psychological well-being. The aspects of religiosity that has a positive relationship with psychological well-being is the aspect of worship, morals, and experience. The hypothesis test between hubbud dunya and psychological well-being showed that there was no significant relationship between the two.
References
(n.d.). Retrieved Januari 2018, from https://kbbi.web.id/.
Al-Ghazali. (1981). Ihya' Al-Ghazali-Ihya Ulumiddin. Edisi ke 5. Diterjemahkan oleh: Ismail. Semarang: CV Fauzan.
Al-Munajjid, M. (2009). Hubb al-dunya. Jedah: . Jedah: Majmu'ah Zad li al-Nashr.
Amawidyati, S., & Muhana, S. Religiusitas & Psychological Well Being Pada Korban Gempa. Jurnal Psikologi , 34 (2), 164-176.
D'Souza, & Jeevan. (2015). Greed: Crises, Causes, and Solution. International Journal of Humanities and Social Science , 5 (7).
Harpan, & Abang. Peran Religiusitas dan Optimisme terhadap Kesejahteraan Psikologis pada Remaja. Universitas Ahmad Dahlan.
Hawwa, & Sa'id. (2004). Intisari Ihya' Ulumuddin Al-Ghazali Mensucikan Jiwa. Diterjemahkan oleh: Aunur Rafiq Shaleh Tamhid. Jakarta: Robbani Press.
Huppert, & Felicia, A. (2009). Psychological Well-Being: Evidence Regarding its Causes and Consequences. Applied Psychology: Health and Well-Being.
Ismail, & Desmukh. (2012). Religiosity and Psychological Well-Being. International Journal of Business and Social Science , 3 (11).
Mahudin, N., Noraini, M., Mariam, A., & Nazariah, S. (2016). Religiosity among Muslims: A Scale Development Voand Validation Study. Makara Hubs-Asia , 20 (2).
Mawarpury, & Marty. (2013). Coping sebagai Prediktor Kesejahteraan Psikologis: Studi Meta Analisis.Tahun 11 No. 1. Psycho Idea.
Muslim, D., & Fuad, N. (2007). Hubungan antara Religiusitas dengan Kebahagiaan Otentik (Authentic Happiness) pada Mahasiswa. Naskah Publikasi.
Nashori, H. (2008). Psikologi Sosial Islami. Jakarta: Refika Aditama.
Nashori, H., & Wijaya. (2016). Pemaafan pada Etnis Madura (Pengaruh Religiositas dan Keterikatan Interpersonal melalui Sifat Kebaikan Hati dan Sifat Neurotisisme terhadap Pemaafan).
Nasrhoni, H., & Mucharam, R. (2002). Mengembangkan Kreativitas: Perspektif Psikologi Islami. Yogyakarta: Penerbit Menara Kudus.
Nelma, Hapsarini, Dini, B. R., & Fivi, N. (2012). Hubungan Komitmen Beragama dengan Kesejahteraan Psikologis pada Masyarakat Jakar Usia Dewasa. Jurnal Psikologi Pitutur , 1 (1).
Papalia, Olds, & Feldman. (2009). Human Development. Jakarta: Salemba.
Park, N., Lee, B., Sun, F., Klemmack, D., Roff, L., & Keonig, H. (2013). Typologies of Religiousness/Spirituality: Implications for Health and Well-Being. J Relig Health , 52, 828–839.
Ramadhani, T., Djunaedi, & Atiek, S. (2016). Kesejahteraan Psikologis (Psychological Wellbeing) Siswa yang Orangtuanya Bercerai (Studi Deskriptif yang dilakukan pada Siswa di SMK Negeri 26 Pembangunan Jakarta. Jurnal Bimbingan Konseling , 5 (1).
Ramayulis. (2002). Pengantar Psikologi Agama. Jakarta: Kalam Mulia.
Rochman, M., N., & Arif, N. (2003). Perana Kesulitan Ekonomi, Kepuasan Kerja, dan Religiusitas terhadap Kesejahteraan Psikologis. Jurnal Psikologi (2).
Ryff, & Carol, D. (1995). Psychological Well-Being in Adult Life. Current Directions in Psychological Science. 4 (4), 99-104.
Ryff, C. (1989). Happiness is everything, or is it? Explorations on the meaning of psychological well being. Journal of personality and Social Psychology , 57 (2), 169-181.
Ryff, Carol, D., & Burton, S. H. (2006). Know Theyself and Become What You Are. A Eudaimonic Approach To Psychological Well-Being. Journal of Happiness Studies , 9, 13-39.
Ryff, Carol, D., & Corey, L. (1995). The Structure of Psychological Well-Being Revisited. Journal of Personality and Social Psychology , 69 (4), 719-272.
Saliyo. (2017). The Influence of Religiosity, Meaning of Life Towards Subjective Well-Being of Participants Naqsabandiyah Kholidiyah tarekat in Kebumen Indonesia. IOSR Journal of Humanities and Social Science , 22 (4), 34-43.
Salleh, & Muhammad, S. (2012). Religiosity in Development: A Theoretical Construct of An Islamic-Based Development. International Journal of Humanities and Social Science , 2 (14).
Sujana, R., Hepi, W., & Qurotul, U. (2015). Peningkatan Kesejahteraan Psikologis pada Penderita Diabets Mellitus Tipe 2 dengan Menggunakan Group Positive Psychotherapy. Jurnal Intervensi Psikologi , 7 (2).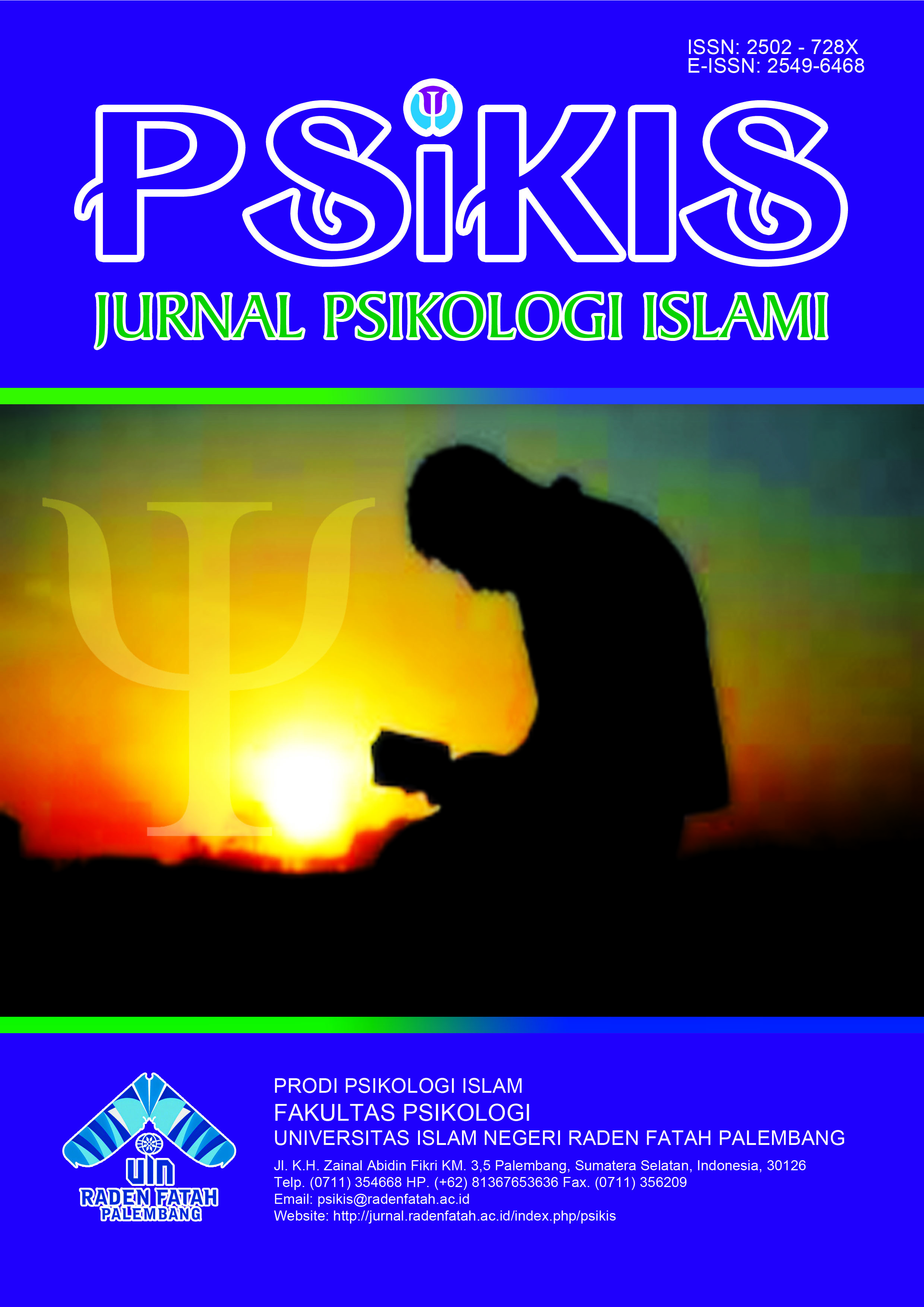 How to Cite
Azalia, L., Muna, L., & Rusdi, ahmad. ( ). KESEJAHTERAAN PSIKOLOGIS PADA JEMAAH PENGAJIAN DITINJAU DARI RELIGIUSITAS DAN HUBBUD DUNYA. Psikis : Jurnal Psikologi Islami, 4(1), 35-44. https://doi.org/https://doi.org/10.19109/psikis.v4i1.2159
Section
Articles June 2018

Psikis: Jurnal Psikologi Islami by http://jurnal.radenfatah.ac.id/index.php/psikis is licensed under a Lisensi Creative Commons Atribusi-BerbagiSerupa 4.0 Internasional.