PERBEDAAN KECERDASAN EMOSIONAL DILIHAT DARI PILIHAN SESEORANG SAAT BERHADAPAN DENGAN DILEMA MORAL AGAMA
Lutfiyah Hani

Universitas Muhammadiyah Prof. DR. Hamka

Subhan El Hafiz

Universitas Muhammadiyah Prof. DR. Hamka
Keywords:
Dilemma, Emotional Intelligence, Rukhsoh
Abstract
Aim of this research to see difference of emotional intelligence from one's choice when faces dilemmas situation of religious value. This research using quantitative approach method and subject of this study for respondents aged 17-50 years and Muslim as many as 153 respondents. The measurement instruments are the emotional intelligence scale, "trait meta-mood scale" (TMMS) and dilemmas situation instrument. Data analyzed by compare mean t-test independent sample. The results shows no difference of emotional intelligence seen from individual reasons to decide their choices, namely emotional and rational (MD=0.710; p>0.05). But when the data analyzed based on groups choice the results shows significant difference in emotional intelligence seen from group which choose not to do  plural prayer (jama'), which is higher emotional intelligent in a group who choose with rasional reason than emotional (MD=0.047; p<0.05). Hypoteses also rejected in group which choose rukhsoh (MD=0.313; p>0.05). This resuls shows emotional intelligent can affecting the reason one to choose but limited to certain type of choosen.
References
Berk, E. L. (2012). Development Through The Life Span: Dari Dewasa Awal Sampai Menjelang Ajal. Yogyakarta: Pustaka Belajar.
El Hafiz, S. (2017). Teori Pilihan Rasional. dalam Teori Psikologi Sosial Kontemporer. (Ed. Pitaloka). Depok: Rajawali Pers.
Grenee, D. J., Sommerville, B. R., Nystrom, E. L., Darley, M. J., & Cohen, D. J. (2001). An FMRI Investigation Of Emotional Engagement In Moral Judgement. Science, 2993(5537).
Hamzah, B. (2010). Orientasi Baru Dalam Psikologi Pembelajaran. Jakarta: Bumi Aksara Press.
Lemerise, A.E & Arsenio, F. W. (2000). An Integrated Model Of Emotion Processes And Cognition In Social Information Processing. Child Development, 71(1).
Lindner, K. (2013). 7 Langkah Menguasai Emosi Kognitif (D. Wulansari, Trans). Tangerang Selatan : Gemilang.
Salovey, P., Mayer, D. J., Goldman, L. S., Turvey, C., & Palfai, P. T. (1995). Emotion, Disclosure, And Health. America: American Psychological Association.
Santrock, W. J. (2012). Life Span Development. Jakarta: Erlangga.
Sukarto, H. (2006). Pemilihan Model Transportasi di DKI Jakarta Dengan Analisis Kebijakan "Proses Hirarki Analitik." Jurnal Teknik Sipil, 3(1).
Wipperman, J. (2007). Meningkatkan Kecerdasan Emosional: Program Praktis Untuk Merangsang Kecerdasan Emosional Anda (Winianto, Trans). Jakarta: Prestasi Pustaka.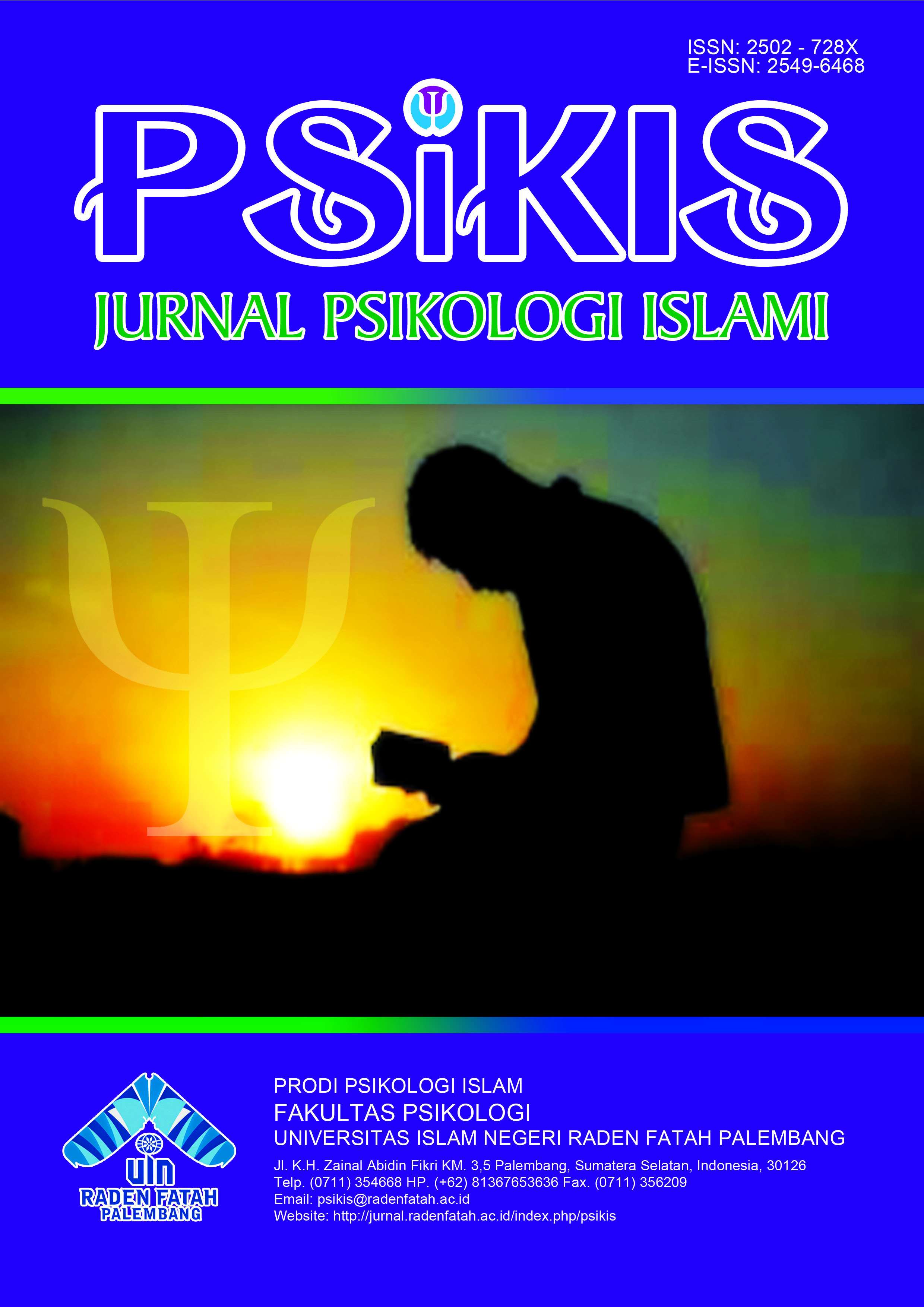 How to Cite
Hani, L., & Hafiz, S. ( ). PERBEDAAN KECERDASAN EMOSIONAL DILIHAT DARI PILIHAN SESEORANG SAAT BERHADAPAN DENGAN DILEMA MORAL AGAMA. Psikis : Jurnal Psikologi Islami, 4(2), 104 -111. https://doi.org/https://doi.org/10.19109/psikis.v4i2.2392
Section
Articles December 2018

Psikis: Jurnal Psikologi Islami by http://jurnal.radenfatah.ac.id/index.php/psikis is licensed under a Lisensi Creative Commons Atribusi-BerbagiSerupa 4.0 Internasional.