PENGALAMAN KEAGAMAAN PARA GURU PENDIDIKAN AGAMA ISLAM
Fuad Nashori

Faculty of Psychology and Socio-Cultural Science, Yogyakarta, Universitas Islam Indonesia

R. Rachmy Diana

Universitas Islam Negeri Sunan Kalijaga Yogyakarta
Keywords:
Religious Experience, Physiological, Social-Psychological, Parapsychological, Spiritual
Abstract
This study intends to get an overview of the themes and processes of religious experience in Islamic religious education teachers. Data disclosure of research respondents, namely religious teachers, was carried out using in-depth interviews. The results showed that the research respondents had a variety of religious experiences, both physiological, social-psychological, parapsychological, and spiritual. Among the various experiences above, the most prominent theme is the themes of experience of the mind. Various spiritual experiences take place through a process that involves socio-cultural conditions, opportunities, difficulties and challenges of life, worship such as praying, tahajjud prayer, diligent prayer, timely prayer, positive behavior or attitude towards others, and the nearest social environment such as brothers, uncles / mother, and so on.
References
Ancok, D., & Suroso, F. N. (2011). Psikologi Islami: Solusi Islam atas Berbagai Problem-problem Psikologi. Yogyakarta: Pustaka Pelajar.
Fakih, M. (2016, December 14). Pendidikan Karakter Bertumpu pada Manajemen Kelas. Jawa Pos, p. 24.
Margolif, R. D., & Elifson, K. W. (1997). A Typology of Religious Experiences. The Journal of Scientific Study in Religion, 18, 61–67.
Nashori, F. (1997). Psikologi Islami: Agenda menuju aksi. Yogyakarta: Pustaka Pelajar.
Nashori, F. (2003). Kompetensi Interpersonal Ditinjau dari Kematangan Beragama, Konsep Diri dan Jenis Kelamin. Yogyakarta: Program Pasca Sarjana UGM.
Pasiak, T. (2012). Tuhan dalam Otak Manusia: Mewujudkan Kesehatan Spiritual Berdasarkan Neurosains. Bandung: Mizan.
Rahman, M. A. (2011). Pentingnya Disiplin Belajar. Jakarta: Rineka Cipta.
Subandi, M. A. (2003). Psikologi Dzikir: Studi Fenomenologi Pengalaman Transformasi Religius. Yogyakarta: Pustaka Pelajar.
Subandi, M. A. (2013). Psikologi Agama dan Kesehatan Mental. Yogyakarta: Pustaka Pelajar.
Uno, H. B., & Lamatenggo, N. . (2013). Landasan Pendidikan. Gorontalo: Ideas Publishing.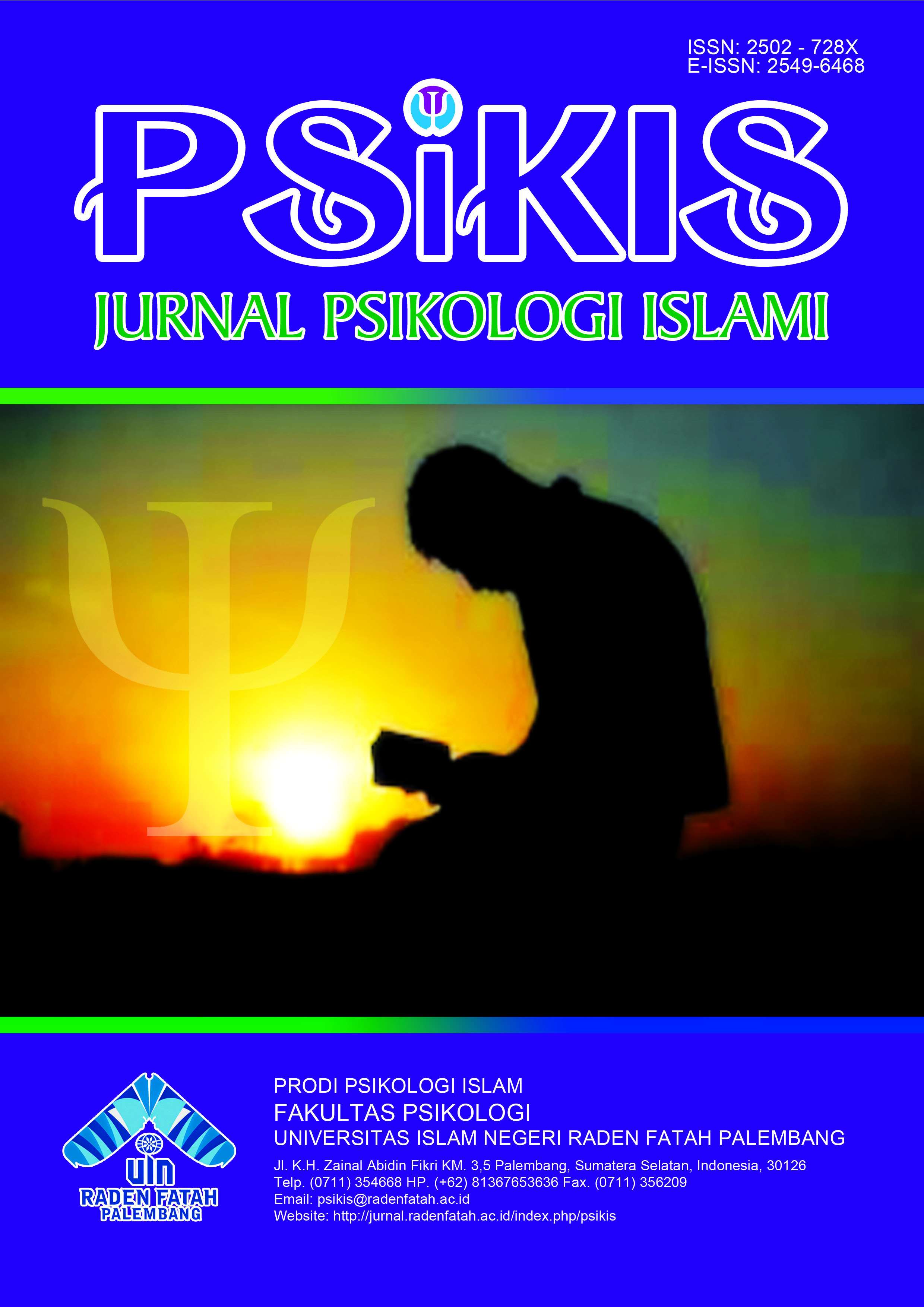 How to Cite
Nashori, F., & Diana, R. R. (2018). PENGALAMAN KEAGAMAAN PARA GURU PENDIDIKAN AGAMA ISLAM. Psikis : Jurnal Psikologi Islami, 4(2), 91 - 103. https://doi.org/https://doi.org/10.19109/psikis.v4i2.2394
Section
Articles December 2018

Psikis: Jurnal Psikologi Islami by http://jurnal.radenfatah.ac.id/index.php/psikis is licensed under a Lisensi Creative Commons Atribusi-BerbagiSerupa 4.0 Internasional.