QALBUN HEALING BERBASIS TASAWUF : UPAYA MENYEHATKAN JIWA TERHADAP HOMOSEKSUAL
Azam Syukur Rahmatullah

Universitas Muhammadiyah Yogyakarta
Keywords:
qalbun healing, tasawuf, al-thariqah, Homosexual
Abstract
The healing to the homosexual is not easy, it is not just to do ritualistic daily-worship and after that to be healed, certainly it is not easy. The handling for them is special, the central zone is in the heart. It the mean, the central heating for the homosexual is in the heart, called qalbun healing. The approach of it using qalbun healingis special, caused rich of spiritualistic-religious, it named tasawuf with the thariqah to guide the person go to an-nur Allah. There are many religious-method was used in the homosexual that wants to heal and having good behavior by mursyid that teacher-spiritual avowed virtuous, knowledge, and behavior. The formula, these are;taubat an-nasuha, al-zuhud, al-wara', al-tawakal, al-mahabbah dan al-ma'rifah. The formula can estrange from homosexual behavior if welldoing and istiqamah.
References
Al-Ghazali, A. H. M. bin M. bin M. (1986). Raudlat al-Thalibin wa 'umdat al-Salikhin, dalam Majmu'at Rasail al-Imam Al-Ghazali. Beirut: Dar al-Kitab al-Ilmiyah.
Al-Ghazali, I. (1995). Muhtasar Ihya Ulumuddin. Jakarta: Pustaka Amani.
Anshari, H. (1996). Kamus Psikologi. Surabaya: PT. Usaha Nasional.
Ashari, W. K. (2015). Presentasi Diri Gay (Kajian Dramaturgi Bentuk Presentasi Diri dalam Komunikasi Interpersonal Gay di Malang). Fakultas Ilmu Sosial dan Politik Universitas Brawijaya Malang.
Boellstorff, T. (2010). Antara Agama dan Hasrat : Muslim yang Gay di Indonesia. Gandrung, 1(1).
Cheng, P.-Y., & Hsu, P.-K. (2012). Cognitive Dissonance Theory and The Certification Examination : The Role of Responsibility. Social Behavior and Personality an International Journal, 40(7), 1103–1112. https://doi.org/https://doi.org/10.2224/sbp.2012.40.7.1103
Damami, M. (2000). Tasawuf Positif dalam Pemikiran Hamka. Yogyakarta: Pustaka Pelajar.
Hamid, M. F. A., Suliaman, I. H., & Ariffin, M. F. M. (2016). The Concept of Zuhud Based on Fiqh Al-Hadith. Intelek, 11(1), 24–30.
HR. Bukhari. (n.d.). Hadits Bukhari.
Jalaluddin. (2015). Psikologi Agama, Memahami Perilaku dengan Mengaplikasikan Prinsip-Prinsip Psikologi. Jakarta: PT. Rajawali Press.
Kartini, K. (2010). Patologi Sosial, Gangguan-Gangguan Kejiwaan. Jakarta: PT. Raja Grafindo Persada.
Kementerian Pemberdayaan Perempuan dan Perlindungan Anak. (2015). Pandangan Masyarakat terhadap Lesbian, Gay, Biseksual dan Transgender (LGBT) di Jakarta, Bogor, Depok dan Tangerang Tahun 2015. Retrieved May 17, 2019, from Pusat Penelitian Universitas Indonesia website: https://www.kemenpppa.go.id/lib/uploads/list/0bad8-4-laporan-lgbt-masyarakat.pdf
Kompas.com. (2017). 14 Gay yang Pesta Seks di Surabaya Masing-Masing Bayar Hingga Rp 100.000. Retrieved July 25, 2017, from 01/05/2017 website: https://regional.kompas.com/read/2017/05/01/07525121/14.gay.yang.pesta.seks di surabaya .masing-masing.bayar.hingga.rp.100.000?page=all
Ma'luf, L. (1977). Al-Munjid fi al-Lughah wa al-Adab. Bairut: Maktabah Kastulikiyah, t.t.
Metin, I., & Camgoz, S. M. (2011). The Advances in the History of Cognitive Dissonance Theory. International Journal of Humanities and Social Science, 1(6), 131–136. Retrieved from http://www.ijhssnet.com/journals/Vol._1_No._6;_June_2011/14.pdf
Muhammad, H. (2002). Dialog Antara Tasawuf dan Psikologi, Telaah Pemikiran Psikologi Humanistik Abaraham Maslow. Yogyakarta: Pustaka Pelajar.
Mujib, A. (2006). Kepribadian dalam Psikologi Islam. Jakarta: PT. RajaGrafindo Persada.
Najati, M. U. (2005). Al-Qur'an dan Psikologi. Jakarta: Aras Pustaka.
Najati, M. U. (2005). Psikologi dalam Al-Qur'an; Terapi Qur;ani dalam Penyembuhan Gangguan Kejiwaan terj. M. Zaka Al-Farisi. Bandung: Pustaka Setia.
Nurbakhsy, J. (2000). Psikologi Sufi. Yogyakarta: Fajar Pustaka Baru.
Purba, D. O. (2017). Terbongkarnya Tempat Pesta Seks Kaum "Gay" di Kelapa Gading. Retrieved from 23/05/2017 website: https://megapolitan.kompas.com/read/2017/05/23/09405501/terbongkarnya.tempat.pesta.seks.kaum.gay.di.kelapa.gading?page=all
Rahmat, A. (2007). Kesesatan dalam Perspektif Al-Qur'an. Yogyakarta: Pustaka Pelajar.
Rahmat, J. (1999). Membuka Tirai Kegaiban ; Renungan-Renungan Sufistik. Bandung: Mizan.
Rizal, A. (2017). Grup Komunitas Gay di Lubuklinggau Hebohkan Warga. Retrieved July 27, 2017, from Senin, 31 Juli 2017 website: https://daerah.sindonews.com/read/1225665/190/grup-komunitas-gay-di-lubuklinggau-hebohkan-warga-1501492462
S, D. P., & Muhdi, N. (2016). Family Therapy to Homosexuals and Bisexuals. Jurnal Psikiatri Surabaya, 5(1), 1–14. Retrieved from http://journal.unair.ac.id/PJS@family-therapy-to-homosexuals-and-bisexuals-article-12231-media-69-category-3.html
Saleh, G., & Arif, M. (2017). Rekayasa Sosial Dalam Fenomena Save LGBT. Jurnal Komunikasi Global (JKG), 6(2). Retrieved from http://www.jurnal.unsyiah.ac.id/JKG/article/view/9319
Schultz, D. (1991). Psikologi Pertumbuhan : Model-Model Kepribadian Sehat, terj. Yustinus. Yogyakarta: PT. Kanisius.
Shofiyah, N., Afriatin, A. T. S., & Anwar, S. (2017). Content Analysis Nilai-Nilai Pendidikan Islam dalam Film Iqra : Petualangan Meraih Bintang Karya Iqbal al-Fajri. Jurnal Pendidikan Agama Islam -Ta'lim , 15(2), 99–111.
Shohib, M. (2015). Taubat Sebagai Metode Dasar Psikoterapi. Seminar Psikologi Dan Kemanusiaan. Malang: Forum Universitas Muhammadiyah Malang.
Subandi. (2013). Psikologi Agama dan Kesehatan Mental. Yogyakarta: Pustaka Pelajar.
Sukanto, & Dardiri. (1996). Nafsiologi : Refleksi Analisistentang Diri dan Tingkah Laku Manusia. Surabaya: PT. Risalah Gusti.
Sukor, A. H. bin A. (2004). Syeikh Mursyid di Antara Penghormatan dan Pendewaan. Retrieved from http://www.myjurnal.my/filebank/published_article/33883/Article_8.PDF
Syahatah, H.-H. (2003). Membersihkan Jiwa dengan Muhasabah, terj. Nuroddin Usman. Yogyakarta: Mitra Pustaka.
Syalaby, A. (2016). Berapa Sebenarnya Jumlah Gay di Seluruh Indonesia? Retrieved July 27, 2017, from Sabtu, 23 Jan 2016 website: https://nasional.republika.co.id/berita/nasional/umum/16/01/23/o1e9ut394-berapa-sebenarnya-jumlah-gay-di-seluruh-indonesia
Syalaby, A. (2017). Ini Provinsi dengan Jumlah Gay Terbanyak. Retrieved July 27, 2017, from Sabtu, 23 Jan 2016 website: https://www.republika.co.id/berita/nasional/umum/16/01/23/o1eaq5394-ini-provinsi-dengan-jumlah-gay-terbanyak
Syukur, A. (2000). Pengantar Studi Islam. Semarang: CV. Bima Sajati.
wartabromo.com. (2017). Ribuan Gay di Pasuruan Telah Bentuk Ikatan Komunitas dan Grup di Media Sosial. Retrieved July 27, 2017, from 26 Juli 2017 website: http://www.wartabromo.com/2017/07/26/ribuan-gay-di-pasuruan-telah-bentuk-ikatan-komunitas-dan-grup-di-media-sosial/
Yanuarti, E. (2019). Pola Asuh Islami Orang Tua dalam Mencegah Timbulnya Perilaku LGBT Sejak Usia Dini. Cendekia, 17(1), 57–79. Retrieved from http://jurnal.iainponorogo.ac.id/index.php/cendekia/article/view/1337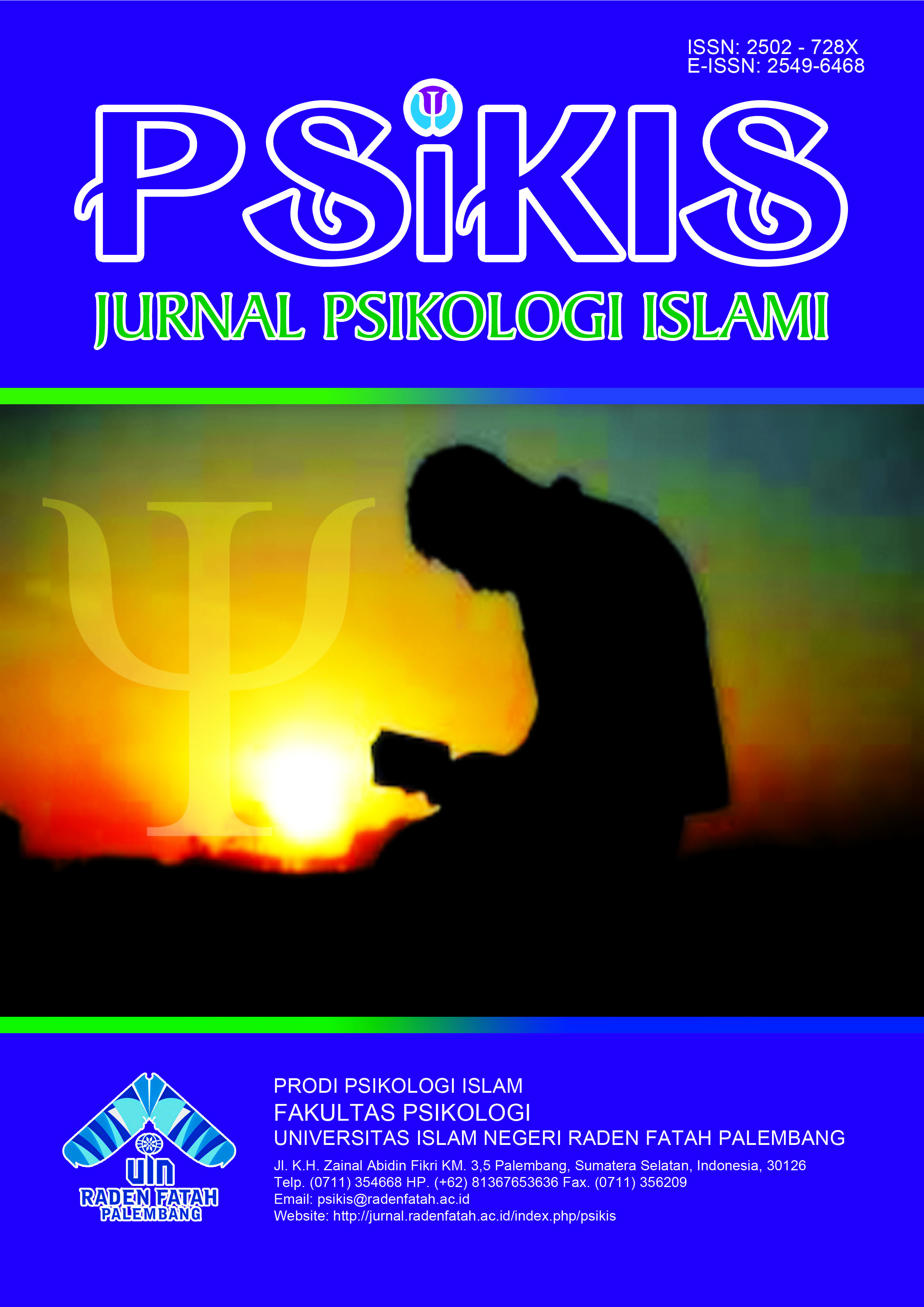 How to Cite
Rahmatullah, A. (2019). QALBUN HEALING BERBASIS TASAWUF : UPAYA MENYEHATKAN JIWA TERHADAP HOMOSEKSUAL. Psikis : Jurnal Psikologi Islami, 5(1), 33-47. https://doi.org/https://doi.org/10.19109/Psikis.v5i1.2572
Section
Articles June 2019

Psikis: Jurnal Psikologi Islami by http://jurnal.radenfatah.ac.id/index.php/psikis is licensed under a Lisensi Creative Commons Atribusi-BerbagiSerupa 4.0 Internasional.