KESEPIAN PADA ISTRI TENTARA NASIONAL INDONESIA
Tanti Yusnita

Program Studi Psikologi Islam UIN Raden Fatah Palembang

Ris'an Rusli

Program Studi Psikologi Islam UIN Raden Fatah Palembang

Budiman Budiman

Fakultas Psikologi UIN Raden Fatah Palembang
Keywords:
Loneliness, Wife, Indonesian National Army
Abstract
The departure of the husband because he had to carry out the task of making the husband and wife have to live separately, this condition can be said as precipitating events that make the wife feel lonely. The purpose of the study was to find out how and the loneliness factor in the wife's stay. This research is a qualitative research phenomenon that has a meaning or concept about the experience of loneliness and influence of the wife. The results of this study found that the three research subjects experienced loneliness socially and emotionally and the factors that caused loneliness were far from their husbands, families and the environment that were not good.
References
Azwar, S. (2016). Metode Penelitian. Yogyakarta: Pustaka Pelajar.
Bruno, F. J. (2000). Conquer Loneliness Menaklukkan Kesepian. Jakarta : PT Gramedia Pustaka.
Burns, D, M. . (1998). Terapi Kognitif Pendekatan Baru Bagi Penanganan Depresi. Jakarta: Erlangga.
Fauziah. (2011). Keluarga Harmoni dalam Perspektif Berbagai Komunitas Agama. Jakarta: Badan Litbang dan Diklat Kementrian Agama RI.
Hasan, A. (2006). Pedoman Hidup Berumah Tangga. Jakarta: Siraja.
Herdiansyah, H. (2010). Metodologi Penelitian Kualitatif untuk Ilmu Psikologi. Jakarta : Salemba Humanika.
Hidayah, D. savitri K. (2015). Self Compassion Dan Loneliness. Jurnal Ilmiah Psikologi Terapan, 63(1).
Julia T. Wood. (2013). Komunikasi Interpersonal Interaksi Keseharian. Jakarta: Selemba Humanika.
Kartono, D. K. (1992). Psikologi Wanita. Bandung : Mandar Maju.
Lailatul & Shanti, K. (2011). Kesepian Pada Narapidana Di Lembaga Permasyarakatan Kedungpane Semarang Ditinjau Dari Dukungan Sosial Keluarga Dan Status Perkawinan. Jurnal Psikologi, IV(2).
Larson, R., Csikszentmihalyi, M., & Graef, R. (1980). Mood variability and the psychosocial adjustment of adolescents. Journal of Youth and Adolescence, 9(6), 469–490. https://doi.org/10.1007/BF02089885
Lestari, S. (2012). Psikologi Keluarga penanaman nilai dan penanganan konflik dalam keluarga. Jakarta: Kencana Prenada Media.
Meinarno, A. E. dan S. W. S. (2009). Psikologi Sosial. Jakarta: Selemba Humanika.
Perlman & Peplau. (1982). Loneliness, A Sourcebook Of Current Theory Reaserch, And Therapy. New York: A Wiley-interscience Publication.
Rasjid, L. (1991). Hukum Perkawinan dan Perceraian Malaysia dan Indonesia. Bandung: Remaja Rosdakarya.
Sears, D. O. D. (1985). Psikologi Sosial Edisi Kelima Jilid 1. Jakarta: Erlangga.
Sears, D. O. L. L. friedma. L. A. P. (2010). Psikologi Sosial, Jilid 1. Jakarta: Erlangga .
Sugiono. (2012). Metode Penelitian Kualitatif Kuantitaif R&D. Bandung : Alfabetha.
sunarti. (2013). Asuhan Kehamilan. jakarta: In Media.
Wisnuwardhani, Dian, M. F. sri. (2012). Hubungan Interpersonal. Jakarta: Salemba Humanika.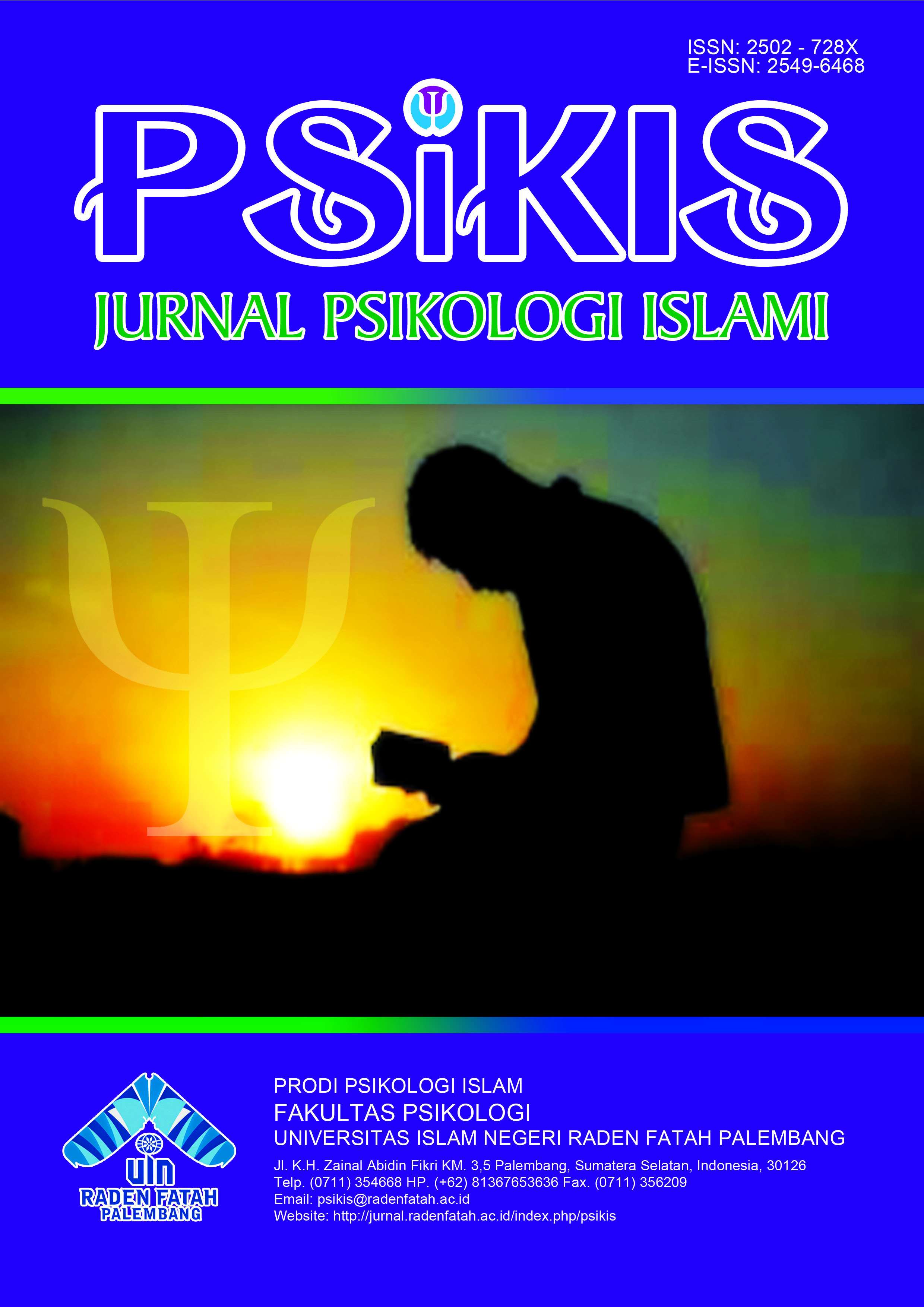 How to Cite
Yusnita, T., Rusli, R., & Budiman, B. (2018). KESEPIAN PADA ISTRI TENTARA NASIONAL INDONESIA. Psikis : Jurnal Psikologi Islami, 4(2), 153 -162. https://doi.org/https://doi.org/10.19109/psikis.v4i2.2625
Section
Articles December 2018
This work is licensed under a Creative Commons Attribution-NonCommercial-ShareAlike 4.0 International License.

Psikis: Jurnal Psikologi Islami by http://jurnal.radenfatah.ac.id/index.php/psikis is licensed under a Lisensi Creative Commons Atribusi-BerbagiSerupa 4.0 Internasional.