PERSEPSI KEADILAN ORGANISASI DENGAN KESEJAHTERAAN PSIKOLOGIS DI TEMPAT KERJA PADA PERAWAT
Yulistiani Yulistiani

Program Studi Psikologi Islam UIN Raden Fatah Palembang

Listya Istiningtyas

Fakultas Psikologi UIN Raden Fatah Palembang

Muhamad Uyun

Program Studi Psikologi Islam UIN Raden Fatah Palembang
Keywords:
Perception of Organizational Justice, Psychological Welfare
Abstract
This study aims to determine the relationship between perception of organizational justice to psychological welfare in the workplace in nursing. The population numbered 120, and a sample of 97 people were drawn based on a sampling technique with Cohen Manion and Morrison tables. Data were collected using organizational justice perception scale based on organizational justice perception dimension according to Robin & Judge. As well as the scale of psychological welfare based on the dimensions of psychological welfare according to the psychological welfare dimensions of Ryff and Keyes. The analytical method used is a simple regression analysis that shows the R value of 0.929 with the value R2 = 0.863, with p = 0,000 where p <0.05. So the hypothesis proved that there is a significant relationship between Perception of Organizational Justice with Psychological Welfare at Nurse. The researcher suggests for further researchers to use different research methods to enrich information and knowledge as well as better and more detailed results.
References
Alhamdu. (2016). Analisis Statistik dengan program SPSS. Palembang: Noer Fikri Offset.
Azwar. (2016). Metode Penelitian. Yogyakarta: Pustaka Pelajar.
Baharudin, Kurdi, & Leonardo. (2015). Analisis perbedaan tipe kepribadian a dan b terhadap manajemen konflik interpersonal pada pegawai rumah sakit khusus mata provinsi sumatera selatan. /jurnal.radenfatah.ac.id/index.php/psikis/article/view/565/502, 1(2).
Faturocman. (2002). Keadilan Perspektif Psikologi. Yogyakarta: Pustaka Pelajar.
Gerungan. (2009). Psikologi Sosia. Bandung: Refika Aditama.
Katrina J Lawson. (2009). Health Promotion International: promoting employee wellbeing: the relevance of work characteristics and organizational justice. https://watermark.silverchair.com/dap025.pdf, 24(3).
Malayu Hasibuan. (2009). Manajemen Sumber Daya Manusia. Jakarta: Bumi Aksara.
Rani R. (2012). International Journal of Advances in Management and Economics: Organizational Justice and Psychological Wellbeing of Police Employees: A Relationship Study. http://www.managementjournal.info/download1.php?f=260105.pdf, 1(5).
Rosley Marliani. (2015). Psikologi Industri dan Organisasi. Bandung: Pustaka Setia.
S Qutb. (1998). Ma'alem Fi Tariq (Signs of the Path), Translated by Mahmoud Mahmoudi. Tehran: Ehsan Publication.
Simran Kaur. (2015). Asia Pacific Journal of Research :promoting employees' psychological wellbeing: a study on consequences of organizational justice.India. http://www.apjor.com/downloads/2812201521.pdf, 1.
Siska Wulandari. (2014). Jurnal Psikologi:Faktor-Faktor Kebahagiaan di Tempat Kerja, Riau: Fakultas Psikologi Universitas Islam Negeri Sultan Syarif Kasim Riau. http://ejournal.uinsuska.ac.id/index.php/psikologi/article/download/1178/1070., 10(1).
Snyder C.R. (2002). Hand Book of Positif Psychology. New york: Oxford University Press.
Tim SDM. (2014). Profil Rumah Sakit Khusus Mata Provinsi Sumatera Selatan. Palembang: RSKM.
Widyastuti Ami. (2014). Faktor-Faktor Kebahagiaan di Tempat Kerja, Riau: Fakultas Psikologi Universitas Islam Negeri Sultan Syarif Kasim Riau. Jurnal Psikologi, 10(1).
Yukio Ito. (2015). Relationship between organizational justice and psychological distress among hospital nurses" Japan: Kitasato University Graduate School of Medical Sciences. http://mlib.kitasatou.ac.jp/homepage/ktms/kaishi/pdf/KMJ45-1/KMJ45-1p038-044.pdf, 1.
Yulistiani, Istiningtyas Listya, & Uyun Muhamad. (2017). Hasil wawancara dengan perawat pada hari Selasa.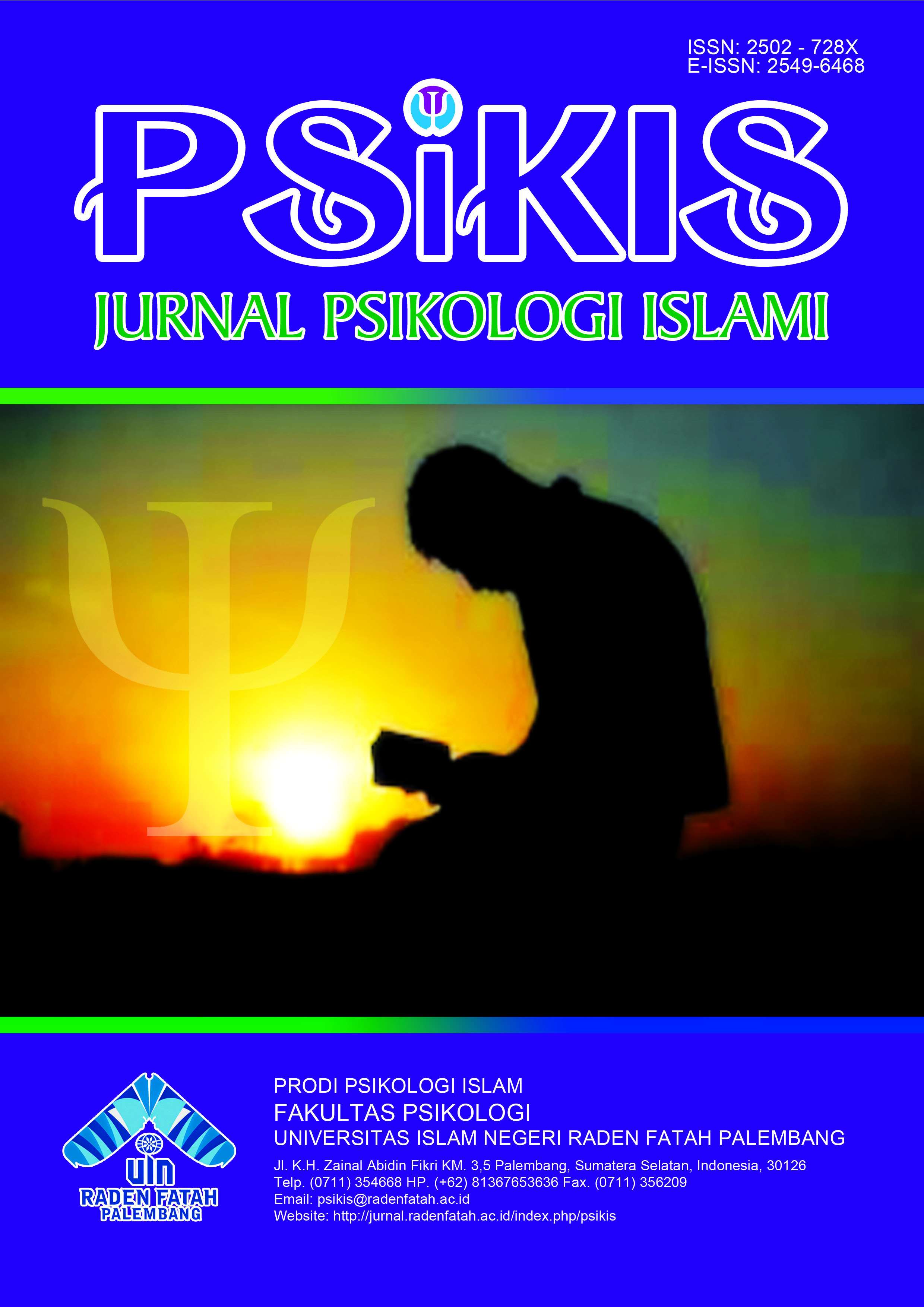 How to Cite
Yulistiani, Y., Istiningtyas, L., & Uyun, M. (2018). PERSEPSI KEADILAN ORGANISASI DENGAN KESEJAHTERAAN PSIKOLOGIS DI TEMPAT KERJA PADA PERAWAT. Psikis : Jurnal Psikologi Islami, 4(2), 163 - 171. https://doi.org/https://doi.org/10.19109/psikis.v4i2.2626
Section
Articles December 2018

Psikis: Jurnal Psikologi Islami by http://jurnal.radenfatah.ac.id/index.php/psikis is licensed under a Lisensi Creative Commons Atribusi-BerbagiSerupa 4.0 Internasional.