SUBJECTIVE WELL BEING PADA "BUJANG TUA" MUSLIM (DEWASA MADYA)
Rita Rita

Universitas Islam Negeri Raden Fatah

Zaharuddin Zaharuddin

Universitas Islam Negeri Raden Fatah

Ruri Fitriyani

Universitas Islam Negeri Raden Fatah
Keywords:
Subjective Well Being, Old Moslem, Middle Adulthood
Abstract
This study discussed about subjective well being in old moslem (middle-adulthood). This research uses descriptive qualitative research method. Data collection techniques used observation, interview, and documentation techniques. The purpose of this study is to find out more about the description of subjective well being in old moslem (middle adulthood). Subjects in this study consisted of four unmarried middle adulthood Muslim subjects who lived in the village of Cupat Parittiga district, West Bangka. From the results of this study it can be concluded that each subject has a picture of subjective well being in old moslem that can be seen from two cognitive and affective processes. From the cognitive aspects that most affect the subject is the status of marriage, daily activities, experiences, socialization, life satisfaction, and hope for the future. From the affective aspect of feeling less satisfied with life, not angry when the status.
References
Azzam, A. A. M., & Abdul Wahhab Saayyed Hawwas. (2011). Fiqh Munakahat. Jakarta: Amzah.
Baqi', M. F. A. (2010). Kumpulan Hadits Shahih Bukhari Muslim. Solo: Insan Kamil.
Diener, E. (2009). Assessing Well Being. London: Springer.
Ghazali, A. R. (2012). Fiqh Munakahat. Jakarta: Kencana.
Guilmoto, C. Z., & Jones, G. W. (2016). Contemporary Demographic Transformations in China, India and Indonesia. (C. Z. Guilmoto & G. W. Jones, Eds.). Cham: Springer International Publishing. https://doi.org/10.1007/978-3-319-24783-0
J. Moleong, L. (2014). Metodologi Penelitian Kualitatif (Cet ke-32). Bandung: PT. Remaja Rosdakarya.
Kurniati, G., Hartanti Hartanti, & Nanik Nanik. (2017). PSYCHOLOGICAL WELL BEING PADA PRIA LAJANG DEWASA MADYA. CALYPTRA : Jurnal Ilmiah Mahasiswa Universitas Surabaya, 2(2), 1–17.
Nurhadi. (2014). Pendidikan Kedewasaan Dalam Perspektif Psikologi Islam. Yogyakarta: Deepublish.
Presiden Republik Indonesia. (1974). UU No.1 Thn 1974 - Perkawinan. Retrieved May 24, 2019, from http://hukum.unsrat.ac.id/uu/uu_1_74.htm
Saefullah. (2012). Psikologi Perkembangan dan Pendidikan. Bandung: Pustaka Setia.
Santrock, J. W. (2012). Life Span Development. Jakarta: Erlangga.
Satori, D., & Komariah, A. (2012). Metode Penelitian Kualitatif. Bandung: Alfabeta.
Soelasmono, Y. (2011). Mengubah Ketakutan Menjadi Keberanian. Surabaya: ST. Book.
Sugiyono. (2014). Metode Penelitian Kuantitatif, Kualitatif dan R & D. Bandung: Alfabeta.
Wisnuwardhani, Dian, M. F. sri. (2012). Hubungan Interpersonal. Jakarta: Salemba Humanika.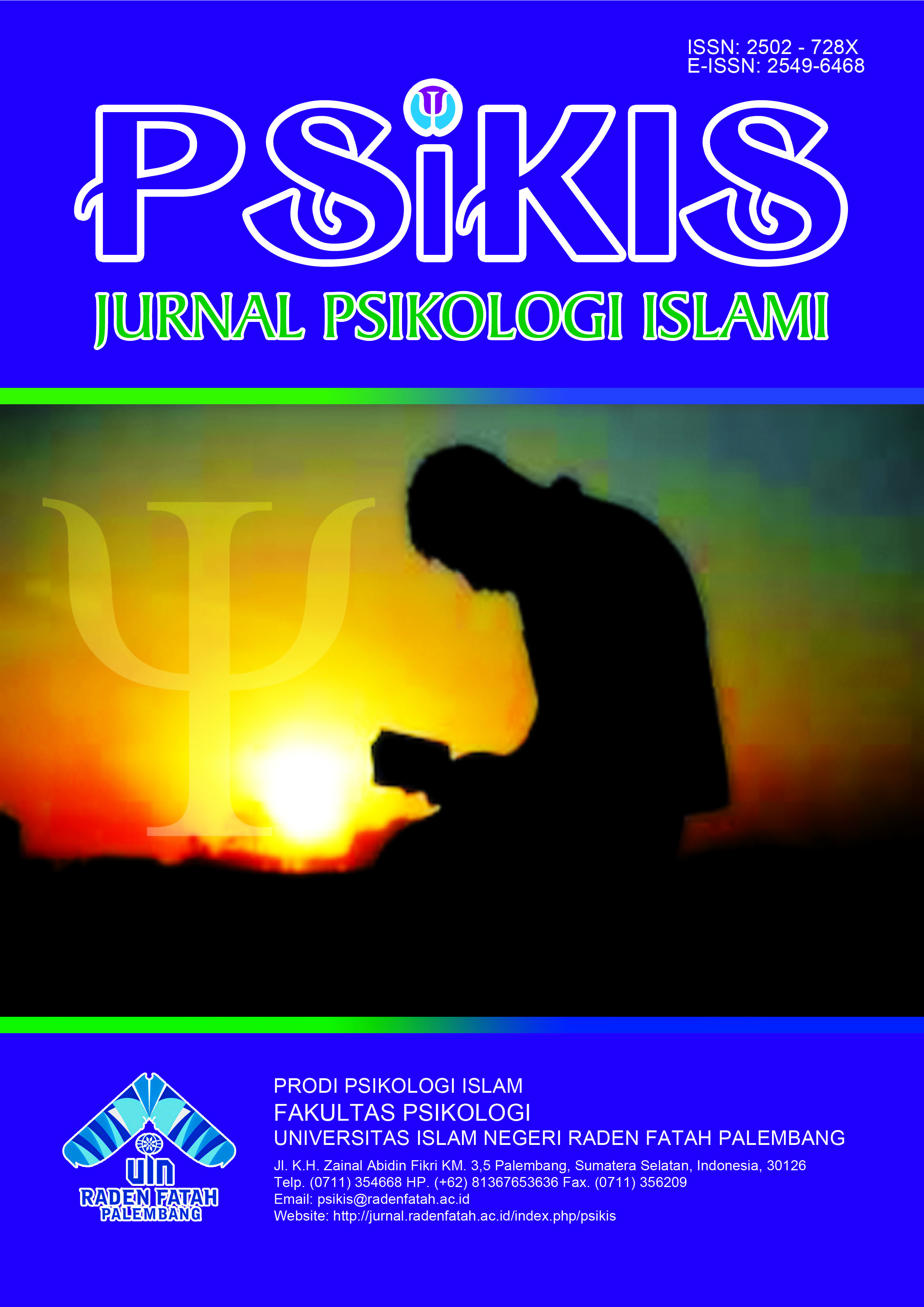 How to Cite
Rita, R., Zaharuddin, Z., & Fitriyani, R. (2019). SUBJECTIVE WELL BEING PADA "BUJANG TUA" MUSLIM (DEWASA MADYA). Psikis : Jurnal Psikologi Islami, 5(1), 83-89. https://doi.org/https://doi.org/10.19109/Psikis.v5i1.3210
Section
Articles June 2019

Psikis: Jurnal Psikologi Islami by http://jurnal.radenfatah.ac.id/index.php/psikis is licensed under a Lisensi Creative Commons Atribusi-BerbagiSerupa 4.0 Internasional.