A LITERATURE REVIEW ON RELIGIOSITY IN PSYCHOLOGICAL RESEARCH IN INDONESIA: CURRENT STATE AND FUTURE DIRECTION
Subhan El Hafiz

University of Muhammadiyah Prof. DR.HAMKA
Keywords:
Indonesia, Religion, Religiosity
Abstract
Studies on the concept of religiosity in Indonesia is already popular. However, no study has been conducted to see the direction and trends of this subjectrecently and how the subject of this study able to give a bigger impact in the future. The aim of this study was to assess the trends on the theme of religiosity studies in Indonesia in the last ten years. The method used was literature review using the data obtained from Google Scholar by two keywords in Indonesian i.e "religiusitas" and "keberagamaan" which both have same meaning that is religiosity. The result shows religiosity studies in Indonesia mostly related to morality and wellbeing. Recommendation for future studies given.
References
Allport, G. W., & Ross, J. M. (1967). Personal religious orientation and prejudice. Journal of Personality and Social Psychology, 5(4), 432–443.

Amir, Y., & Lesmawati, D. R. (2016). Religiusitas dan spiritualitas: konsep yang sama atau berbeda? Jurnal Ilmiah Penelitian Psikologi: Kajian Empiris & Non-Empiris, 2(2), 67–73.

Aviyah, E., & Farid, M. (2014). Religiusitas , Kontrol Diri Dan Kenakalan Remaja. Persona, Jurnal Psikologi Indonesia, 3(2), 126–129.

Basri, Y. M. (2015a). Pengaruh dimensi budaya dan religiusitas terhadap kecurangan pajak. Akuntabilitas, 8(1), 61–77.

Basri, Y. M. (2015b). Pengaruh gender , religiusitas dan sikap love of money pada persepsi etika penggelapan pajak mahasiswa akuntasi. Jurnal Ilmiah Akuntansi Dan Bisnis, 10(1), 45–54.

Gebauer, J. E., Bleidorn, W., Gosling, S. D., Rentfrow, P. J., Lamb, M. E., & Potter, J. (2014). Cross-cultural variations in Big Five relationships with religiosity: A sociocultural motives perspective. Journal of Personality and Social
Psychology, 107(6), 1064.

Gorsuch, R. L., & Mcpherson, S. E. (1989). Intrinsic / Extrinsic Measurement : I / E-Revised and Single-Item Scales. Journal for the Scientific Study of Religion, 28(3), 348–354.

Haryati, T. D. (2013). Kematangan Emosi , Religiusitas Dan Perilaku Prososial Perawat Di Rumah Sakit. Persona, Jurnal Psikologi Indonesia, 2(2), 162–172.

Holdcroft, B. (2006). What is religiosity? Catholic Education: A Journal of Inquiry and Practice, 10(1), 89–103.
Huber, S., & Huber, O. W. (2012). The Centrality of Religiosity Scale (CRS). Religions, 3, 710–724. https://doi.org/10.3390/rel3030710

Hutapea, B. (2014). Stres Kehidupan , Religiusitas , dan Penyesuaian Diri Warga Indonesia sebagai Mahasiswa Internasional. Makara Hubs-Asia, 18(1), 25–40. https://doi.org/10.7454/mssh.v18i1.3459

Istiqomah, I. (2015). Hubungan Antara Religiusitas dengan Kepuasan Perkawinan. Jurnal Psikologi, 11(2), 71–78.

Jackson, B. R., & Bergeman, C. S. (2014). How Does Religiosity Enhance Well-Being? The Role of Perceived Control.
Psychology of Religion and Spirituality, 3(2), 149–161. https://doi.org/10.1037/a0021597.How

Khairunnisa, A. (2013). Hubungan religiusitas dan kontrol diri dengan perilaku seksual pranikah remaja di man 1 samarinda. EJournal Psikologi, 1(2), 220–229.

Marliani, R. (2013). Hubungan Antara Religiusitas Dengan Orientasi Masa Depan Bidang Pekerjaan Pada Mahasiswa Tingkat Akhir. Jurnal Psikologi, 9(2), 130–137.

Mayasari, R. (2014). Religiusitas islam dan kebahagiaan (Sebuah Telaah dengan Perspektif Psikologi). Al-Munzir, 7(2), 81–100.

Nuandri, V. T., & Widayat, I. W. (2014). Hubungan Antara Sikap terhadap Religiusitas dengan Sikap terhadap Kecenderungan Perilaku Seks Pranikah pada Remaja Akhir yang Sedang Berpacaran di Universitas Airlangga Surabaya. Jurnal Psikologi Kepribadian Dan Sosial, 3(2), 60–69.

Pamungkas, I. D. (2014). Pengaruh religiusitas dan rasionalisasi dalam mencegah dan mendeteksi kecenderungan kecurangan akuntansi. Jurnal Ekonomi Dan Bisnis, 15(2), 48–59.

Paturohman, I. (2012). Peran pendidikan pondok pesantren dalam perbaikan kondisi keberagamaan di lingkungannya (Studi Deskriptif pada Pondok Pesantren Dār Al-Taubaħ, Bandung). Jurnal Tarbawi, 1(1), 65–74.

Peričić, T. P., and Tanveer, S. (2019). Why systematic reviews matter: A brief history, overview and practical guide for authors. https://www.elsevier.com/connect/authors-update/why-systematic-reviews-matter

Putri, F. A. (2012). Perbedaan Tingkat Religiusitas dan Sikap Terhadap Seks Pranikah Antara Pelajar yang Bersekolah di SMA Umum dan SMA Berbasis Agama. Calyptra: Jurnal Ilmiah Mahasiswa Universitas Surabaya, 1(1), 1–9.

Reza, I. F. (2013). Hubungan antara religiusitas dengan moralitas pada remaja di madrasah aliyah (ma). Humanitas, 10 (2), 45–58.

Rosyidah, S. M., & Lestari, W. (2013). Religiusitas dan persepsi risiko dalam pengambilan keputusan investasi pada perspektif gender. Journal of Business and Banking, 3(2), 189–200.

Sedikides, C., & Gebauer, J. E. (2010). Religiosity as Self-Enhancement : A Meta-Analysis of the Relation Between Socially Desirable Responding and Religiosity. Personality and Social Psychology Review, 14(1), 17–36. https://doi.org/10.1177/1088868309351002

Utama, A., & Wahyudi, D. (2016). Pengaruh Religiusitas terhadap Perilaku Kepatuhan Wajib Pajak Orang Pribadi di Provinsi DKI Jakarta. Jurnal Lingkar Widyaiswara, 3(2), 1–13.

Utami, M. S. (2012). Religiusitas, Koping Religius, dan Kesejahteraan Subjektif. Jurnal Psikologi, 39(1), 46–66.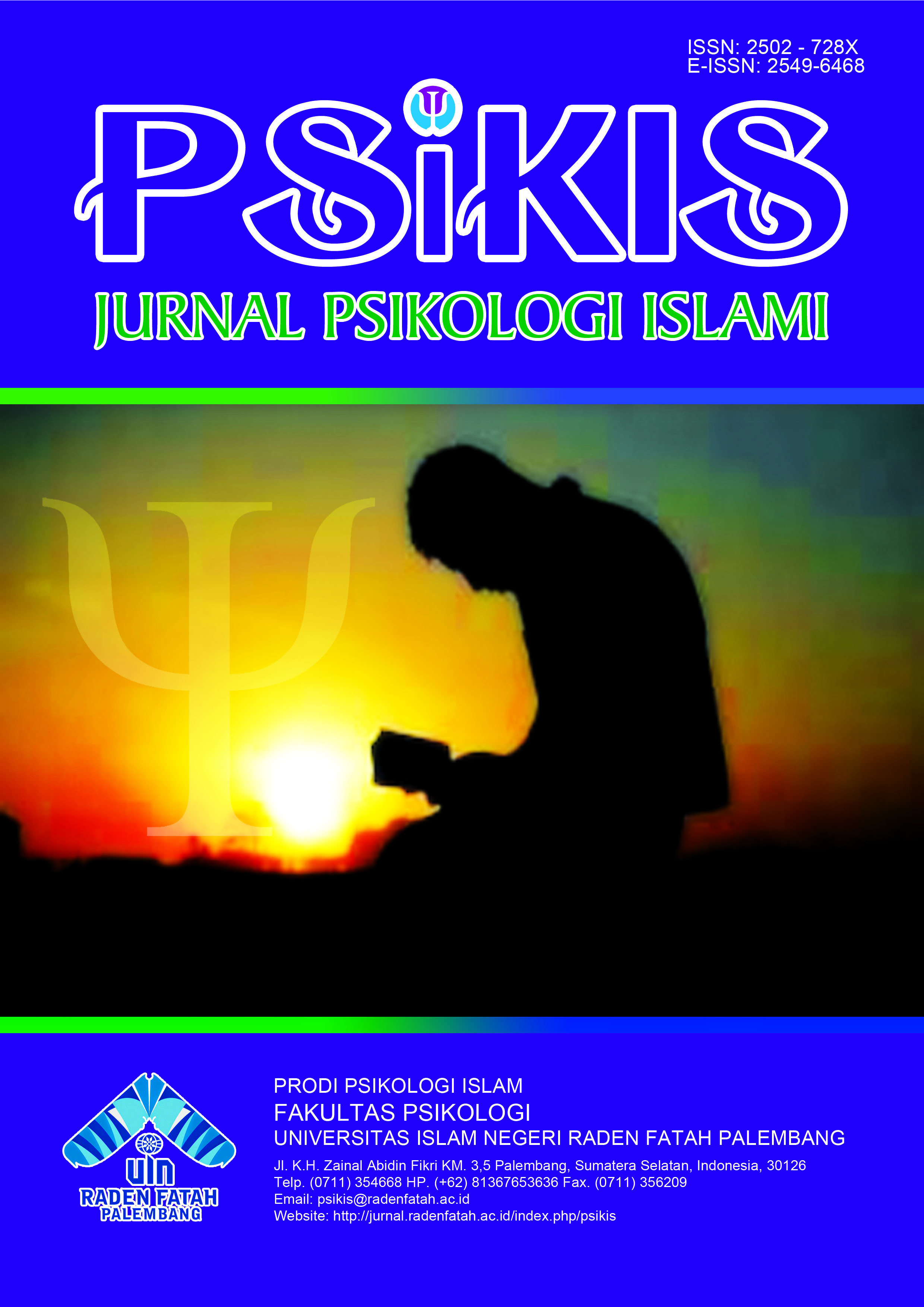 How to Cite
El Hafiz, S. (2020). A LITERATURE REVIEW ON RELIGIOSITY IN PSYCHOLOGICAL RESEARCH IN INDONESIA: CURRENT STATE AND FUTURE DIRECTION. Psikis : Jurnal Psikologi Islami, 6(1), 81-88. https://doi.org/https://doi.org/10.19109/psikis.v6i1.3953
Section
Articles June 2020

Psikis: Jurnal Psikologi Islami by http://jurnal.radenfatah.ac.id/index.php/psikis is licensed under a Lisensi Creative Commons Atribusi-BerbagiSerupa 4.0 Internasional.