ISLAMIC EDUCATION LEARNING STRATEGIES BASED ON MULTIPLE INTELLIGENCES IN ISLAMIC SCHOOL
Firman Mansir

Halim Purnomo

Universitas Muhammadiyah Yogyakarta
Keywords:
Learning, Islamic Education, Multiple Intelligences
Abstract
The objective of this study was to explore and find out the Islamic education learning (PAI) method which is suitable with the dynamics of the students to make them easier in understanding the subject and improve their achievement using multiple intelligences. This study was Classroom Action Research. Classroom Action Research involved the teacher's attempt (the researcher) in the form of the learning process. Validity concept and instrument reliability used in the data collection. In this research also known as practical validity/reliability, which means that as long as the members of the action research group decide that the instrument is valid and reliable, it can be used. Islamic education learning strategies need to use intelligence by solving the problems faced by the students, developed new problems to be solved, and make something useful in their life. Therefore, multiple intelligences in Islamic education learning is part of an effective strategy to facilitate the subject and improve student achievement.
References
As'ad, Mahrus. (2015). Tajdid al-Tarbiyah al-Islamiyah 'inda al-Shaykh al-Hajj Imam Zarkasyi. Studia Islamika, 22 (2): 334-67.

Bahri, Syaiful, Djamarah dkk. (2012). Strategi Belajar Mengajar. Jakarta: Rineka Cipta.

Babuta Asma Is dan Abdul Rahmat. (2019). Peningkatan Kompetensi Pedagogik Guru Melalui Pelaksanaan Supervisi Klinis Dengan Teknik Kelompok. Al-Tanzim: Jurnal Manajemen Pendidikan Islam, Vol. 03, No. 01, 1-28.

Daradjad, Zakiah (2015), Ilmu Jiwa Belajar. Jakarta: Rineka Cipta.

Faisal dkk. (2019). Penanaman Nilai Adiwiyata Dalam Pembelajaran PAI MI (Studi Multi Situs di MIN 1 Palembang dan MIN 2 Palembang). Jurnal Muaddib Vol. 09, N0. 01: 06.

Khasanah, RR, Ninik, Barokatul dan Hendro Widodo. (2019). Pengembangan Kurikulum Pendidikan Agama Islam Model Kurikulum 2013 Di SD Muhammadiyah Yogyakarta. Jurnal Muaddib, Vol. 09, N0. 01: 65.

Rais, Amin dkk. (2019). Pengembangan Kecerdasan Spiritual Dalam Pendidikan Islam Dengan Pendekatan Neurosains. Jurnal Muaddib, Vol. 09, No. 02: 150

Roestiyah, H K. (2008). Strategi Belajar Mengajar. Jakarta: Rineka Cipta.

Rojii, Mohamad, dkk. (2019). Desain Kurikulum Sekolah Islam Terpadu (Studi Kasus di SMP IT Insan Kamil Sidoarjo. Al-Tanzim: Jurnal Manejemen Pendidikan Islam Vol. 3 No. 2, 49-60.

Salma, Dewi Prawiradilaga. (2007). Prinsip Desain Pembelajaran. Jakarta: Kencana Prenada Media Group.

Saufi, Ahmad dan Hambali. (2019). Menggagas Perencanaan Kurikulum Menuju Sekolah Unggul. Al-Tanzim: Jurnal Manajemen Pendidikan Islam Vol. 3, No. 2, 29-54.

Umiarso dan Indri Mawardianti. (2019). Kurikulum Pendidikan Berbasis Tauhid: Landasan Filosofis dan Manajemen Kurikulum SMP Arrohmah Putri Boarding School Malang. Jurnal Muaddib, Vol. 08, No. 02: 166.

Vianata, H. (2012). Pengaruh Model Pembelajaran Question Student Have Terhadap Hasil Belajar Ips Sejarah Siswa. Indonesian Journal of History Education, 1.

Wahyono, Imam. (2019). Mengembangkan Iklim Organisasi Di Sekolah dengan Menggunakan Model Tagiuri. Al-Tanzim: Jurnal Manajemen Pendidikan Islam, Vol. 03, No. 02, 61-72.

Wena, Made. (2009). Strategi Pembelajaran Inovatif Kontemporer. Jakarta: PT Bumi Aksara.

Gardner, Howard. (1993). Multiple Intelligences: The Theory In Practice. New York: Basic Books.

Hasan, Noorhaidi. (2012). Education, Young Islamists and Integrated Islamic Schools in Indonesia. Studia Islamika, 19 (1): 77-10.

Raihani. (2017). Exploring Islamic School Leadership in a Challenging Southern Thailand Context. Studia Islamika, 24 (2): 271-92.

Syufah, Ariany. (2009). Multiple Intelligences for Islamic Teaching. Bandung: Stigma Publishing

Zulkifli. (2014). Education, Identity, and Recognation: The Shi'i Islamic Education in Indonesia. Studia Islamika, 21 (1): 77-10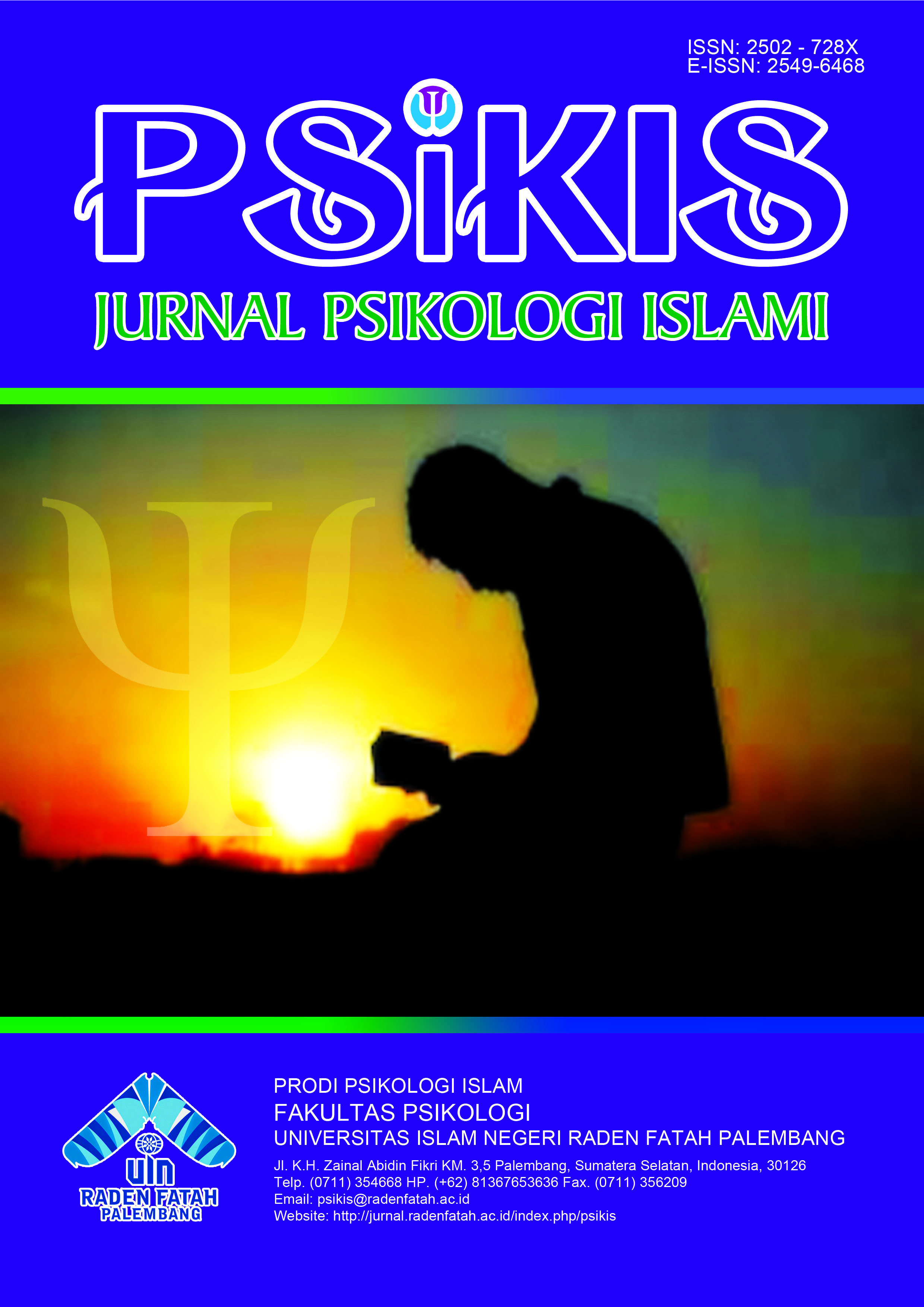 How to Cite
Mansir, F., & Purnomo, H. (2020). ISLAMIC EDUCATION LEARNING STRATEGIES BASED ON MULTIPLE INTELLIGENCES IN ISLAMIC SCHOOL. Psikis : Jurnal Psikologi Islami, 6(1), 48-57. https://doi.org/https://doi.org/10.19109/psikis.v6i1.4011
Section
Articles June 2020

Psikis: Jurnal Psikologi Islami by http://jurnal.radenfatah.ac.id/index.php/psikis is licensed under a Lisensi Creative Commons Atribusi-BerbagiSerupa 4.0 Internasional.