ISLAMIC RELIGIOSITY TOWARD ACADEMIC FRAUD STUDENT OF UIN RADEN FATAH PALEMBANG
Muhamad Uyun

Fakultas Psikologi UIN Raden Fatah Palembang
Keywords:
Islamic Religiosity, Academic Fraud
Abstract
The goal of this research is to discover the relations between Islamic religiosity toward academic fraud of student of UIN Raden Fatah Palembang. The research is quantitative research. Subjects of the research are 204 students of UIN Raden Fatah Palembang. The hypothesis in this research there is a relationship between islamic religiosity towards academic fraud. Data collection uses 2 measurements,namely 1) Islamic religiosity using Psychological Measure of Islamic Religiousness (PMIR) scale; 2) Academic fraud using self reporting cheating scale (SRCS). Prerequisite test using Goodness of Fit Overall showing that from 5 criterias show good model. Analysis results by using SEM from 8 religiosity dimensions, 7 dimensions not proven so that there is no significant relationship between islamic religiosity towards academic fraud. One dimension significantly proven is dimension of religious anxiety.
References
T Barzegar, K. and Khezri, H. (2012). Predicting Academic Cheating Among the Fifth Grade Students: The Role of Self-Efficacy and Academic Self-Handicapping. Journal of Life Science and Biomedicine 2(1): 1-6

Creswell, John W. (2010). Research Design: Pendekatan Kualitatif, Kuantitatif, dan Mixed. Edisi ketiga. Alih bahasa oleh Achmad Fawaid. Yogyakarta: Pustaka Pelaja

Daradjat, Z. (1997). Pendidikan Agama dalam Pembinaan Mental. Jakarta: Bulan Bintang

Hadjar, Ibnu. (2017). The Effect of Religiosity and Perception on Academic Cheating among Muslim Students in Indonesia. Journal of Education and Human Development June 2017, Vol. 6, No. 2, pp. 139-147

Hosny, M., Fatima, S. (2014). Attitude of students towards cheating and plagiarism: University case study. Journal of Applied Sciences, 14(8), 748-757

Khan, Inam Ullah., Khalid, Adeel., Hasnain, Syed Anwer., Ullah, Sami., Ali, Naeem. (2019). The Impact of Religiosity and Spirituality on Academic Dishonesty of Students in Pakistan. European Online Journal of Natural and Social
Sciences 2019; Vol.8, No 3 pp. 381-398

Klein,Deanna. (2011). Why Learners Choose Plagiarism: a Review of Literatures, Minot: Minot State University, Minot, North Dakota, USA,

Kushartanti, A. (2009). Perilaku Mencontek Ditinjau Dari Kepercayaan Diri. Indigenous Jurnal Ilmiah Berkala Psikologi Vol. 11, No. 2, November

Mulyawati, H., Masturoh, I., Anwaruddin, I., Mulyati, L. Agustendi, S., Tartila, T.S.S.. (2010. Pembelajaran Studi Sosial. Bandung: Alfabeta

Mustapha, Ramlan., Hussin, Zaharah., Siraj, Saedah., Darusalam, Ghazali. (2017). Does Islamic Religiosity Influence the Cheating Intention among Malaysian Muslim Students? A modified Theory of Planned Behavior. International
Journal of Academic Research in Business and Social Sciences, Vol. 6, No. 12

Nashori, F., Mucharram, D. R. (2002). Mengembangkan reativitas dalam Perspektif psikologi Islami. Yogyakarta: Menara Kudus

Nelson, Millicent F., James, Matrecia S. L., Miles, Angela., Morrel, Daniel L., Sledge, Sally. (2017). Academic Integrity of Millennials: The Impact of Religion and Spirituality. Journal Ethics & Behavior Volume 27, 2017 - Issue 5

OkeZone. (2015). Sederet Kasus Plagiarismen diKampus.
https://news.okezone.com/read/2014/02/25/373/946214/sederet-kasus-plagiarisme-di-kampus

Peraturan Menteri Pendidikan Nasional Republik Indonesia Nomor 17 Tahun 2010 Tentang Pencegahan dan Penanggulangan Plagiat di Perguruan Tinggi, hlm. 2-3.

Raiya, Hisham A. (2008). A psychological Measure Of Islamic Religiousness: Evidence For Relevance, Reliability And Validity. Dissertation. Submitted to the Graduate College of Bowling Green State University in partial fulfillment of the
requirements of the degree of Doctor Of Philosophy

Retingger David A., Jordan, AgustusE.. (2005). The Relations among Religion, Motivation, and College Cheating: A Natural Experiment. Lawrence Erlbaum Associates

Santoso, Singgih. (2011). Structural Equation Modeling. Edisi 1. Jakarta: PT Elex Media Komputindo
Tiliouine, H., Cummins, R. A., Davern, M. (2009). Islamic Religiosity, Subjective Well-Being, and Health. Mental Health, Religion, & Culture, 12, 1, 55-74

Umar, Husein. (2013). Metode Penelitian Untuk Skripsi Dan Tesis Bisnis, Jakarta: PT. Raja Grafindo Persada

Weaver, A. J., Pargament, K. I., Flanelly, K. J., Oppenheimer, J. E . (2006). Trends in the ScientificStuy of Religion, Spirituality, and Health: 1965-2000. Journal of Religion and Health, 45, 2, 208-214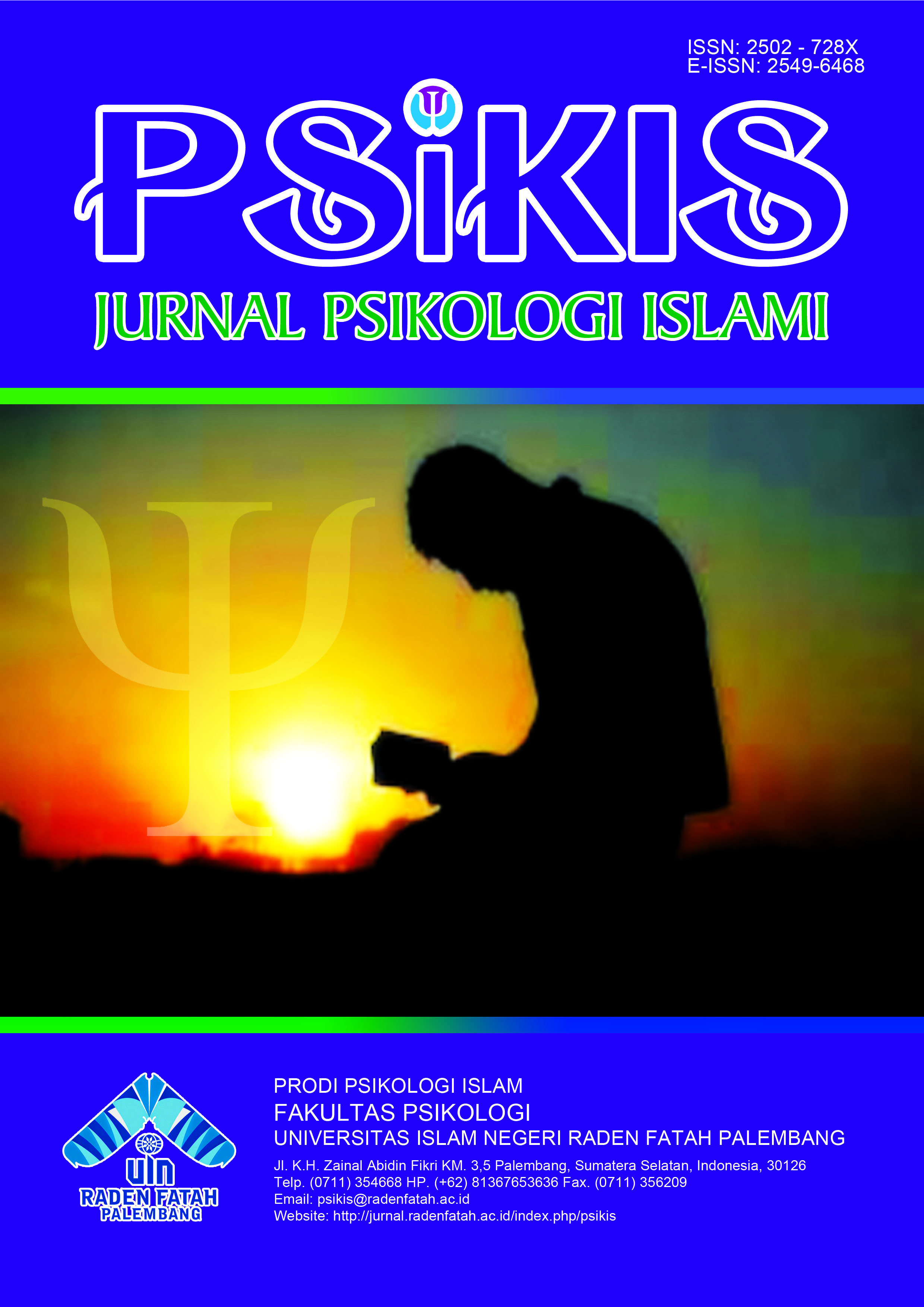 How to Cite
Uyun, M. (2020). ISLAMIC RELIGIOSITY TOWARD ACADEMIC FRAUD STUDENT OF UIN RADEN FATAH PALEMBANG. Psikis : Jurnal Psikologi Islami, 6(1), 68-80. https://doi.org/https://doi.org/10.19109/psikis.v6i1.4730
Section
Articles June 2020

Psikis: Jurnal Psikologi Islami by http://jurnal.radenfatah.ac.id/index.php/psikis is licensed under a Lisensi Creative Commons Atribusi-BerbagiSerupa 4.0 Internasional.