THE TRAINING OF GRATEFULNESS IN IMPROVING LIFE MEANING OF CONVICTS AT CLASS 2 LPKA PEKANBARU
Vivik Shofiah

UIN Suska Riau

Khairunnas Rajab

Universitas Islam Negeri Sultan Syarif Kasim Riau
Abstract
Religious values need are very imporant for convicts at LPKA Class two Pekanbaru. Religion is an obvious influenced source in issuing the meaning of life to convicts. The research objective is to know how far the influence of gratefulness training in improving life meaning of convicts at LPKA class two Pekanbaru is.The researcher used experiment approaching pre and post-test control group designwith 23 control groupsand 23 treatment groups,anddata analysis independent sample t-test was obtained score  t= 6,894 (p<0,01). Average score from treatment group are higher  (23,057) than control group average (15,6). It shows that life meaning of convicts who get gratefulness training are higher than convicts who don't join the training. With thus, it can be concluded that gratefulness training very influence significantly to the life meaning of convicts at LPKA class 2 Pekanbaru.
References
Al-Munajjid, M. B. S. (2006). SilsilahAmalanHati. Ikhlas, Tawakkal, Optimis, Takut, Bersyukur, Ridha, Sabar, IntrospeksiDiri, Tafakkur, Mahabbah, Taqwa, Wara. Bandung: IrsyadBaitus Salam.

Arief, MochamadFahmy&Habibah, Nur. (2015). PengaruhStrategiAktivitas (BersyukurdanOptimis) terhadapPeningkatanKebahagiaanpadaMahasiswa S1 Pendidikan Guru SekolahDasar.SeminarPsikologi&Kemanusiaan. Psychology Forum UMM, ISBN: 978-979-796-324-8

Bastaman, H.D. (2007). Logoterapi: PsikologiUntukMenemukanMaknaHidupdanMeraihHidupBermakna. Jakarta: PT. Raja Grafindo

Emmons, RA. (2004). The Psychology Of Gratitude. New York: Oxford University Press.

Emmons, R.A.,& McCullough, M.E. (2003). Counting Blessings versus Burdens : An Empirical Investigation of Gratitude and Subjective Wellbeing in Daily Life. Journal of Personality and Social Psychology, 84,377-389

Frankl, V. E. (1985). Man's search for meaning. revised and updated. New York: Washington Square Press.

Froh, J.J., Yurkewicz, C., & Kashdan, T. B. (2008). Gratitude and subjective well-being in early adolescence: Examining gender differences. Journal of Adolescence xx 1-18.

Froh, J.J et all. (2007). Gratitude in Childern and Adolescent: Development, Assessment, And School-Based Intervention. School Psychology Forum: Research In Practice. Volume 2 Issue 1.

Linley P. Alex and Joseph, S.(2004). Positive Change Following Trauma and Adversity: A Review. Journal of Traumatic Stress, Vol. 17, No. 1, February 2004, pp. 11–21

Mc Cullough E. Michael and Emmons A. Robert. (2002).The Grateful Disposition: A Conceptual and Empirical Topography. Journal of Personality and Social Psychology. Vol. 82, No. 1, 112–127.

Patnani, M. (2012). Kebahagiaan pada Perempuan.Jurnal Psikogenesis. Vol. 1, No. 1, Desember 2012.

Puspitasari, T & Nisfiannor, M. (2005). Komitmen Beragama dan Subjective Well-being. Jurnal Phronesis. Volume 7

Rakhmat, J. (2003). Psikologi Komunikasi. Jakarta: Remaja Rosdakarya.

Rakhmat, J. (2004).Psikologi Agama : Sebuah Pengantar. Bandung : Mizan

Steger F. Michael and Frazier, P.(2005). Meaning in Life: One Link in the Chain From Religiousness to Well-Being.
Journal of Counseling Psychology. Vol. 52, No. 4, 574 –582

Sumanto.(2006). Kajian Psikologis Kebermaknaan Hidup. Buletin Psikologi,Volume 14 Nomor 2, ISSN : 0854-7108.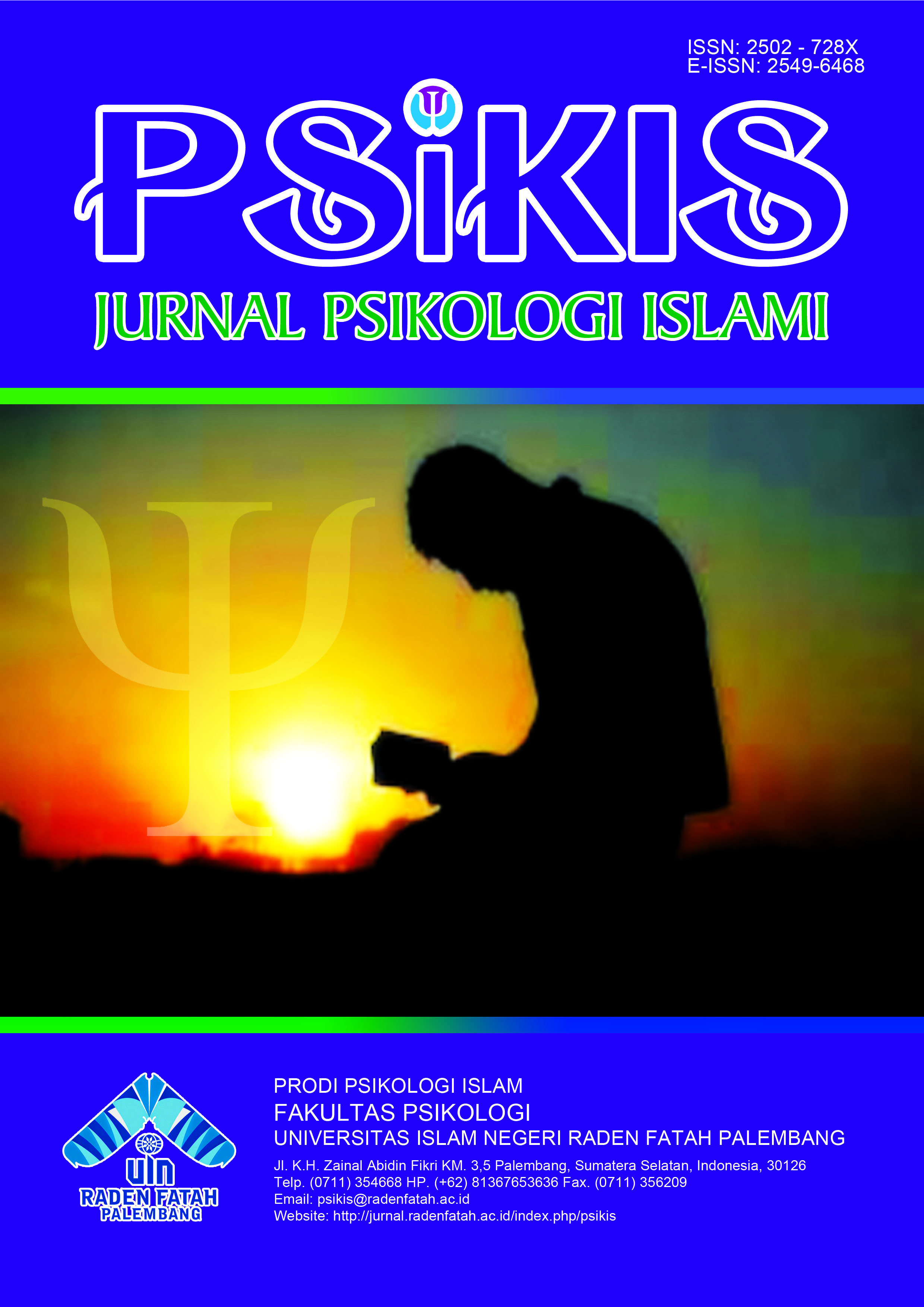 How to Cite
Shofiah, V., & Rajab, K. (2020). THE TRAINING OF GRATEFULNESS IN IMPROVING LIFE MEANING OF CONVICTS AT CLASS 2 LPKA PEKANBARU. Psikis : Jurnal Psikologi Islami, 6(1), 42-47. https://doi.org/https://doi.org/10.19109/psikis.v6i1.4992
Section
Articles June 2020

Psikis: Jurnal Psikologi Islami by http://jurnal.radenfatah.ac.id/index.php/psikis is licensed under a Lisensi Creative Commons Atribusi-BerbagiSerupa 4.0 Internasional.