IMPLEMENTASI MANAJEMEN PERUBAHAN DI MAN 3 PALEMBANG SUMATERA SELATAN
Afriantoni Afriantoni

Fakultas Tarbiyah dan Keguruan UIN Raden Fatah Palembang
Abstract
Madrasah Aliyah Negeri (MAN) 3 Palembang is unique enough to be studied because since inception of Islamic religion teacher education institutions. The results of this study found that type of leadership visoner is owned by head of Man 3 Palembang oriented management of change and continues over time. Visionary leadership is the key. Head of MAN 3 Palembang has been able to create, formulate, communicate, socialize, transform, and implement the ideal thoughts coming from him and the result of social interaction between members of organization and stakeholders that are believed to achieve ideals of organization in the future. In addition, management of change has been initiated through an internal analysis of the organization by identifying four areas, namely services, finance, human resources and facilities in order to discover the strengths and weaknesses internal to the organization. All of this has been the commitment of all personnel MAN 3 Palembang to achieve my goals and success. Lastly, head of MAN 3 Palembang has been able to implement management changes, so that the organization built quality improvement-oriented leadership, teacher quality, school programs, students' final exam results, student achievement and strong school culture.
References
Arasy, Mizan R. dan Eko Indrajit. 2006. Manajemen Perguruan Tinggi Modern. Yogyakarta: Penerbit Andi.
Azra, Azyumardi. Inovasi Kurikulum, Edisi 01/Tahun 2003, Strategi Pengembangan Kurikulum Madrasah Aliyah Dalam Era Otonomi Daerah dan Desentralisasi Pendidikan.
Hafidhuddin, Didin. 2003. Manajemen Syari'ah dalam Praktik. Jakarta: Gema Insani Press.
http://karfianto.wordpress.com/2010/05/21/strategi-menghadapi-perubahan/ diakses pada 25 Mei 2013 pukul, 12.00 wib
http://keloga.blogspot.com/2008/05/tugas-terstruktur-mata-kuliah.html diakses pada 25 Mei 2013 pukul, 13.45 wib
http://ravik.staff.uns.ac.id/files/2012/05/Perencanaan-Strategis-dan-Perubahan.pptx diakses pada 25 Mei 2013 pukul, 14.05 wib
http://www.sreb.org diolah dari judul: The Principal Internship:How Can We Get It Right?
Membina Mutu Pendidikan, (www. kompas.com), 3 februari 2005
Kasali, Rhenald. 2006. Change!. Jakarta: Gramedia.
Peraturan Pemerintah RI No. 19 Tahun 2005 Tentang Standar Nasional Pendidikan. 2006. Jakarta: Sinar Grafika.
Undang-undang RI No. 20 Tahun 2003 Tentang Sistem Pendidikan Nasional. 2003. Jakarta: Sinar Grafika.
Soebagio, Atmodiworo. 2000. Manajemen Pendidikan Indonesia. Jakarta: Ardadijaya,
Sujanto, Bedjo. 2004. Mensiasati Manajemen Berbasis Sekolah Di Era Krisis Yang Berkepanjangan. ICW.
Syafarudin. 2002. Manajemen Mutu Terpadu dalam Pendidikan. Grasindo.
Uwes, Sanusi. 1999. Manajemen Pengembangan Mutu Dosen, Jakarta: Logos wacana Ilmu.
Wahyu, Ariyani dan Doretea. 1999. Manajemen Kualitas. Yogyakarta: Andioffse.
Wibowo. 2012. Manajemen Perubahan. Jakarta: Raja Grafindo.
Winardi. 2008. Manajemen Perubahan. Bandung: Kencana.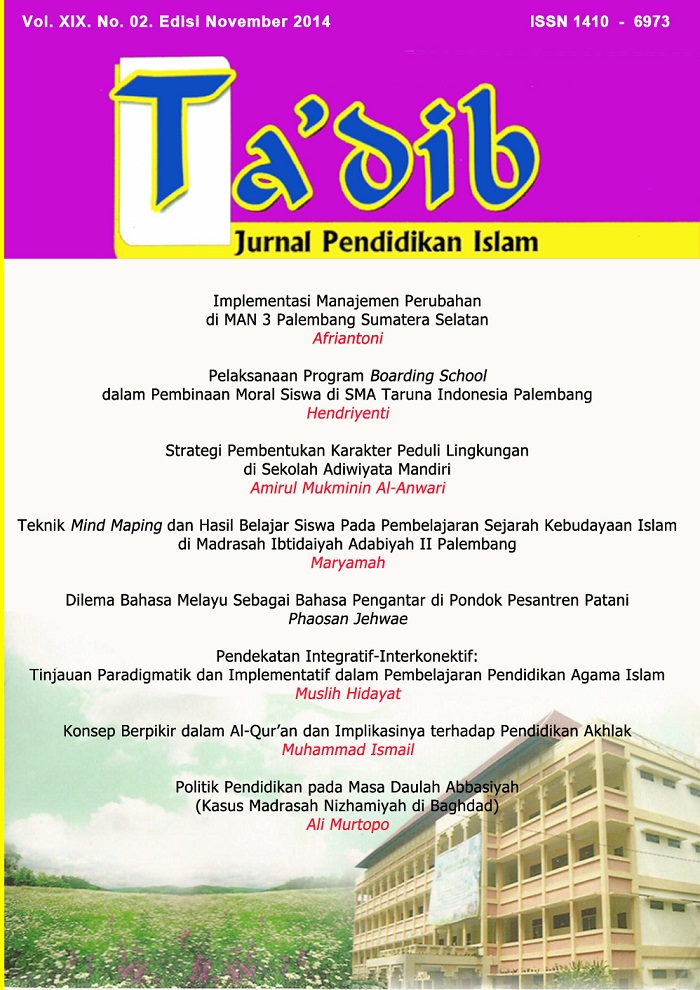 How to Cite
Afriantoni, A. (2014). IMPLEMENTASI MANAJEMEN PERUBAHAN DI MAN 3 PALEMBANG SUMATERA SELATAN. Ta'dib:Journal of Islamic Education (Jurnal Pendidikan Islam), 19(02), 169-202. https://doi.org/https://doi.org/10.19109/tjie.v19i02.14

Ta'dib by http://jurnal.radenfatah.ac.id/index.php/tadib is licensed under a Creative Commons Attribution-ShareAlike 4.0 International License.