Character Education Values in the Traditional Government System of Pulau Tengah Society, Kerinci: Between Local and Islamic Traditions
Ahmad Jamin

State Islamic Institute of Kerinci
Keywords:
Traditional government system, character education, local and Islamic traditions
Abstract
This study aimed to describe the traditional goverment system which prevailed in the society of Pulau Tengah, Danau Kerinci district, Kerinci regency, Jambi Province, especially aimed to identify the character education values in the govermental system. The method used in this study was a qualitative method with an ethnography approach. The data were obtained from the observation, interview, and documents. The participants were the customary leaders, village government leaders, religious leaders, and community leaders. Data were analyzed through looking at (1) domain analysis, (2) taxonomy analysis, and (3) cultural theme analysis. The results of the study found that there were some character education values in the traditional goverment system of Pulau Tengah society based on the customary law of basendi syarak, syarak basendi Kitabullah. The character education values found were honest, responsibility, trust, determined (istiqamah), fair and deliberation which are reflected in three salient themes that emerged in this research, namely, election, appointment and inauguration, and challenges or prohibitions for officers.
References
Abdullah, A. S. (2005). Teori-teori pendidikan berdasarkan al-Qur,an. Jakarta : Rineka Cipta.
Ali, Y. (2005). Adat basendi syara' sebagai fondasi membangun masyarakat madani di kerinci. Jakarta: GP Press.
Creswell, J. W. (1998). Qualitative inquiry and research design: Choosing among five traditions. Thousand Oaks, CA: Sage Publications, Inc.
Langgulung, H. (1989). Manusia dan pendidikan: Suatau analiasa psikologi dan pendidikan. Jakarta: Pustaka al-Husna.
Merriam, S. B. (1998). Qualitative research and case study applications in education. San Fransisco, CA: Jossey-Bass.
Miles, M. B., & Huberman, A. M. (1994). Qualitative data Analysis: An expanded sourcebook. San Francisco, CA: Sage Publications, Inc.
Ministry of National Education. (2003). Law No. 20/2003. Jakarta: Ministry of National Education.
Mukminin. A. (2012). Acculturative experiences among Indonesian graduate students in US higher education: academic shock, adjustment, crisis, and resolution. Excellence in Higher Education Journal, 3 (1), 14-36.
Mukminin, A., Ali, Rd. M., & Fadloan, M.J. (2015). Voices from Within: Student Teachers' Experiences in English Academic Writing Socialization at One Indonesian Teacher Training Program. The Qualitative Report, 20 (9), 1394-1407.
Mukminin, A., Kamil, D., Muazza, M., & Haryanto, E. (2017). Why teacher education? Documenting undocumented female student teachers' motives in Indonesia: A case study. The Qualitative Report, 22(1), 309-326.
Mukminin, A., Haryanto, E., Makmur, Failasofah, Fajaryani, N., Thabran, Y., & Suyadi. (2013). The achievement ideology and top-down national standardized exam policy in Indonesia: Voices from local English teachers. Turkish Online Journal of Qualitative Inquiry, 4(4), 19-38.
Mukminin, A., & McMahon, B.J. (2013). International Graduate Students' Cross-Cultural Academic Engagement: Stories of Indonesian Doctoral Students on American Campus. The Qualitative Report, 18 (69), 1-19.
Mukminin, A., Muazza, Hustarna, & Sari, S.R. (2015). Stories from the frontlines: In-service teachers' demotivating factors and policy recommendations. International Journal of Academic Research in Education, 1(2), 40‐52. DOI: 10.17985/ijare.56085
Prasojo, L. D., Habibi, A., Mukminin, A., Muhaimin, Ikhsan, & Saudagar, F. (2017). Managing Digital Learning Environments: Student Teachers' Perception on the Social Networking Services Use in Writing Courses in Teacher Education. The Turkish Online Journal of Educational Technology, 16 (4), 42-55.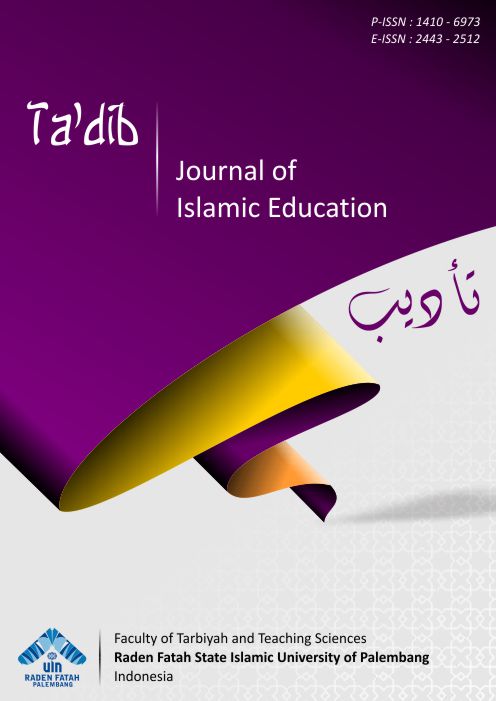 How to Cite
Jamin, A. (2017). Character Education Values in the Traditional Government System of Pulau Tengah Society, Kerinci: Between Local and Islamic Traditions. Ta'dib: Journal of Islamic Education (Jurnal Pendidikan Islam), 22(2), 1-11. Retrieved from http://jurnal.radenfatah.ac.id/index.php/tadib/article/view/1636

Ta'dib by http://jurnal.radenfatah.ac.id/index.php/tadib is licensed under a Creative Commons Attribution-ShareAlike 4.0 International License.